Up until Oct. 14, downtown parking in Idaho Falls was enforced by an Idaho Falls police officer walking on foot, chalking tires and writing tickets by hand.
Today, parking is monitored by Juan Hernandez, the new Downtown Development Corporation parking ambassador, who drives a specialized vehicle equipped with cameras that automatically pick out which cars have been streetside for too long. These changes all followed the City Council's Oct. 10 vote to hand over the responsibility of parking enforcement from the city to the Downtown Development Corporation.
Downtown Development Corporation Executive Director Catherine Smith was well-prepared for that vote. She has spent the last year-and-a-half researching parking, visiting other cities to learn how they monitor parking, and wading through 10 years of studies on Idaho Falls' downtown parking.
With all her carefully laid plans, Smith expected the transition to go smoothly. She knew from her research that parking is a contentious issue across the country, however, she was still caught off guard by how passionately people feel about their right to park in certain places and the number of things she hadn't accounted for.
With the new technology and Hernandez monitoring parking full-time, parking enforcement has become stricter. A police officer on foot was not able to monitor all of the spaces, Smith said. It was also easy to find ways around the chalking technique. The new cameras make it nearly impossible to avoid tickets.
"People in the past would get the tire chalk mark and they would either roll their car forward to hide the tire chalk mark or they would come out and actually remove the tire chalk mark," Smith said. "So this way, there's no question. We timestamp your vehicle, so we have indisputable proof about how long you were there."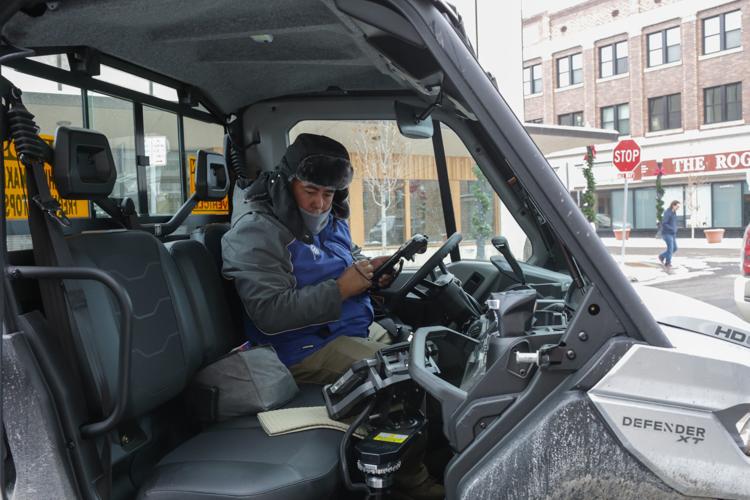 The biggest challenge has been downtown employees parking in the two-hour parking spaces, said Smith. These employees participate in what Smith refers to as "the car hop," meaning moving spaces every two hours to another two-hour parking spot.
"They would literally start on one side and in eight hours they would have moved four spaces," Smith said. "The car hop is quote unquote legal but we are encouraging people not to do that, especially if you are a downtown employee."
Despite the challenges, Smith wanted her agency to take over parking enforcement in order to help downtown after years of receiving complaints about the situation.
"There was really nothing we could do. We could pass (the complaints) along to the police department, but they were really doing the best they could with the resources they had," Smith said. "Now if people call and complain about parking, there's actually something we can do about it."
Much of the solution has been to have conversations with merchants about where they and their employees can park.
Though many merchants and downtown workers insist the problem is not enough spaces, Smith says the lack of parking is a "perceived problem," rather than a real one.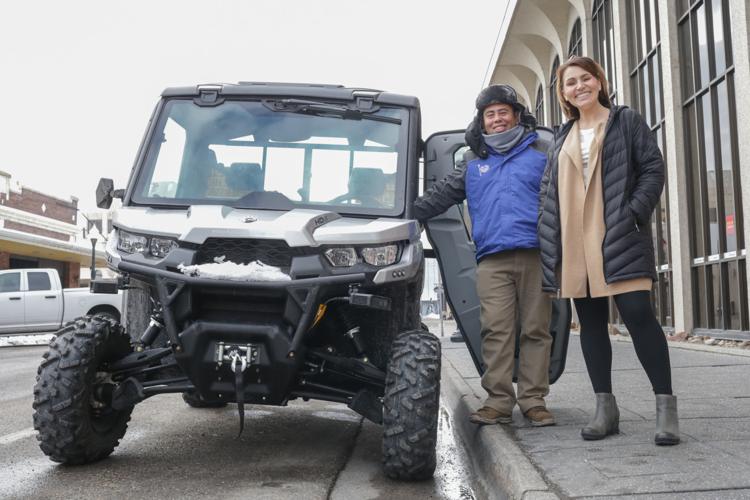 "Over 10 years, Downtown Development has hosted and hired out consultants to do parking studies. It's a very scientific process and so with that, we have been able to say, 'This is fact. There are enough parking stalls,'" Smith said. "If everyone would use the parking appropriately, then there's enough parking."
Emotions arising from downtown parking disputes can get so heated that Smith had to change the way in which people filed complaints. She originally put on the ticket that it could be contested by coming in person to talk to Smith at her office. After a number of people who came to contest displayed "alarming" behavior, including at least one case in which security needed to be called, ticket contesting was switched to online rather than in person.
"I have been a little bit disappointed on how the staff and myself have been treated by people who don't agree with us," Smith said. "I cannot even imagine treating others how some of the people have reacted."
Yet the number of contestants has been relatively low. Of the 550 tickets issued by Downtown Development since mid-October, 13 have been formally contested. Smith also stressed that the number of complaints has been relatively small and prefers to focus on the number of people who have expressed gratitude that someone is working on the issue.
When talking to downtown employees, the majority did indeed seem passionate about the issue of parking. Many felt that the new strict enforcement is too rigid and doesn't account for the variety of issues faced by those who work downtown.
Eric Treutel, owner of La Vanilla Bean Patisserie, said he wished the Downtown Development Corporation would grant a little leniency for business owners.
"Am I supposed to haul all my groceries three blocks to here and make four trips?" Treutel asked.
He recently received a ticket while parked in front of the shop. Treutel was unloading supplies when a customer stopped him with a question.
"I walked out, and he was writing me a ticket. I said, 'What's that for?' And he said, 'You were here longer than 10 minutes.' And I said, 'I'm trying to run a business here too, man.'"
One of his employees has a $35 per month pass to one of the parking lots managed by the Downtown Development Corporation. Treutel wanted one as well, but was put on a waitlist, which he was told is typically a six-month-long wait.
"I think there are solutions, but the way they're going about it is a little bit tough," Treutel said.
Shannon Sharpe, a bartender at the Celt, noted that one reason downtown employees may be using parking close to their place of employment is safety. When she parks in the lot advised for Celt employees, she crosses a crosswalk where she has been struck by a vehicle on three separate occasions. Another Celt employee recently was hospitalized after also being hit in the same crosswalk while coming into work.
"We're scared of the crosswalk," Sharpe said.
Smith acknowledged that enforcing parking is a "learning process."
"We were conscientious that it's a difficult concept for people to be able to change their habits, especially in areas where they had been parking in for years that had not been enforced as closely as we are," Smith said.
She hopes that solution will continue to improve as time goes on and has already seen parking areas that were previously full of downtown employees begin to free up.
"We do it in the hopes to make downtown better and more accessible to people, and we don't take that responsibility lightly," Smith said.