A new haunted house is opening in Idaho Falls, aimed at providing residents their "fix of fear" as fall looms around the corner.
Idaho Falls residents Brent Wilson and Brian Wilson have purchased the old Dr. Slaughter's House of Terror at 680 1st St., and are renovating the 32,000-square-foot facility into the new Planet Doom. The Wilsons have day jobs as commercial real estate agents with Thornton Oliver Keller.
Brent Wilson has been building "haunt homes" since the 1980s, following a childhood passion for the art of horror.
"Ever since I was a kid I was a big fan of monster movies," he said. "Just loved classic monsters from the '50s and '60s. That's just kind of been our thing."
Planet Doom will feature around 14 rooms, with six or seven remodeled from original Dr. Slaughter's attractions, and six or seven brand new attractions.
Just as was the case with Dr. Slaughter's, proceeds from Planet Doom will go to the Bonneville County DARE program.
"We were very big fans of Dr. Slaughter's, and in April when we found out Dr. Slaughter's was going to close, we decided to take it to the next level and approach the DARE board," Wilson said. "We proposed a business plan for DARE, and showed them videos of some of our prior haunts and projects, and they said 'Yes. Let's do this."
Wilson hopes Planet Doom will provide a service to the community through these donations, while allowing him and his brother to continue following their passion behind haunted houses.
"It's a labor of love," he said. "If we were doing it for money, it would be a big mistake. But this is for a great cause, and we love haunted houses."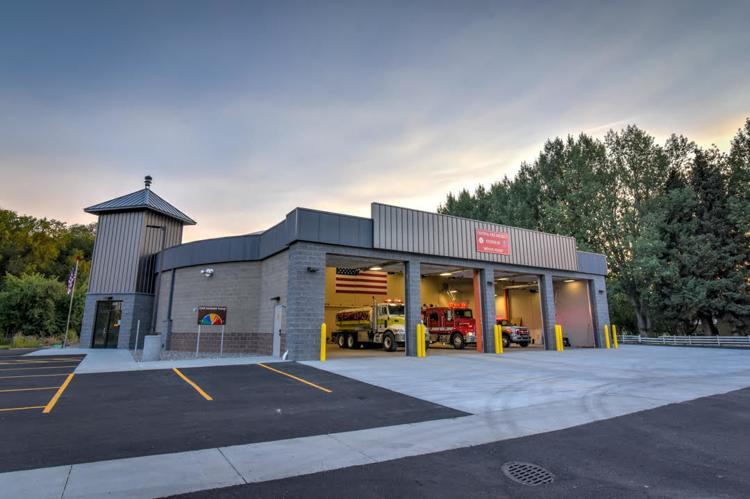 New Menan fire station ribbon cutting set for Aug. 23
Construction of a new fire station in Menan is complete, and the city is welcoming the public to a grand opening event, with free tours scheduled from 5 p.m. to 9 p.m. Aug. 23.
The station, located at 3535 E. Menan-Lorenzo Highway, is an 11,300-square-foot structure with a dome roof system. The Central Fire District contracted Idaho Falls-based Dome Technology to build the station.
"For the city of Menan, this will be a great structure. It's going to be a good addition to the city of Menan, and it's one that could be used for a storm shelter (and) for a gathering place for some things that goes on in Menan," Central Fire Commission chairman Roger Anderson said in a news release.
The fire station includes five truck bays and room for future expansion. Anderson said the building was designed "so that we have a future with it. It's not just what we need right now; it's built so that we can expand with the building."
In a May interview with the Post Register, Dome Technology estimated the cost of the new station to be $1.4 million.
Victor company receives high rating for organic dairy brands
A Victor farm has been rated among the best organic dairy brands in the country.
The Cornucopia Institute, a Wisconsin-based organic industry watchdog, recognized Paradise Springs Farm for its excellence in maintaining an ethical standard in its production.
"With organic stakeholders failing to pressure the USDA to enforce laws cracking down on giant factory farms with as many as 15,000 cows, mostly in the desert west, ethical producers like Paradise Springs Farm give consumers the ability to support the true heroes in this industry," Mark A. Kastel, senior farm policy analyst for Cornucopia said in a news release.
Paradise Springs Farm produces various dairy products, including a variety of raw cheeses, raw milk, and raw whey. Products can be purchased at the farm's website, with home delivery available in the Victor and Jackson area.
City Club of I.F. hosting business presentation
The City Club of Idaho Falls is hosting a regional banking executive for its next forum.
A. Scott Anderson, president and chief executive officer of Zions Bank, will give a presentation titled "Innovation, Investment, and Education: Opportunities in Idaho and Beyond" at the event.
The event will be held Aug. 22 at the Idaho State University-Idaho Falls Bennion Student Union multipurpose room. Tickets are $5 for gallery seating or $17 for City Club members and $22 for non-members, which includes dinner.
Dinner will be served at 6:30 p.m. with the presentation beginning at 7 p.m.
The Shoptalk column reports on business trends, acquisitions, contracts, openings and relocations.
People in Business features news of promotions, certifications, awards and management-level hires.
The Post Register accepts headshot photographs of people in business so long as those photos are of publishable quality. Emailed photos should be attached as jpegs and should be large format of at least several hundred kilobytes (k) in size.