Recently, a patient in Texas needed an intensive care unit bed.
But this Idaho Falls hospital couldn't give them one.
"It's hard to fathom how many hospitals are between that hospital in Texas and us. And how many ICU beds there are. It is alarming to see that you have to try that hard to find a place to be able to put the patient," said Casey Jackman, Idaho Falls Community Hospital's chief operating officer.
And last Thursday night, two patients waited overnight in the emergency department before getting treated in other parts of the hospital, Jackman told the Post Register while on a tour of the ICU on Friday.
The eastern Idaho hospital hasn't used the state's hospital disaster plan that allows hospitals to ration care. But even before that point, aspects of health care that are considered routine — like shuffling around patients, or getting a bed when you show up — can begin to change.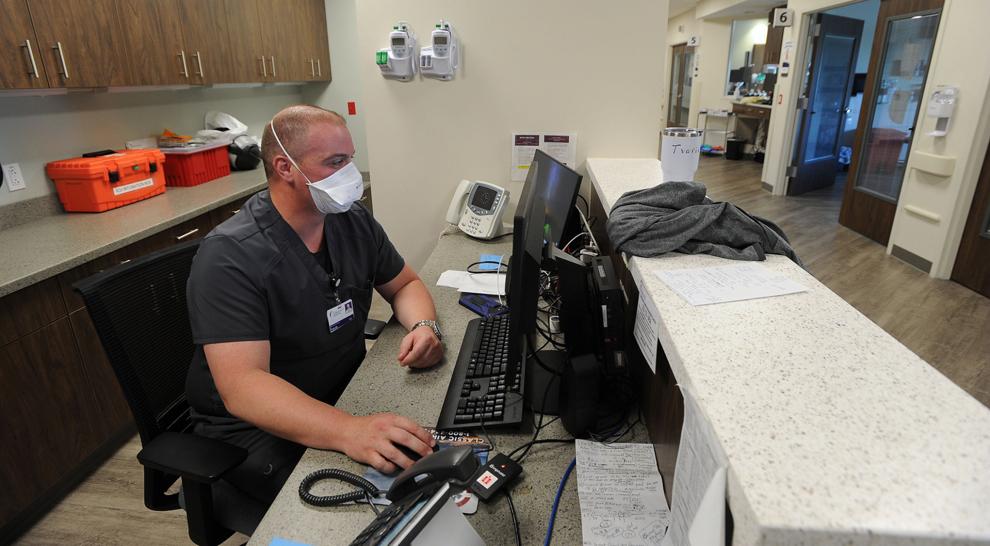 'The ones that don't go home'
Every day Travis Leet, ICU floor nurse, sees stories of "despair, hope and compassion."
"This is the ICU. Not every story is a fairy tale. So you have the ones that don't go home. You have the ones that come in that you have hope that they're gonna go home," he said. "And there's a lot of compassion from the staff that go into everybody that we treat."
Leet worked in emergency medical services for a decade before becoming an ICU nurse almost seven years ago. His days in the ICU are pretty much "non-stop," especially for COVID patients that require proning — or flipping over periodically.
Patients get sent to the ICU when they are critically ill, which means some do not go home. When patients get so sick that they need a ventilator, they have a 50-50 chance of living if treated.
"Most of the time, by the time that they get to us, you're on the brink at that point," Leet said.
And COVID-19 patients who need the ICU tend to have longer stays. Over the weeks and months that patients are under his care, he gets to know them and their families.
"It's taxing," Leet said. "It's physically, mentally and emotionally taxing. You're losing a lot of patients."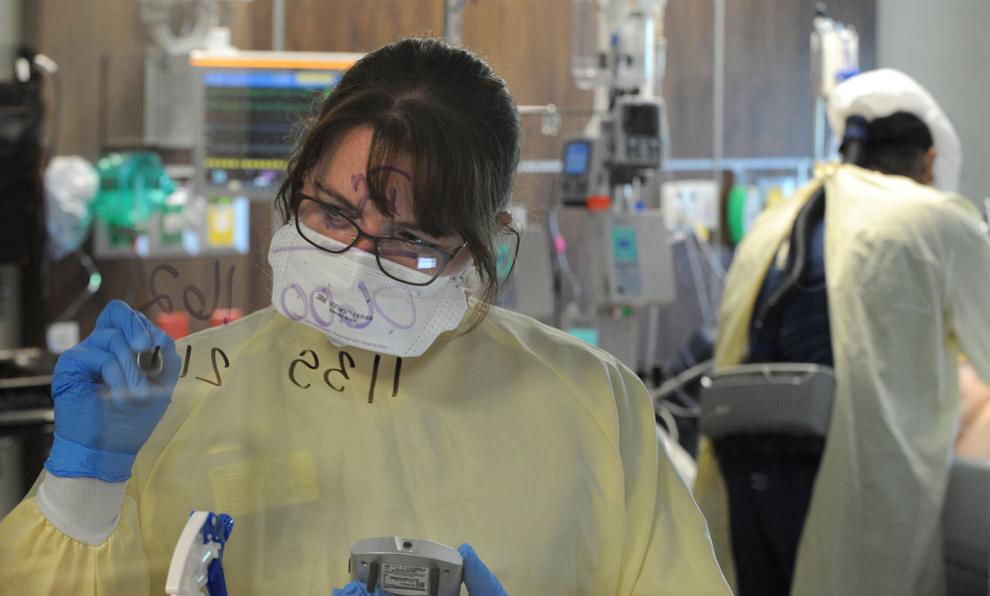 'I would have to decline'
It isn't just COVID-19 that's causing the latest surge in demand at Idaho Falls Community Hospital. It's a combined wave of regular patients and COVID-19 patients straining the system, Jackman said. Slightly less than half of the hospital's patients last Friday were being treated for COVID-19, he said.
The vast majority of COVID-19 patients in the hospital are unvaccinated, Jackman said. State data says more than nine in 10 COVID-19 patients in Idaho are unvaccinated.
Lately, at Idaho Falls Community Hospital, the ICU is pushed to capacity routinely, filling nearly all staffed beds.
The ICU normally has 10 staffed ICU beds. But it has gradually increased its staffed bed count over the past month, federal records show. Last Friday, for instance, the hospital had 12 staffed ICU beds. Jackman said they only accomplished that by hiring more nurses and having nurses in management, who typically don't take care of patients, out on the floor. At times, the ratio of patients to nurses has increased, but Jackman said the hospital only does that in emergency situations.
"We like to be available to help hospitals out of the area that need to transfer patients in for a higher acuity of care. And we can't always do that," Jackman said. "Right now, if I got a phone call from another hospital wanting to transfer me a patient out in the ICU, I would have to decline because I don't have a nurse system to take care of that patient."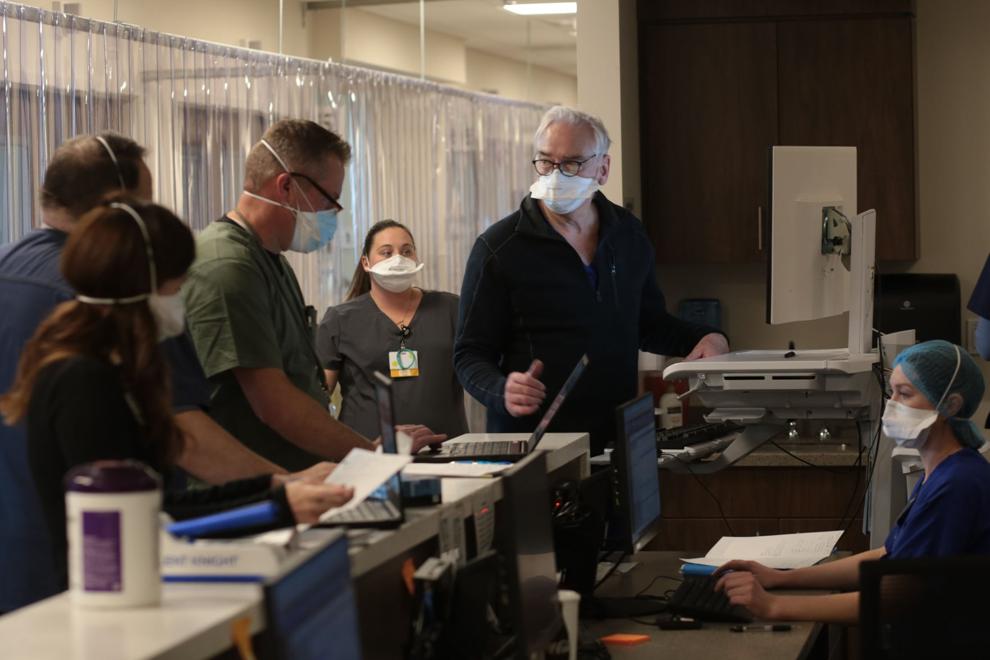 'We give the same care to anyone who comes in'
Dr. John Miller, intensive care unit director at Idaho Falls Community Hospital, knows the vaccine works. He's seen its effectiveness displayed every day, as his ICU fills with predominately unvaccinated people.
He said medical professionals agree with the science: The COVID-19 vaccines work. Those who doubt the vaccines aren't in the fight day in and day out to keep unvaccinated COVID-19 patients alive, he said.
"Anyone who has a different viewpoint clearly is not on a frontline. Because all the frontline doctors I know are on the same boat," Miller said. "... It's only people who do not take care of critically ill patients, critically ill COVID."
Some people may disagree, he said, "but they are not experts in that because they are not boots on the ground."
But regardless of a person's vaccination status, he said he and other doctors give all patients the best care possible.
"We as health care providers, we give the same care to anyone who comes in — whether they're unvaccinated or vaccinated. We do our best for every single person," he said.
And he said doctors and nurses don't judge people for their health decisions. But it's obvious that some would not have been under his care if they had gotten the vaccine.
"That's a simple fact. It's the truth," Miller said. "It's not political."
It's one of the "observable facts" well known to health care workers with "boots on the ground," he said.