When eastern Idaho health officials meet Thursday morning, they'll be facing an entirely different COVID-19 situation.
"Hospital capacity has improved. The number of total patients we have has improved," not just in COVID-19 patients, said Dr. Kenneth Krell, who leads the region's largest ICU at Eastern Idaho Regional Medical Center.
Three weeks ago, when the regional health board last met, COVID-19 vaccines becoming available were boosting morale. But hospital resource strains were dampening hope, with just a handful of intensive care unit beds free in Idaho Falls.
"Over half of our ICU census is COVID positive," David Hoffenberg of EIRMC told the health board on Dec. 17.
But now, things are looking up.
The region's daily coronavirus case reports and test positivity rate are significantly lower. And perhaps most importantly, more ICU beds are available in the region, a drastic change from early December, when medical leaders were worried that hospitals in the state may need to begin rationing care to those with the best chance of living by initiating Crisis Standards of Care.
"I don't know what's temporary, and we're all still nervous about whether we're going to see some increase over the holidays. But we'll just take it a day at a time," Krell said.
Federal data, reported weekly, show that an average of seven more ICU beds were free in Krell's ICU at Eastern Idaho Regional Medical Center last week, when it saw 15 of 29 staffed ICU beds occupied. The previous week, about 23 ICU beds were being used there.
Across the street at Idaho Falls Community Hospital, federal data say on average, all 10 of the hospitals staffed ICU beds were being used last week, slightly up from the 9.4 staffed ICU beds being used the previous week.
"The patients who are in our intensive care units are the ones facing the toughest battle with COVID-19 and we are doing all we can to help them recover and beat the virus," hospital spokeswoman Natalie Podgorski said.
Daily coronavirus case reports in the eight-county health district have dropped over the past three weeks. During the last health board meeting Dec. 17, 120 cases in eastern Idaho were being reported each day, on average, slightly down from the all-time peak daily rate of 230 cases on Dec. 9. Now, an average of 82 cases have been added each day over the past week. The health district surpassed 20,000 total COVID-19 cases on Monday night.
"EIPH is encouraged that cases, hospitalizations, and percent positivity is on the decline from their peaks in late November/early December," Eastern Idaho Public Health epidemiologist James Corbett said in a statement. "We are hopeful that this trend will continue in the New Year and coupled with the vaccine will help us overcome the pandemic."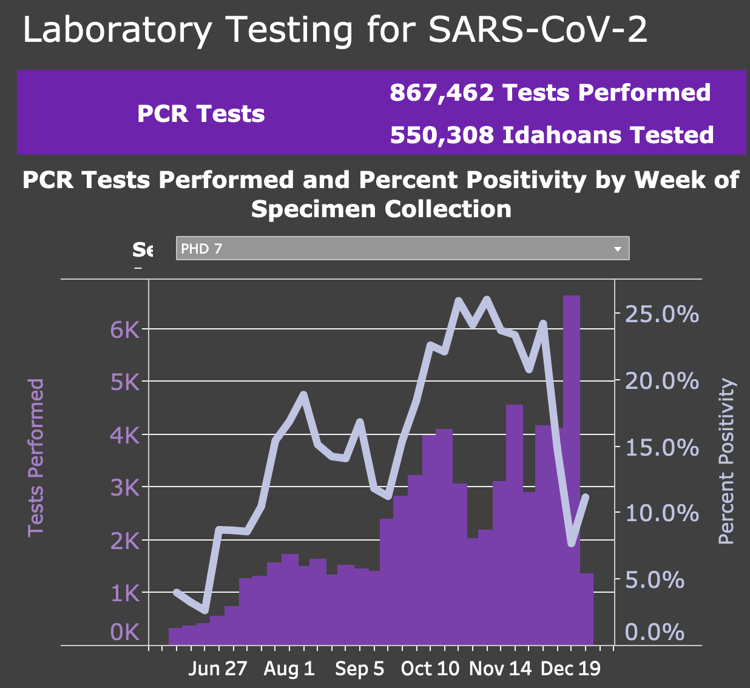 Also, the state health department reports that diagnostic COVID-19 testing dropped rapidly in eastern Idaho, part of a statewide dip during the week of Christmas.
Around 1,400 PCR tests were reported in Eastern Idaho Public Health, down from the high of 6,600 the prior week and from the 3,000 to 4,000 PCR tests conducted most weeks in the region since October, aside from a two-week drop in late October and early November.
The rate of tests that return positive rose during last week's testing decline, from a 7.6% positivity rate during the week ending Dec. 19 to 11.1% the week ending Dec. 26. Still, last week was the second since Oct. 10 in which the region's positivity rate was below 20%.
"While we are optimistic" about declining cases, test positivity rates and hospitalizations, "we will continue to be vigilant until the pandemic is over," Corbett said. "We continue to urge individuals to keep themselves healthy by staying home when sick, washing hands frequently, maintaining space (at least 6 feet) between people, and when not able to distance, wearing a mask correctly and consistently."