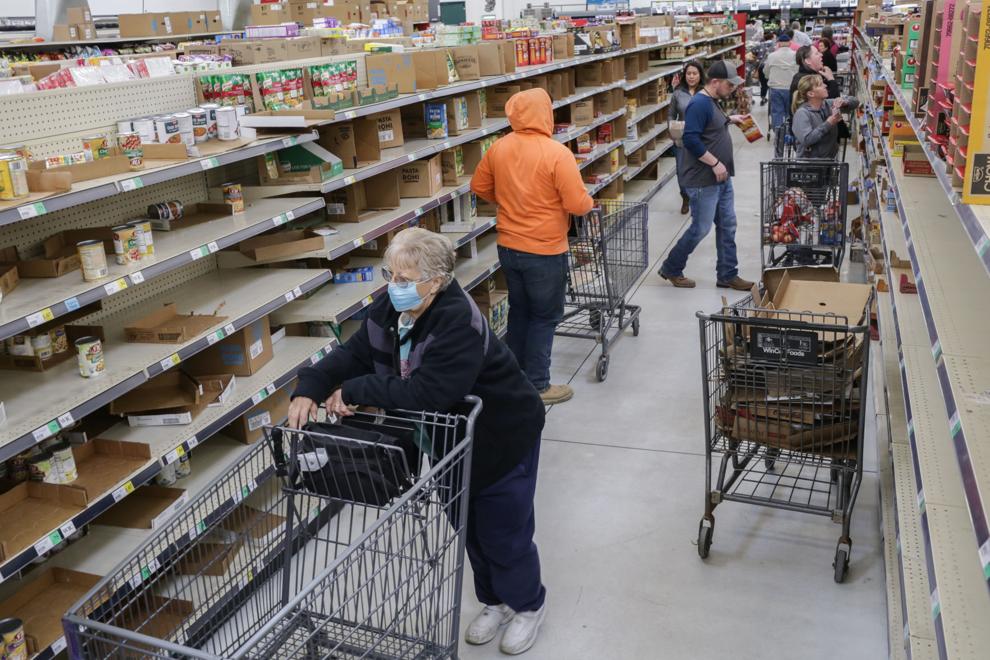 On March 25, 2020, Gov. Brad Little ordered all Idahoans to stay home in an attempt to slow the spread of a strange, new virus that was making its way across the state. Businesses deemed unessential were shuttered. Employees were laid off in record numbers. Children were sent home from school.
Two days later, Bonneville County saw its first confirmed case of COVID-19.
Those of us who feared the worst lined up outside grocery store doors at 4 a.m., buying up enough staples to last months. While the optimists among us were certain we'd have this pandemic beat in a couple weeks — by Easter at the latest.
Toilet paper was soon back on the shelves, but churches were still locked tight on Easter Sunday.
One year later, the virus remains a defining force in Bonneville County. Idaho Falls had one of the highest case rates in the country over the last two weeks. More than 13,000 Bonneville residents have contracted coronavirus; 155 have died from it. Though 2021 also ushered in a glimpse of hope: 25,000 Bonneville residents have received vaccines.
But coronavirus didn't just take lives from us. It infected every aspect of our society. The pandemic affected our government, our education, our most vulnerable populations, our hospitals, our jobs and our families.
We may spend the rest of our lives telling one another tales of 2020. The Post Register reporters spoke to several community members to hear a few of those stories.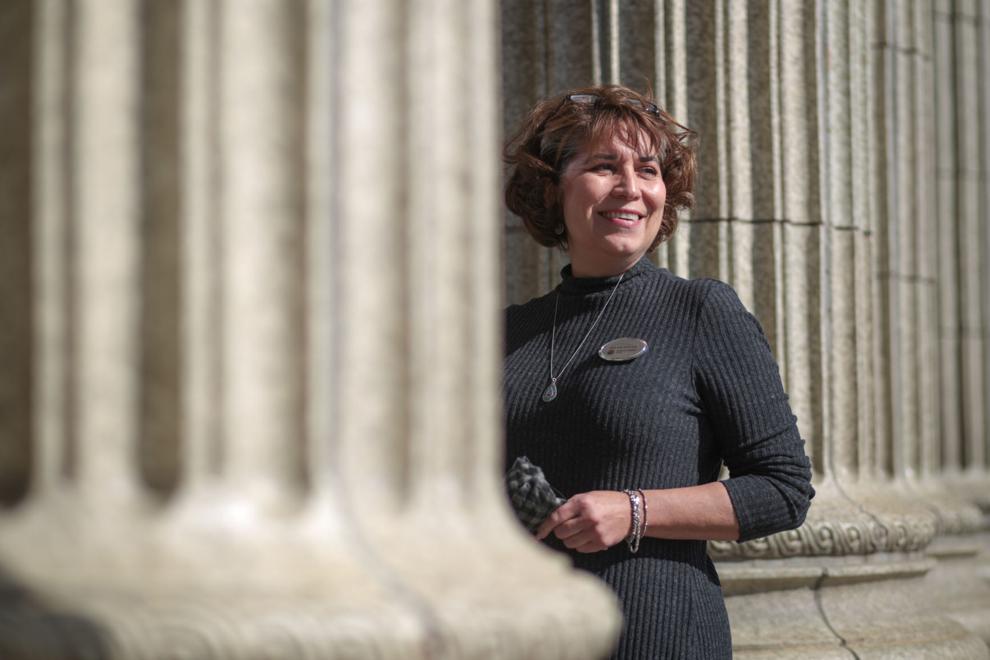 Rebecca Casper, mayor of Idaho Falls
It is March 2021. Mayor Rebecca Casper is seated in her office in city hall.
"I remember sitting in this exact chair and this exact position when I was told we were going to shut down," she said.
It's been a long year for everyone in Idaho Falls. But there was only one person upon whose shoulders the task of leading the city through a pandemic fell. And those shoulders belong to Casper.
The mayor is quick to deflect any questions about her own struggles over the past year by singing the praises of the city. Casper points out how rapidly the fiber optic network has expanded, how proud she is of city employees, how grateful to community partners.
Her own 2020 workweeks often stretched into six, sometimes seven, days. There were many miserable nights in city hall when Casper and her team gathered to work on problems that no Idaho Falls mayor has had to face like how to track health data or new ambulance protocols. "It would be late, nobody had eaten," she'd look around the room and see tired "people running their fingers through their hair" in frustration.
"A lot of nights like that. There was a lot of fatigue," Casper admitted.
But she quickly covered the admission in praise for others. It's nothing compared to what medical and emergency workers have been dealing with, she insists.
"There's a strong sense of 'do your duty.' And maybe I've learned that from these men and women that I get to work with in the city. You don't tell a firefighter that you're tired. You don't tell a police officer, 'Gee, it's two in the morning, I'm a little tired.' … So I've learned from them how to suck it up and just get the job done," Casper said.
Some of the fatigue comes from receiving the brunt of constituents' emotions. Reactions to coronavirus restrictions have been "a mixed bag." There were "people who were as mad as hell, and they wanted to burn their masks right there" in front of Casper. Others were sure "we can solve this if we just put our heads together." And then there were "stories that would rip (Casper's) heart out" like the elderly woman who, unable to lift her arms above her head, went weeks without having her hair washed because the salons were closed. Casper helped her beautician get special permission from the state to assist her client.
Lately, an old memory has been on Casper's mind. When she was a kid, her family car stopped working, and they were unable to afford a new one. To get anywhere, the family either asked friends for rides or walked.
When they finally got a replacement, there was a new sense of giddiness, of freedom, in simply being able to go somewhere with ease, even if just to the grocery store.
"It was like, 'Wow, we feel so lucky.' And I've been thinking of that story recently," Casper said. "For all the snarkiness, for all of the impatience, for all of the distrust and anger toward government and all of those things that people have felt and emoted, I'm hoping that slowly — as we start to get back to each other and things we've missed — we'll be able to say, 'Wow, this is great. Life is good. We're so lucky.'"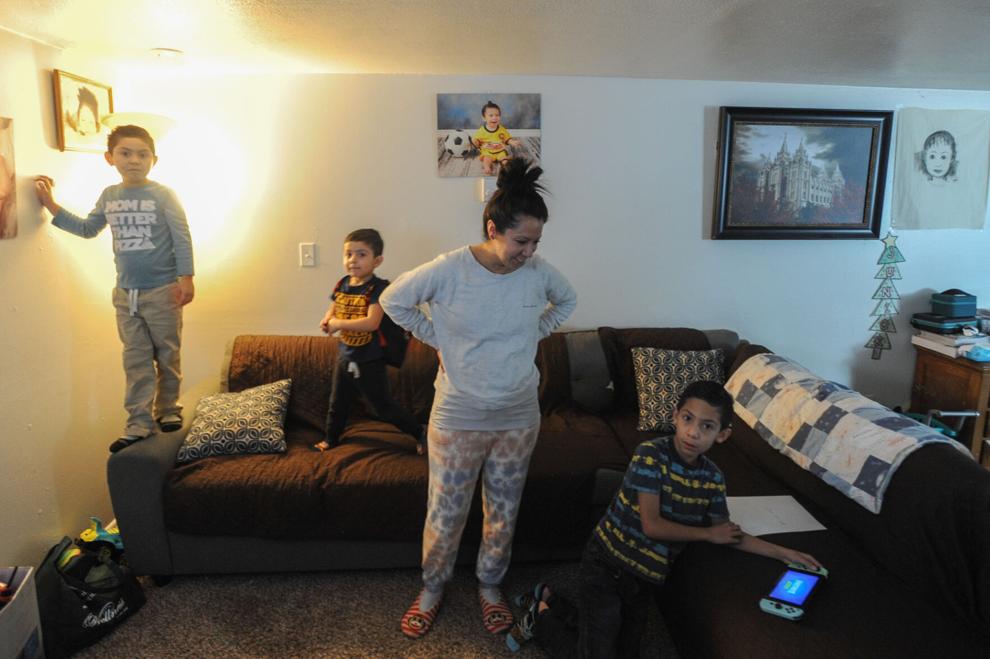 Julia Escareno, administrative assistant at Melaleuca
When Julia Escareno first learned she would be working from home, she was excited.
Escareno is an administrative assistant with Melaleuca. She viewed the change as an opportunity to spend more time with her sons. Her two eldest kids were in Idaho Falls School District 91 and had been shifted over to online classes for the remainder of the school year.
The spring classes went relatively well, between the packets picked up from schools and the online work. When the Escarenos were making plans for this school year, their eldest son Hashan Abayakoon wanted to go back to in-person classes at Idaho Falls High School.
For her third-grader and kindergartener, Escareno decided to try keeping them home and enrolled them in the district's new D91 Online Academy.
It didn't take long for her to regret the choice.
"They liked working from home, and I hated it," Escareno said.
Many mornings she left her 8-year-old in charge of her kindergartener while she was on a business call. She questioned some of the requirements for the online lessons — how can a kindergartener type out their favorite food before they've fully learned the alphabet?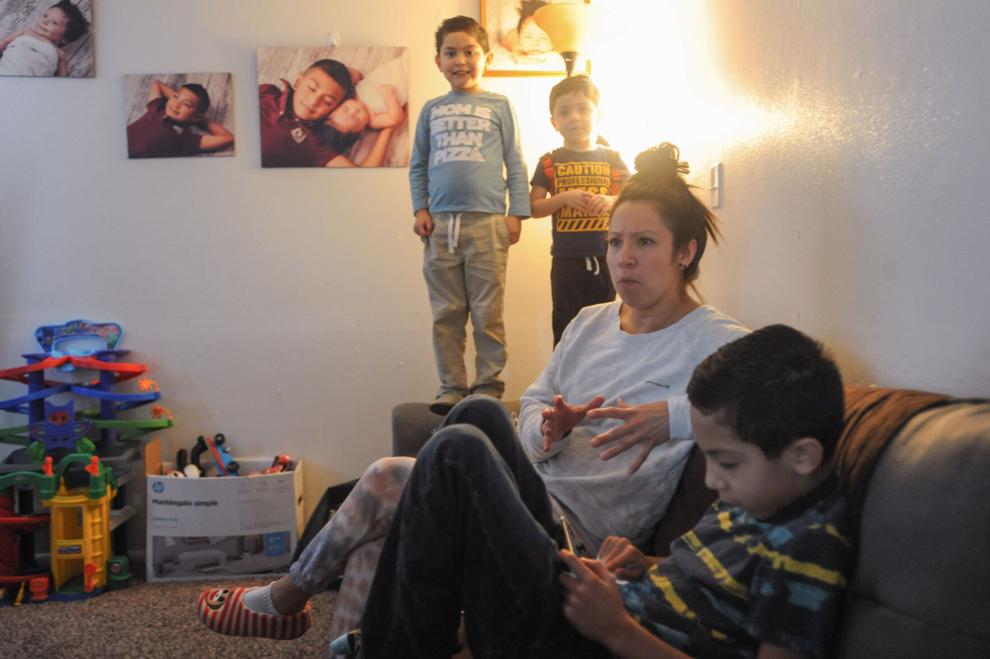 At night, she would make sure her kids completed their homework before clocking back in to finish the day's work. And through all of the work, she was also keeping an eye on her energetic 3-year-old.
"Maybe if I didn't also have that job to do, I could have been OK. … If you're a mom who can keep up with all this, kudos to you because it's hard work. You are being a mom and an employee, a chef and a school driver," Escareno said.
Her kids noticed the impact it had on her. Her 8-year-old once asked her why she seemed to be in a bad mood all the time. Hashan told her she needed to take more breaks.
After counting down the days until the end of the trimester, Escareno placed all three of her kids in physical schools. Idaho Falls High School ended its alternating-day schedule heading into 2021. Hashan said some of his teachers had done a good job at keeping students engaged during the online sections, but he was pretty sure his grades would improve with full-time classes.
"It all felt like busywork, or I couldn't focus on getting it done," Hashan said.
The limitations had also kept the Escarenos from watching all of Hashan's track meets. With crowd restrictions in place, Escareno could only attend if someone else watched her younger kids. The rest of the time, she relied on videos sent to her by other parents.
Escareno wrote about her experience with home-schooling, and with trying to raise bilingual children, for the East Idaho Moms Blog over the last few months.
"I tell my sons all the time, 'It's fine to be back in school full-time but you need to wear the mask.' I think that more normality is great as long as you're being careful," Escareno said.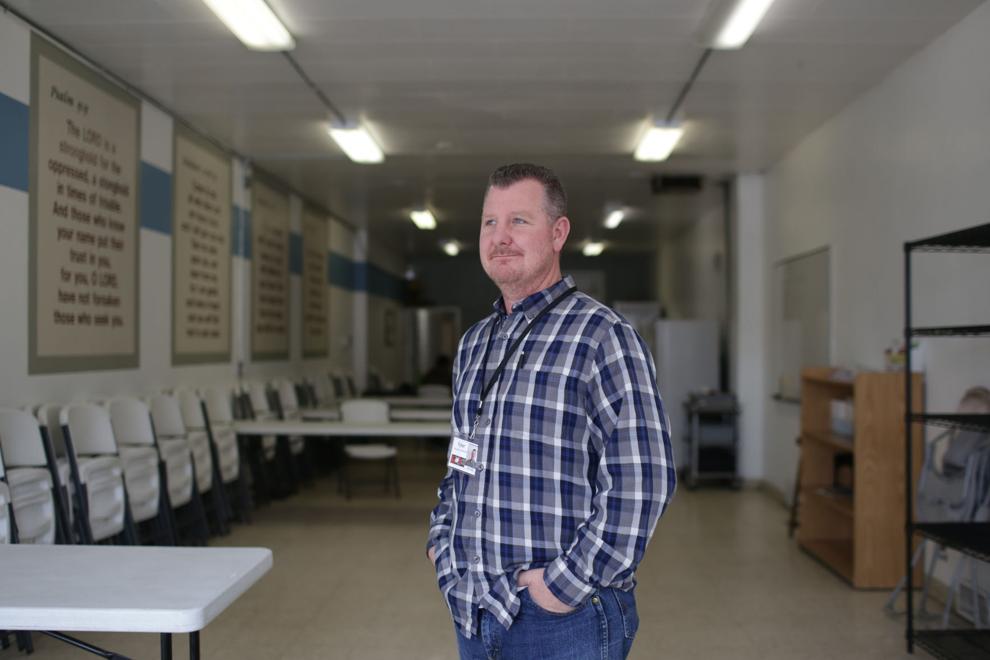 Tyler Perkins, executive director of Idaho Falls Rescue Mission
Much like the people he works to help, Tyler Perkins has faced a financial crunch during the coronavirus pandemic.
The cost of running the Idaho Falls Rescue Mission, which provides emergency housing and assistance for Idaho Falls' homeless population, has gone up during the pandemic, while revenue has gone down as would-be donors and volunteers have withheld support out of concern for their own safety and well-being.
"I think it was probably around February when it really started affecting our area, and we had to cancel our first big event we rely on to raise awareness to get the community involved in support and financially," Perkins said. "We ended up canceling all of those, of course."
Savings from prior years and a PPP loan from the CARES Act have helped the shelter remain open at a time when many residents are still reeling from the economic shock of the pandemic.
Perkins warned, however, that if the next year is anything like the previous one, the shelter could be in serious trouble.
Social distancing wasn't feasible in the shelter, where people sleep in close proximity. Staff had to invest in safety measures to test residents' temperatures and keep the place clean. The Rescue Mission could no longer accept volunteers out of concern they could spread or catch the virus, which meant salaried employees had to work longer hours.
Most of the cases of COVID-19 at the shelter have happened in the last two months, Perkins said, during the "second wave" of the virus.
There are some changes Perkins said will stay, particularly in regard to cleaning to reduce the spread of disease. He said the pandemic has also taught the mission to prepare for emergencies, such as lockdowns.
But with fundraising drying up, the shelter has had to worry more about the present. Perkins said savings from previous years that were meant to help the shelter expand its services have been spent keeping it afloat.
"Everybody's been like, 'How come you guys won't take this guy or do this?' Because we're in a broke-down building. We don't have the staff. We don't have the facilities," Perkins said. "We've been working very hard to save the money so we can expand, and now we're just burning through that savings to continue operating."
During the early days of the pandemic, the eviction moratorium allowed several families to stay in their homes despite job losses. As a result, the Rescue Mission did not have as big an increase in requests for help as expected.
As that moratorium has lifted, however, more residents are struggling with homelessness, at a time when the homeless shelter is feeling the strain from a year's loss in funding.
Perkins remains hopeful, though, that community support can help the mission pull through.
"The mission would love to thank everybody in the community," Perkins said. "Our volunteers are starting to come back. We're still in a high-risk situation, but donations are on the rise and will hopefully stay that way."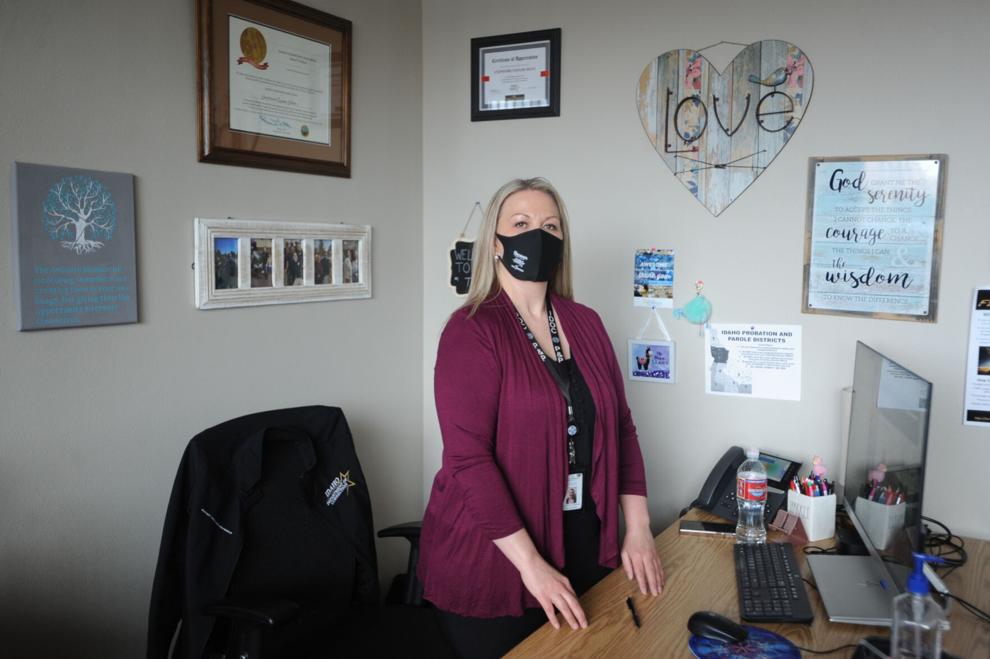 Stephanie Taylor-Silva, reentry specialist for 7th District Probation & Parole
By March it was becoming clear that the coronavirus wasn't going to be limited to news stories about faraway places.
The people working at the Seventh District's Probation & Parole office were receiving word that they needed to prepare screening procedures.
That's when reentry specialist Stephanie Taylor-Silva realized she needed to work to help people returning to the community adjust to a virus that was equally unfamiliar to her.
"COVID really took a toll on my position as a reentry specialist," Taylor-Silva said. "Prior to COVID, I was out in the community all the time."
As someone who herself has been on parole, Taylor-Silva has been vital in building connections between parole officers and parolees, and creating community support to help people get back on their feet.
Her efforts have included helping clients find the supplies, housing, treatment and other necessities needed for someone returning to the community.
When the virus hit in March 2020, those necessities became scarcer.
For the first few months, parole officers were not allowed to enter the homes of their clients.
There have been improvements brought on by the pandemic. The increased use and availability of video conferencing apps such as Zoom has made it easier for Taylor-Silva to meet with inmates in the jail and help them prepare for their release.
In the past year, Taylor-Silva said she and her colleagues have seen the pandemic take a particularly tough toll on inmates in state prisons, which have not allowed visitors in an effort to prevent the spread of the coronavirus.
"Being in prison is hard enough on its own," Taylor-Silva said. "Being in prison during a pandemic is horrendous."
Taylor-Silva said she has seen more people break down and cry in the past year than during the rest of her career.
In one case, a client told her he heard stores were being shut down and there were no supplies in the city.
"I actually had to physically go once on a Zoom and show him: 'These are what the stores are like. There are still items there,'" she said.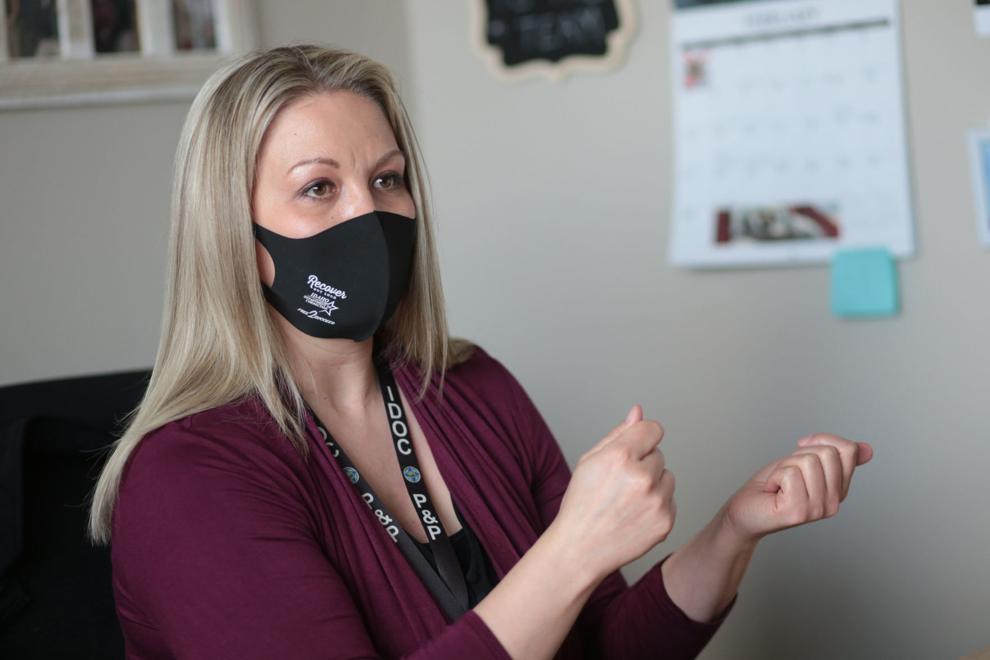 The pandemic also weighed heavily on the parole officers, who were just as surprised by the impact of the virus. That fear helped them connect with their clients.
"There's some people that they've never had to experience the same thing that our residents and clients have been through, but now we're all experiencing this great big pandemic together," Taylor-Silva said.
That has also included sympathizing with clients who have experienced loss. Taylor-Silva said she could not discuss clients who have died from the virus, but she said one of her clients lost both of his grandparents.
"There's this misconception that we're just here to hold people accountable. There are so many clients that we're literally the only support that they have," Taylor-Silva said.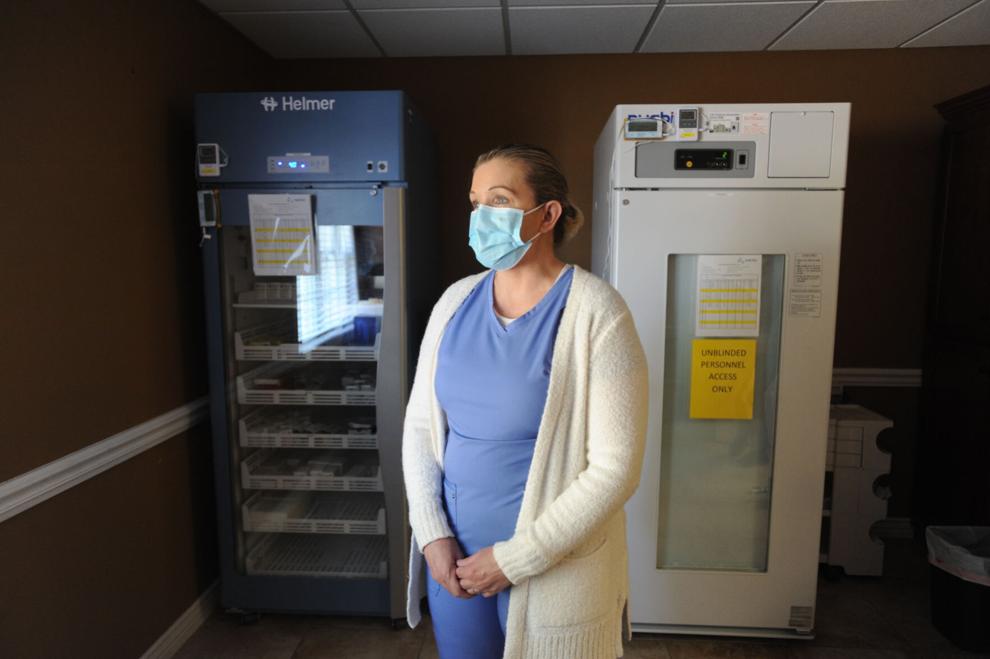 Jennifer Morrison, clinical research director at Idaho Falls Infectious Diseases
Jennifer Morrison's patients always ask: "When am I going to find out?"
You'll have to wait, she says.
For more than a decade, Morrison has researched experimental treatments for infectious diseases to know whether they're safe and effective.
In her office, nurses and doctors are available 24/7. Morrison is often working seven days a week herself. On any day, she'll field calls from companies looking for new sites for clinical trials and from patients about how they're faring. Those calls come day and night.
The stakes are high in a lot of trials for COVID-19 treatments, which Morrison's office, Idaho Falls Infectious Diseases, is involved in. If a certain drug works, it could potentially keep someone out of the hospital. But sometimes, it'll take a year for a patient to know if the experimental drug or a placebo went into their body.
Double-blind trials — where neither the doctors nor the patients are allowed to know whether someone is receiving the real drug or a harmless placebo — are the medical gold standard. The logic goes: If the patient isn't sure they've received the drug or a placebo, it's much easier to know if the drug is helping them, rather than simply getting medical attention.
These trials are especially valuable for researchers and federal regulators, who pore over data before a manufacturer can claim that the drug works and is safe. But for patients, not knowing presents other tests.
Almost none of Morrison's patients are signing up for the trials just for their own benefit. Morrison said they want to help create long-lasting help for others who contract the coronavirus.
"98% of the patients that sign up for this are not doing it for them," Morrison said. They're doing it because they know "that I may be able to help somebody in 10 years from now or even a year from now."
The patients, she said, "are the heroes in all of this."
Participating in the trial is voluntary. Patients can choose to drop out of trials before they end. Along with experimental drugs, patients may receive what's considered standard of care drugs such as the antiviral remdesivir, which has received emergency use authorization from the Food and Drug Administration.
When a trial is still underway, letting a patient know if they have received the drug while a trial is a rare move. Doing that makes the data less valuable because it could lead patients or doctors to attribute recovery from the disease to the drug, even if it isn't scientifically proven yet.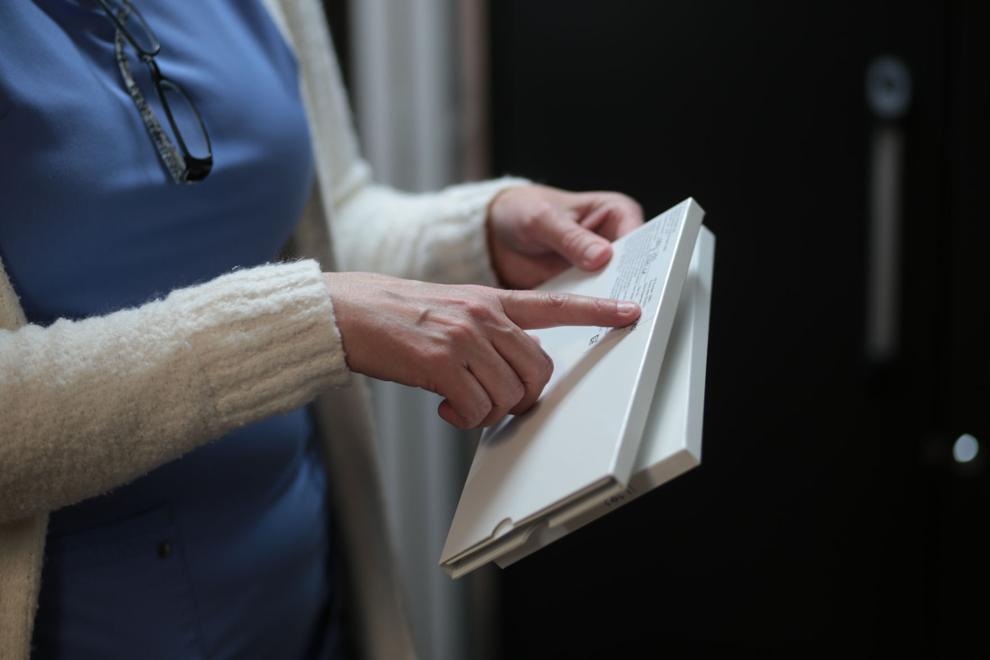 Sometimes patients ask to be unblinded early to know if they've received the drug. Morrison reminds them what they signed up for.
If you choose to be unblinded, Morrison said, "then none of the information or any of the lab samples, any of the nasal swabs that we've had to do, anything like that will be able to be used for the final submission. And, you know, your information may be the critical information we need."
Trying to sell patients on not knowing isn't easy, Morrison said. But it's needed.
"This is hard. I'm still emotional about it. But we have to do these types of placebo-controlled trials," Morrison said. "We're giving the patient everything that we can give them at this point. But we have to be able to prove and help these companies prove that these medications work, and will save lives."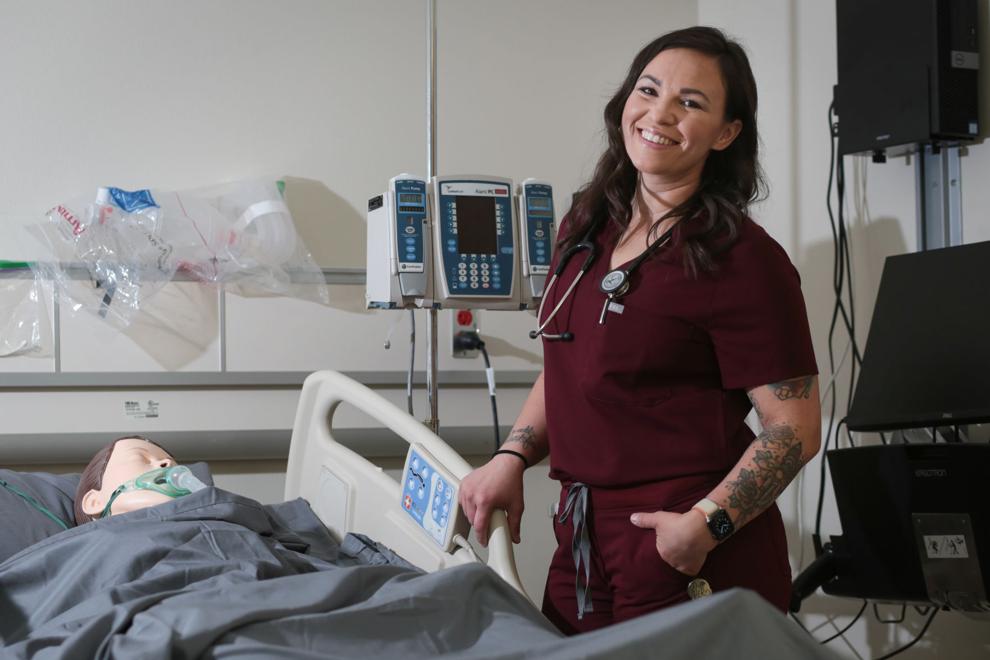 Kirenia Pollina, student at the College of Eastern Idaho
Kirenia Pollina had tried to avoid following her mother and her sister into nursing.
After graduating from high school in 2006, Pollina enlisted in the Marine Corps. She served five years of active duty before returning to her family in San Diego as a reservist and going to college for a programming degree.
Pollina had been living on the road with her sons Mason, 7, and Jacob, 3, before the coronavirus arrived in Idaho. She did programming work for nonprofits in California and Arizona, occasionally traveling from Idaho to visit them in person. Most of her year was spent home-schooling her kids in and around the western national parks.
"It took COVID for me to change. What is something I can do where a pandemic isn't going to stop me from doing the work I love, from helping people?" Pollina said.
Pollina had been fairly well-equipped to handle the additional stresses of the pandemic. Being the rare immigrant woman in her unit (her mother immigrated from Cuba when Pollina was young) had not been easy. Pollina has been seeing VA therapists for years to deal with post-traumatic stress disorder and generalized depression.
Early in the pandemic, Pollina said it had been easy to just sit around with her kids and not keep her self-improvement up. But that trickled down to her sons, who no longer had hands-on learning or meetups with other home-schooled kids. The techniques she learned from her in-person and virtual therapy sessions helped.
"It's a continuous effort not to succumb. Your brain gets wired a certain way, and it's been a lot of work rewiring it. I have to notice quickly when things are starting to go wrong," Pollina said.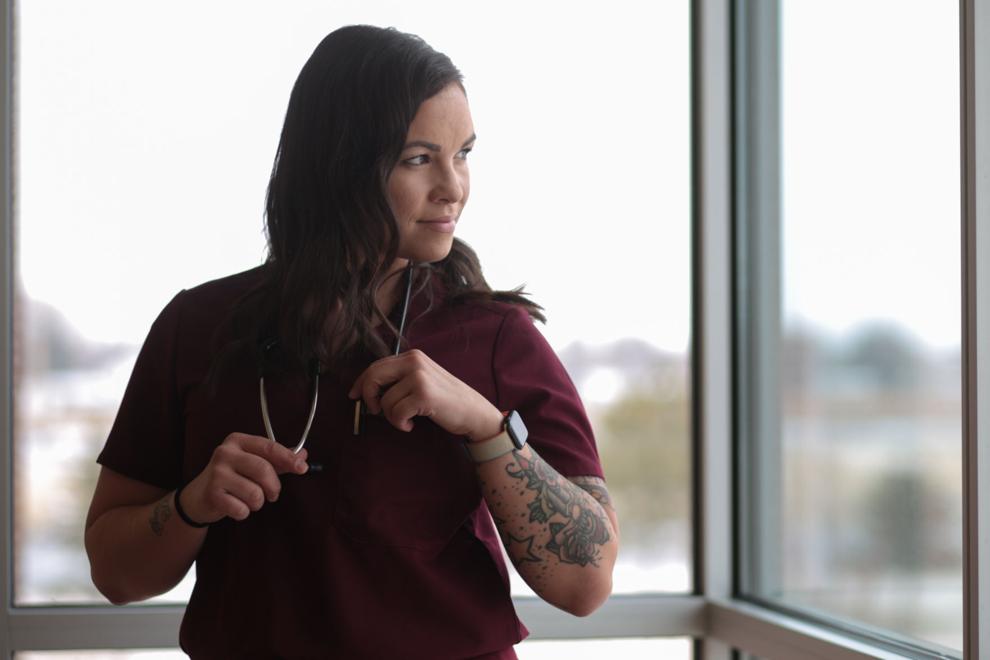 Pollina quit her job in mid-2020 and began looking for college nursing programs. She landed on the College of Eastern Idaho — the one closest to her new home in Idaho Falls and the most affordable option.
The school also had the best option for child care. CEI helped to arrange for her kids to enroll in the school's Center for New Directions. Combining those with programs at the Idaho Falls YMCA gave Pollina the flexibility to dedicate herself to studying.
"I don't have family within a 1,000-mile radius," Pollina said. "It's that program that made it possible for me to attend school."
Her nursing classes at the college are in the afternoon three days a week. The rest of the time she spends studying at the college or at home with her sons.
Pollina earned her initial CNA certification a few weeks ago. It will take another year and a half for her to complete her nursing degree, though she will be out helping people through clinicals soon.
"You have to find out what motivates you," Pollina said. "You have to know how to anchor yourself down to keep from floating away when everything is virtual."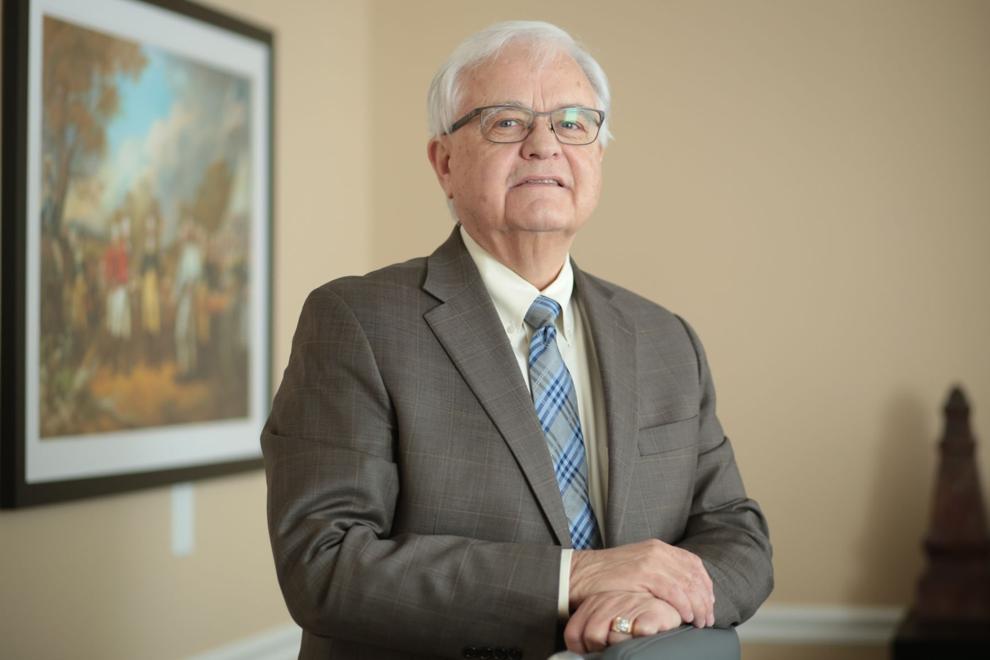 Doug Nelson, private attorney
A little more than three years ago, Doug Nelson finished 13 rounds of chemotherapy and three cancer surgeries in his battle against bladder cancer.
Nelson, 71, was already used to closely watching his health. He was social distancing, wearing masks, doing what he could.
Last year, he wanted a Christmas something like normal. He had talked it through with his kids.
As Nelson prepared to see his daughter, the family agreed that everyone should get tested just to be safe.
"We didn't want to be asymptomatic carriers to one another," Nelson said.
Four days before Christmas, Nelson tested positive for the coronavirus. He said his wife, Billie, tested positive, too.
It was just testing to be cautious for the holidays. But the results weren't just a sign that Christmas was called off for him.
The risk was clear. In October, Nelson's high school friend, Mike Doggett, had died quickly in his fight against COVID-19. Nelson didn't know Doggett's health history. But Nelson, a cancer survivor and senior, knew his own health put him at higher risk.
The positive test sent Nelson searching for help.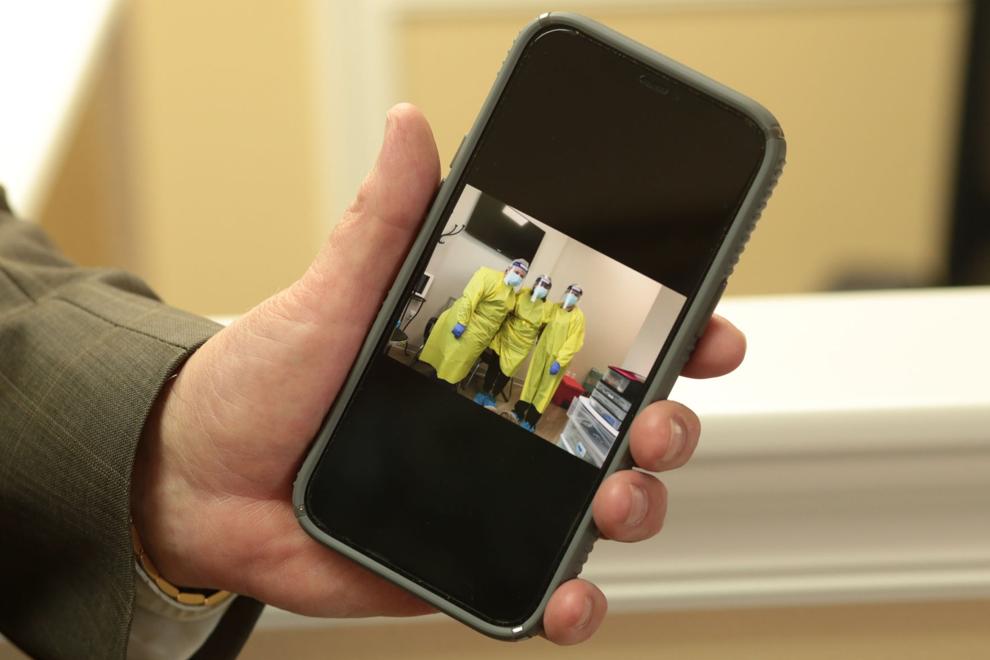 "Literally, within 12 hours of my diagnosis, I was receiving antibody infusion directly," Nelson recalled in a recent interview.
In high-risk people, some research suggests that monoclonal antibody infusions used early in infections can reduce the risk of COVID-19 hospitalization.
Unlike some other trials, Nelson knew he was getting the actual treatment, not just the substitutes often used in medical research to better isolate that the experimental treatment is safe and effective.
"I wanted to know for sure that I was getting the treatment," Nelson said.
Nelson's coronavirus infection panned out mild. A dry cough persisted for a few days, with headaches, body aches and fatigue. He doesn't know how much of that he can attribute to the treatment, but he's grateful his doctor helped him sign up for the trial.
And he's grateful for the routine test that helped him spot the virus early. Without early detection, he worries he wouldn't have known he had COVID-19 until his symptoms got worse.
"We consider that a great blessing, almost a coincidence," Nelson said.
He dodged a hospital stay. Nelson celebrated Christmas at home with his wife, Billie, and their miniature schnauzer, Alfie.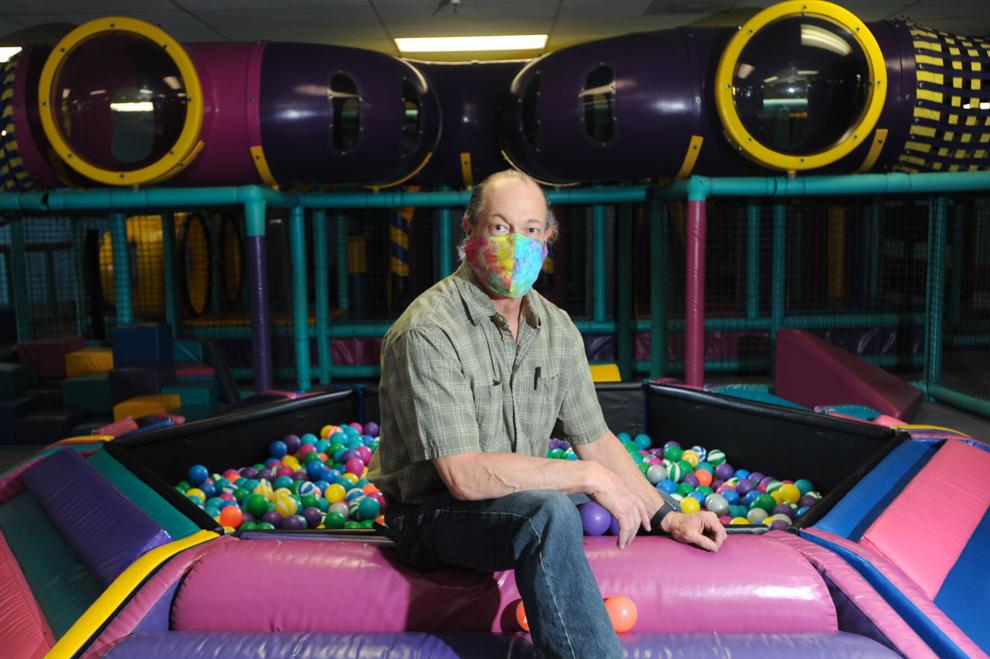 Robert Goody, business owner of Blast Off!
Robert Goody lives in a 110-year-old farmhouse that costs $700 per month to heat with propane. He can't afford that. So each autumn he buys a truckload of firewood, the kind you have to saw and split yourself. That's what he uses to keep the house warm through the long Idaho winters.
Robert and his wife Dena, now in their 50s, have lived there in that house since they were in their early 20s. They had been saving up for the last 24 years to buy a new one. They were so close to their financial goal.
"I thought my wife deserved a different place to live," Robert said.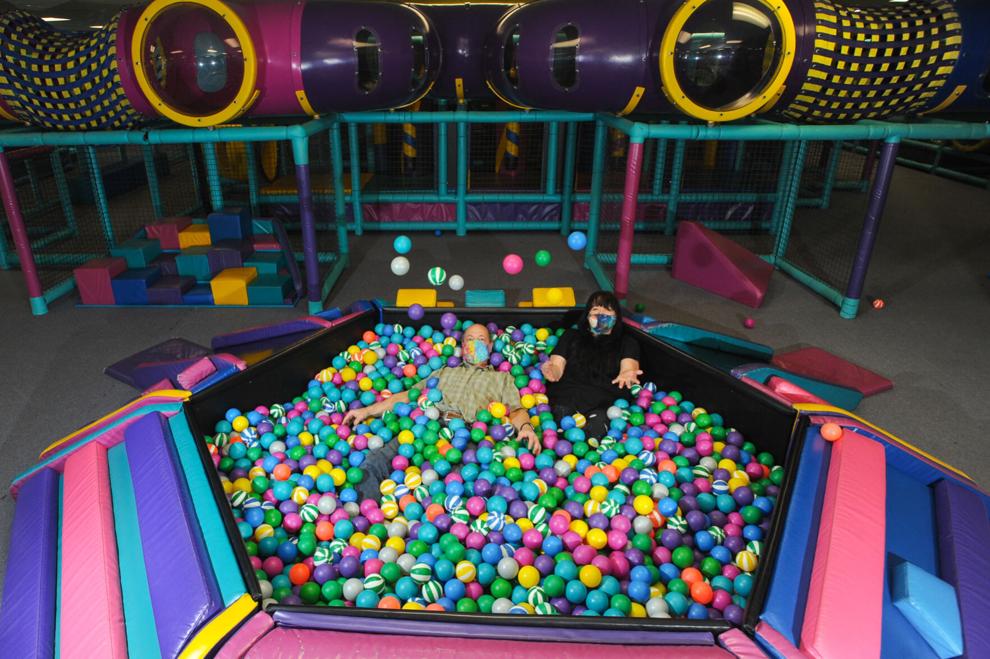 Until March 14, 2020, hit. The Goodys own Blast Off! in Idaho Falls. It's a "family fun center," offering activities such as laser tag and miniature golf. More than a dozen parties were booked for the day. The Goodys had been taking news of the spreading COVID-19 pandemic seriously. Face masks and hand sanitizer had not yet become the norm, so the couple simply asked customers to go to the restroom and wash their hands for 20 seconds when they first came in.
Not everyone liked that. People began swearing at him. Goody, who grew up around ranchers, was familiar with this kind of language, but it bothered him that it was said around children.
"We had several rude people that were vulgar and couldn't contain the language that they were using. After the third group, I determined, 'Hey, this isn't going to work,'" Goody said.
Blast Off! closed its doors days later.
"It was the first and only time I've laid off my employees. It was not fun to do. But we did that because we understand the severity of what was happening," Goody said.
But Robert told Dena it would likely only be for six weeks. Six weeks — that was Robert's guess on how long it would take before Idaho got the virus under control. He never would have predicted it would be more than a year later before Blast Off! reopened.
As cases increased, the couple kept their business' doors shut. With no income coming in, they were still paying taxes on a 20,000-square-foot building that averaged $800 per month in utility bills even when not operating. To pay for it all, the Goodys drained their savings.
"We were fortunate enough to have the money in the bank to do that. Although, now we're starting over with a very small house fund," Robert said.
But they are starting over. Blast Off! reopened March 22. Half of his old staff took him up on his offer to return. The vaccines are giving them hope that things will start getting better. Both Goodys have been vaccinated, as has Robert's 87-year-old mother to whom Robert is the sole caretaker.
Robert has been overjoyed to reunite with so many beloved customers. Some tell him they can't wait to give him a hug once the pandemic is over. But there are still difficult moments. A woman called the company and began angrily reading to Robert from legal code, calling his mask requirement "discrimination" against her.
"The divide in our country, that's the worst thing I've ever seen. … We need to figure out how to come back together. I know that we can. And I know that we will. But I just hope it comes sooner rather than later," Robert said.