Name: Lecanium spp.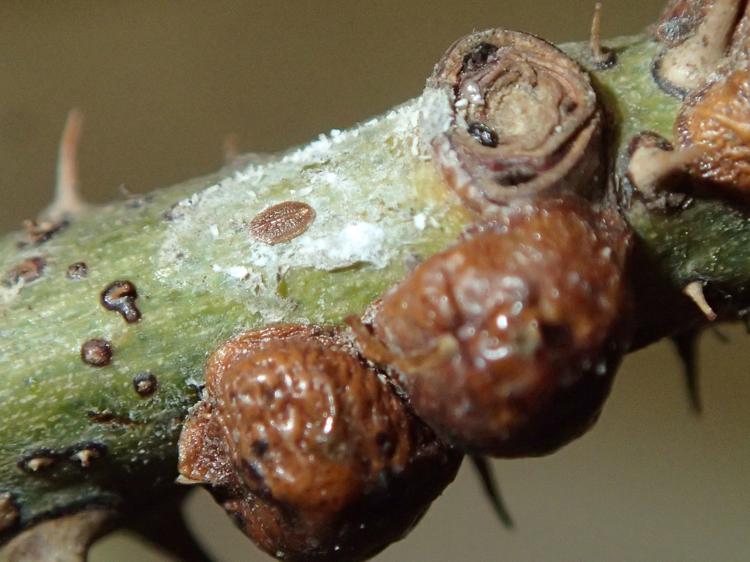 Alias: Lecanium scale. This scale is often confused for some type of damage that has caused a tree to extrude small bubbles of sap. While that does happen, this is a different matter. These small reddish brown bubbles are usually a quarter of an inch long and are uniform in shape and appearance. It is only the females that you will see, and they are usually attached to twigs, branches, leaves and even the fruit of common fruit and landscape trees and shrubs.
Crimes: These insects have piercing-sucking, mouthparts which they use to feed on the plant. While one or two may not be a concern, large populations can stunt plant growth, cause foliage discoloration and even kill smaller sprouts and plantings.
Redeeming Qualities: None
Sentence: In small populations, the easiest way to control lecanium scale is to simply scrape them off with your fingernail or a toothbrush. Often biological controls such as birds and predatory insects feed on scale. Chemical controls are difficult with scale. They are usually never noticed until they are in the hard "scale" stage, and if chemicals are to be used it must be used when they are in the "crawler" stage. For most homeowners, best management practices will keep scale in an acceptable threshold. Plants that experience drought conditions or that have received too much nitrogen are more susceptible to scale infestations, so be sure to water your plants properly and do not over-apply fertilizer.