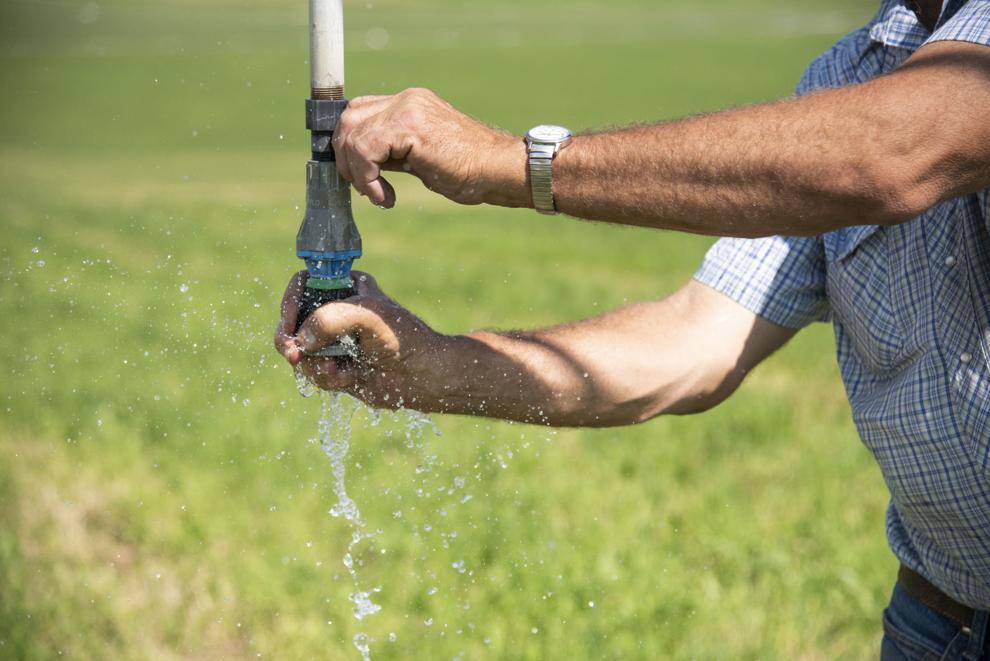 The last time Dave Pruitt saw drought conditions worse than now was back in the 1930s — the decade when the West Gallatin River went dry multiple times, he said.
Pruitt has lived in the Gallatin Valley his entire life, and he grows hay on a farm west of Four Corners. He previously served as a water commissioner, mediating water rights along the West Gallatin River.
So far this year, Pruitt's hay crops have produced about half of what his land normally produces by this time, and he's not alone. A region-wide hay shortage is driving up demand for the crop, and prices.
"It's just not there," he said. "We're hearing the same thing from everybody else."
As severe drought grips the West, farmers and ranchers across southwest Montana are already making tough decisions.
Cuts to surface water usage started early, forcing some farmers to cut back on irrigation. Producers are struggling to grow and buy hay due to a region-wide shortage. Some ranchers are selling their cattle earlier than normal.
The U.S. Geological Survey reported that flows in the Gallatin River were 45% of normal near Gallatin Gateway and 16% of normal near Logan on Thursday. Flows in the Jefferson River were 16% of normal by Three Forks and 17% of normal by Twin Bridges.
Flows in the Ruby River were 10% of normal by Twin Bridges and 36% of normal by Alder. The Shields River near Livingston was running at 13% of normal. The Missouri River by Toston was at 27% of normal.
On Tuesday, the Department of Agriculture announced 15 counties in Montana would be added to the list of emergency disaster areas. Agricultural producers in the eligible counties can access emergency loans and other federal resources.
Gallatin, Madison, Broadwater, Park, Silver Bow and Jefferson counties aren't on the list. Sweet Grass and Meagher Counties are.
"As far as I can remember, this is the driest it's been at this time of year," said Tim Feddes, who grows hay and wheat and raises registered Hereford cattle just outside of Manhattan. "The last really good amount of moisture we got was May 21, when there was a snowstorm."
Feddes was wrapping up his first cut of hay this week. His yields were down considerably — somewhere between 30% to 35% less than normal. Because of the losses, he made plans to hold off on selling much of his crop.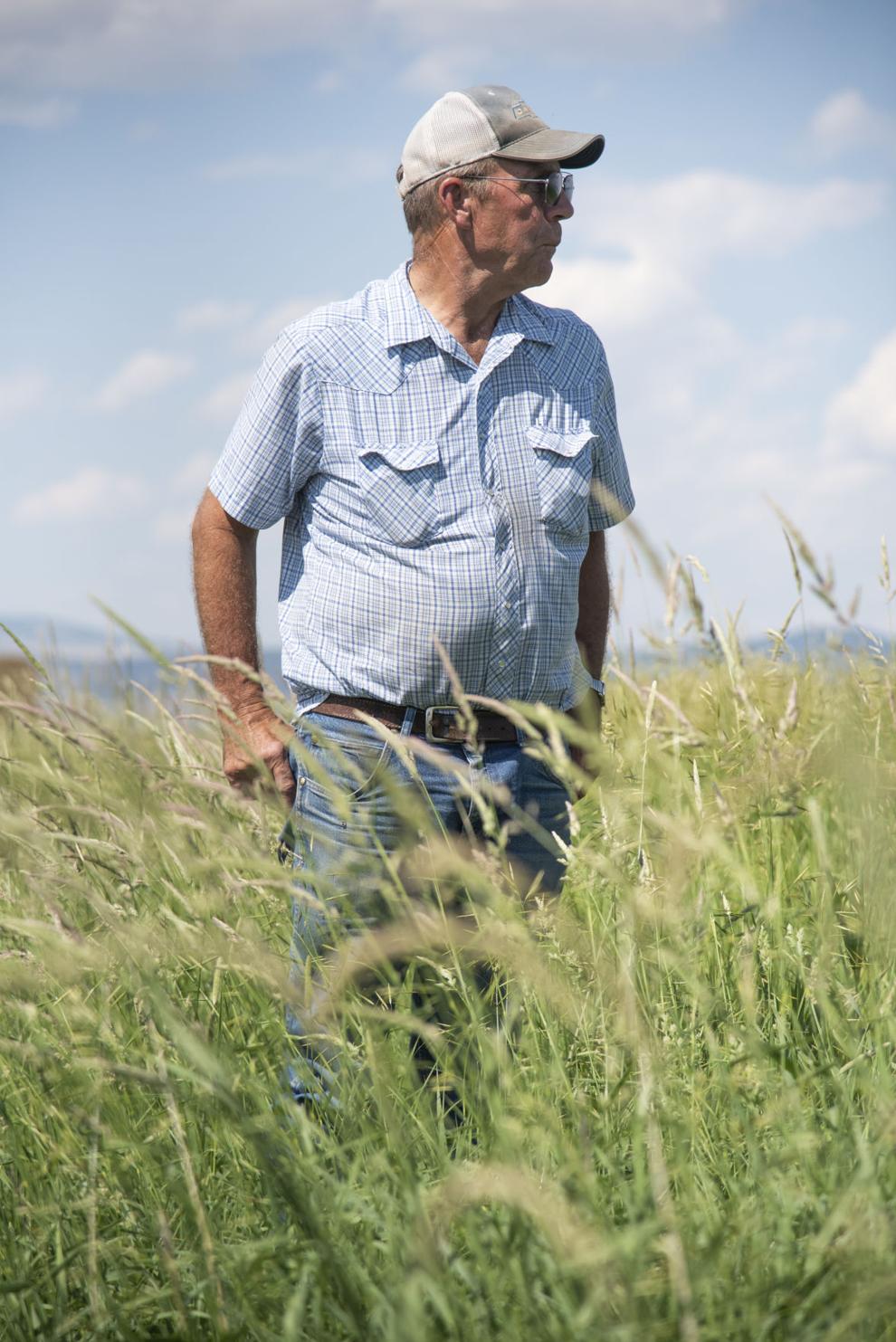 "There is just less hay around. It's hot, and with extremely high temperatures, pastures are drying up earlier than normal," he said. "I've already heard of cattle being shipped away just because of the drought."
Feddes has been making a few changes on his farm in the event that hot, dry conditions persist.
Where Feddes runs his cows, he fenced off sensitive, less productive areas. He's also been keeping as much moisture on his hay fields as possible in case he'll need to start shutting off pivots.
Fortunately, Feddes' ditches haven't dried up. He has access to a well and he's been able to keep pulling water from the Gallatin River for irrigation, he said. Even though he has older water rights on at least one ditch, he is concerned about having enough water as the summer goes on.
"You just keep in mind how to make the most efficient use of your water, which we always do," Feddes said. "But even if we make the most efficient use of it, there are going to be some tough decisions over the next couple of weeks if we don't get some moisture."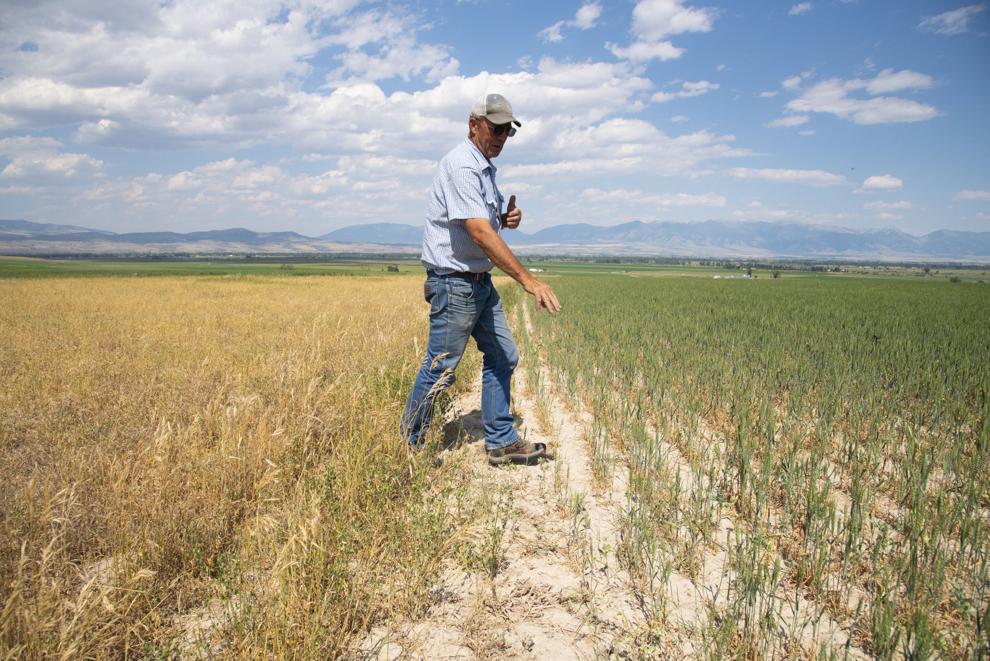 When people with older surface water rights on the Gallatin River can't get enough water, they can petition the courts to call in Chief Water Commissioner George Alberda to order water use cuts.
Montana's water laws follow the principle "first in time, first in right," so Alberda has to enforce water rights along the Gallatin River in order of priority dates.
Junior water right holders — people with decrees that date back to 1890 or later — start losing their access to surface water first. As flows dwindle late into the summer, people with senior surface water rights — decrees from 1890 or earlier — can start losing their access too.
During particularly dry summers, Alberda has begun enforcing water use cuts around late July or August, he said. This year, that process started on Independence Day.
"We're halfway through the year 1890," Alberda said on Tuesday. "I'm sure there's more (water use cuts) coming. Exactly when, I'm not sure."
The news was scary for Susan Duncan, who raises grass-fed Irish Dexter cattle in Belgrade. Her ditch has older water rights, but getting sufficient water from the Gallatin River to her property is a challenge since her farm is miles away. A lot of water gets lost on its way from the river to her land even without any cuts.
Duncan, who is a board member for the Association of Gallatin Agricultural Irrigators, raises the rare, half-sized breed of cattle on a 76-acre farmstead. She practices rotational grazing and keeps track of all her animals individually for customers. She doesn't yet have customers lined up for some of her steers this summer.
This year, Duncan is worried that if her ditch dries up, she'll have to rearrange her cattle, and that will stress her pastures. Animals also tend to eat less under hot conditions, so she doesn't know how much weight she'll be able to put on them, she said.
She could take her cattle to auction, but it doesn't make sense because they are a specialty breed, she said. She also can't send them to a feedlot. That means she has to find a way to keep them fed through the winter.
That could be difficult. She's anticipating her crop of hay will turn out light. To add to it, because the entire West is facing a hay shortage, she's worried about high hay prices and low supply.
Duncan usually pays a supplier between $100 and $130 for a ton of hay, but this year she's prepared to pay somewhere from $180 to over $200 per ton.
"At this point, the fear is there will be nothing to buy at any price since everyone is on the same boat," she said. "The only reason I'm in line for that is because I talked to them early. Their phones are ringing off the hook."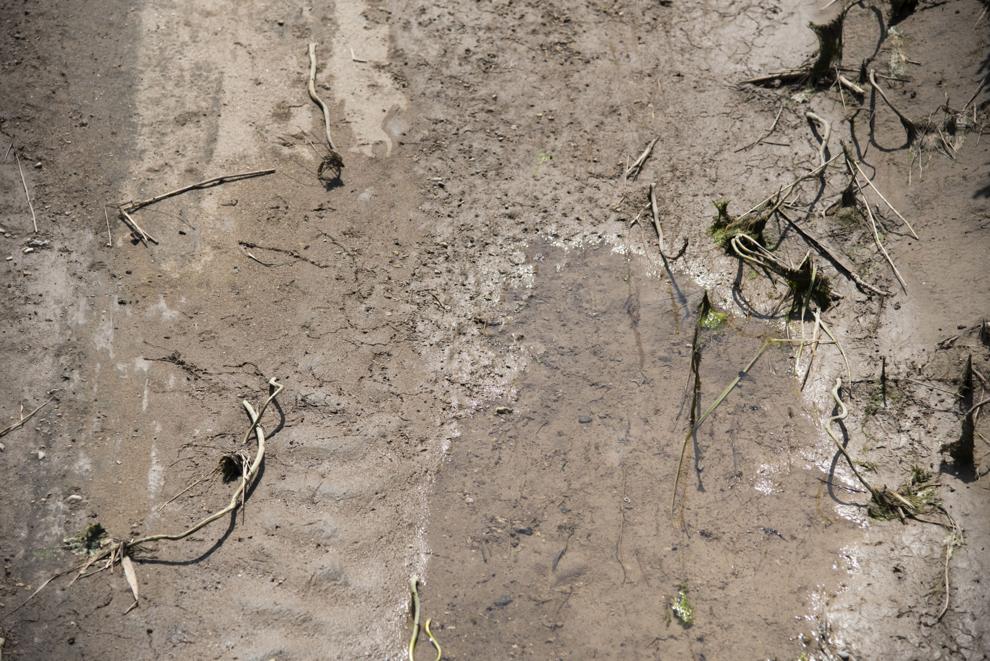 A hundred miles west of Bozeman, along the Big Hole River, rancher Jim Hagenbarth has struggled to keep his cows fed because of a lack of spring growth this year.
Usually he's able to graze them on 18,000 acres of dry range country, but this year he had to keep his cattle in his fields and feed them there.
Hagenbarth's family has lived in the area around Glen since the 1870s, he said. In the years he's run Hagenbarth Livestock, he's only seen drought conditions this bad about three times.
"It's pretty drastic. It's a pretty severe drought — one that we haven't seen in years," he said. "There's going to be a severe economic impact on producers in southwest Montana, and there's no way around it. You can't feed your way out of a drought."
Many small springs and creeks on the rangelands around Glen, Dillon and the Centennial Valley dried up in June, forcing some producers without wells to haul water or not use fields, Hagenbarth said.
Some public lands ranchers with Bureau of Land Management or state leases had to sell cattle, sell breeding pairs or put pairs in feedlots because of cuts to grazing, he said.
"You just have to make good, sound decisions and recognize that there is a problem and there's no way to work around it," Hagenbarth said. "For some people who are carrying a lot of debt — this could break them."
The cuts are partially to protect fish populations. Fish become more susceptible to disease and death when water temperatures are high and flows are low. Water users have been trying to adhere to minimum flow requirements, keeping them above 20 cubic feet per second.
"We're trying to balance the needs of users who rely on water from the Ruby while maintaining flow levels that fish need," Wood said in June. "Water levels at Ruby River Reservoir peaked at 93% of capacity this year, which is the first time since 2003 that the dam didn't spill."
Wood said many agricultural producers aren't irrigating with much water.
"With these hot temperatures, it's almost impossible to put enough water on the ground to keep it wet enough," Wood said. "With the price of hay and the lack of hay that's going to be out there, financially this is going to be a tough year for farmers."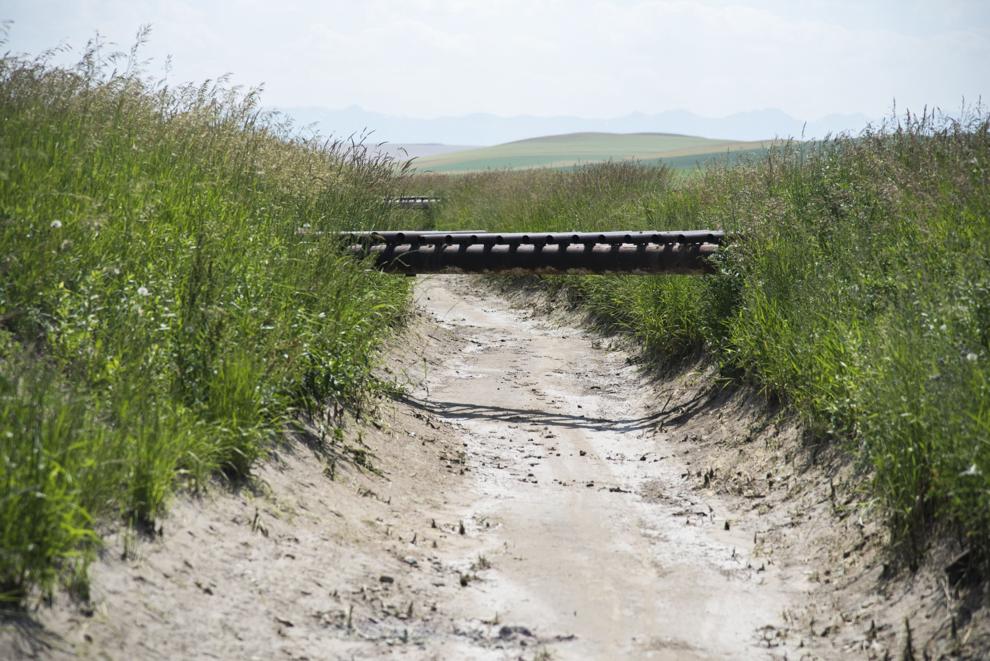 Mike Gaffke operates a small farm in the Triangle area between Bozeman, Belgrade and Four Corners. He grows hay, raises some cattle and is very involved with his ditch company. He holds senior water rights along the Gallatin River.
Gaffke has focused on pulling water from the river, irrigating and putting up his hay crops. He's hoping he'll have half as much hay as he normally does.
It's not just the severity of this year's drought, but the sheer extent of it that's creating problems for farmers and ranchers, Gaffke said. He's heard of people in eastern Montana who are making generational sacrifices and cattle ranchers who are liquidating their herds.
Usually in drought years, parts of Montana produce enough hay to relieve drier areas. But this year, the entire West is dry, which means everyone who grows hay is coming up short, the people who have it are holding onto it and there's little relief for hundreds of miles.
Gaffke usually sells his hay to local customers, but this year he's seeing demand from all over the West. People don't know how long supply will last, so everybody is trying to collect as much hay as they can even if it's a little bit more than they need.
"You really want to work with local customers and keep them happy, but at the same time, you don't have as much hay as you normally have so you're getting less income," he said. "Then you have this demand coming from non-local, out-of-the-region people who are willing to pay more."
Gaffke's farm is surrounded by subdivisions. The water supply he uses also waters the Black Bull Golf Course and the lawns around many homes. The water users work together and communicate, and they've generally been supportive and cooperative, he said.
That's part of why Gaffke sees this drought year as a chance for people to come together rather than be driven apart.
"Everyone is connected to water, whether they get it directly from the river or they pump it from the ground. There are a bunch of sacrifices people can make to help everyone," he said. "If everyone does the opposite — if they say, 'I'm going to try and get as much toilet paper in my closet as I can' — then we're all going to lose."