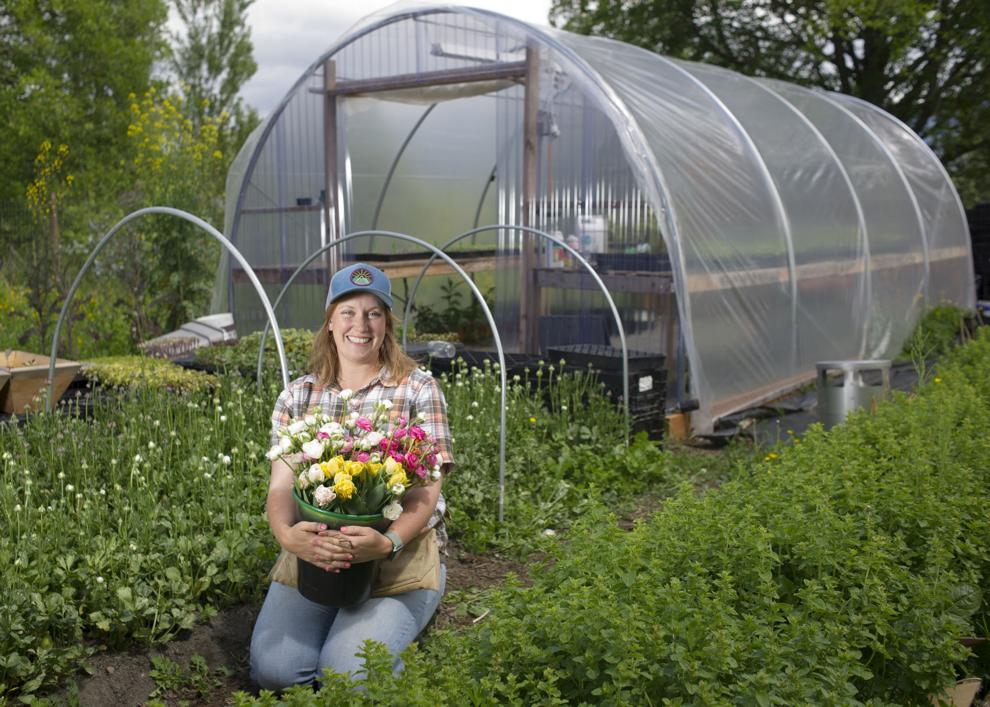 MOUNT VERNON, Washington — When the COVID-19 pandemic began last year, many people bought flowers to send to loved ones and frontline workers or to brighten their homes.
Amid an increase in demand, small-scale Skagit County flower farmers say they have gained new customers and expanded their businesses.
"I think (demand) is here to stay for a while," said Jesalyn Pettigrew of Mossy Gate Flower Farm, based in Big Lake. "There are people who have to have flowers on their table every single week. It surprised me."
Though locally grown flowers are widely available, most flowers sold in the U.S. are imported from other countries.
Imports of cut flowers are four times the U.S. domestic production of cut flowers, according to a May 3 Bloomberg piece that cites data from the U.S. Census Bureau, Department of Agriculture and International Trade Commission.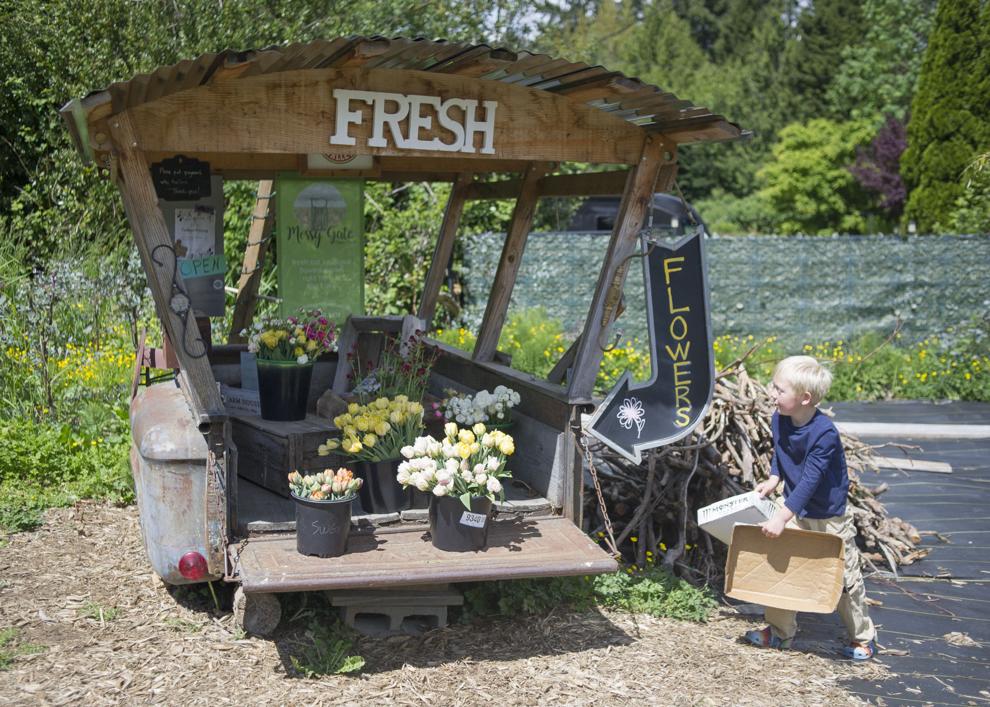 In 2019, the U.S. imported nearly $790 million cut flowers from Colombia, the top source of imported flowers, the piece states.
Vivian Larson, a Stanwood-area grower who has been in the cut-flower industry for 30 years, thinks the pandemic increased appreciation for locally grown flowers.
"I think a lot of people have rediscovered their local farmers and what the local farmers have to offer," she said.
Advantages to local flowers are that they smell good and haven't been sprayed with chemicals. Larson said many imported flowers are bred for shipping long distances and lose their fragrances.
"I think (buyers) were also surprised by the wide variety of types of flowers you can get locally," she said. "They are more seasonal because they're not grown in the Southern hemisphere."
Mossy Gate Flower Farm began in 2015.
Pettigrew had closed a La Conner gift shop she owned and moved further into the Skagit Valley with her two infant sons. Though never a gardener growing up, she planted dahlia bulbs to pass the time.
"I found no matter how tired I was with the kids, I always took care of (the flowers)," she said.
She researched flower farming and found she might be able to make a living at it. To gain experience in the industry, she took a job at Larson's farm, Everyday Flowers north of Stanwood.
At her own farm, Pettigrew started with just 1,600 square feet of garden space, which has expanded to about 2 acres. The farm includes a home base in Big Lake and rented land on Fir Island.
Pettigrew said she gets bored easily and has switched jobs many times. Flower farming was the right fit.
"I'm in my sixth year, and I'm obsessed," she said.
She now grows 90 varieties of dahlias, which she will harvest August through October. This spring, she grew 12 tulip varieties, as well.
Many growers call themselves farmer-florists, but Pettigrew said she has no interest in designing arrangements. She doesn't even enjoy receiving bouquets.
"My passion is long rows of a color and 40 buckets at a time," she said.
One part of her business is selling in wholesale quantities to florists and floral designers. She also has a roadside stand in Big Lake with $5 bunches of single flower varieties so customers can make their own arrangements. The farm also offers flower subscriptions, similar to Community Supported Agriculture programs.
What Pettigrew enjoys most about farming is watching the life cycle of her plants.
"I love seeing seeds germinate, the bees sitting on them and the petals unfurl," she said. "I love harvesting, that is a part of the life cycle process for a plant."
Pettigrew said she avoids the use of chemicals on her farm. She recently purchased ducklings to roam the garden and eat slugs and bugs — natural pest control.
She said her goal is to be sustainable, both ecologically and economically.
Many small growers like Mossy Gate Flower Farm have joined the cut flower industry in recent years, Larson said.
"I think it's a pretty competitive market," she said.
The number of cut flower farms in Skagit County increased from 19 to 27 from 2007 to 2017, according to the most recent Census of Agriculture statistics from the USDA.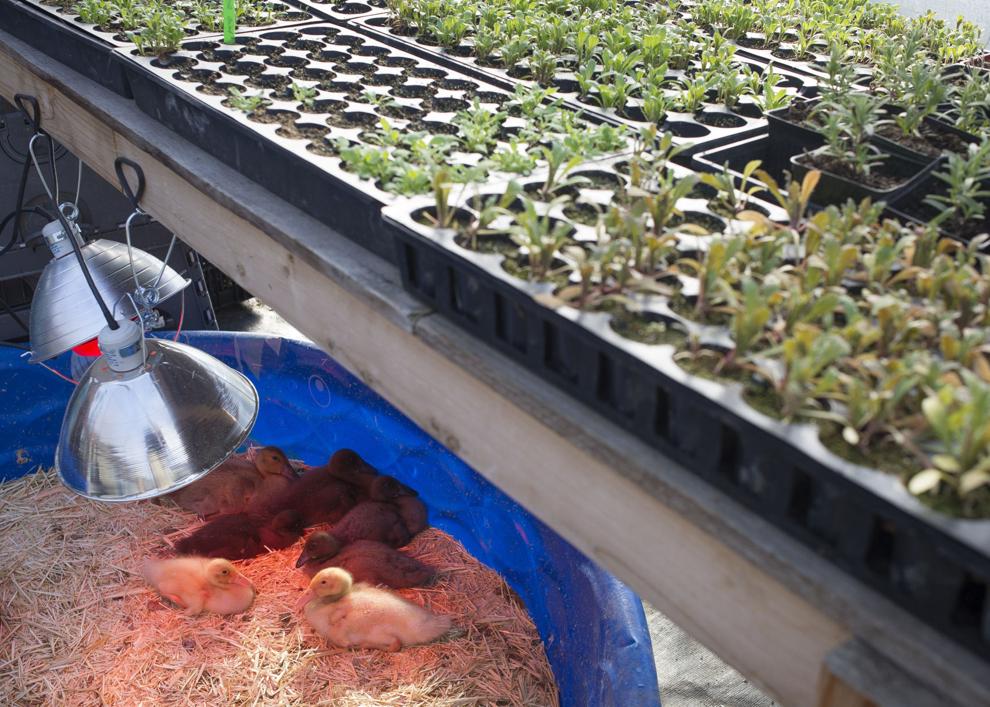 Larson said farms should try to differentiate themselves by growing unique flowers. Her farm grows tulip varieties that are different than those grown on a larger commercial scale in Skagit County.
"You can't compete with the big guys," she said. "Find a size that works for you, and build your market from there. That's the smartest thing to do."
Flower demand plunges, then soars
In the early days of the pandemic, global floral sales plummeted as events were canceled and economies shut down. Some large growers were forced to compost millions of flowers after they were left with no markets.
Pettigrew worried about finding a sales outlet for her flowers after a weekly wholesale floral market in Seattle shut down temporarily.
She turned to the local community for support, posting about her small farm stand in a neighborhood Facebook group and on Instagram.
"It really hit home I could have a different customer base than I had considered before," she said.
Mossy Gate Flower Farm became a member of the Puget Sound Food Hub Cooperative last year — the first flower farm to do so — enabling the farm to expand its local reach. The food hub connects local farms with wholesale buyers, such as restaurants and grocery stores.
Over Mother's Day weekend, the farm sold flowers at Haggen for the first time at three stores in Snohomish County.
Larson said she has noticed grocery stores are featuring flowers more prominently.
"I think stores have taken notice of the floral buying public," she said. "If (stores) can buy local and work with local growers, it's awesome because they'll get a better product."
Mossy Gate Flower Farm's success in the past year allowed Pettigrew, a single mom of two, to quit an off-farm job last fall and become 100% self-employed.
Flower sales have also increased for SUOT Farm, a 1-acre farm in Burlington.
Farmer and florist Sarah Wagstaff said the farm specializes in growing perennial flowers, shrubs, vines and grasses. The farm practices Hugelkultur, a German method of no-till gardening that uses woody debris to mimic a forest ecosystem.
Wagstaff said people sent more flowers last year for birthdays, holidays and weddings because they couldn't be there in person.
She thinks the pandemic has shifted people's ideas about what's important.
"I think 100% people said my family and friends (are important), and I want to remain close to them in ways that I can when I can't physically be there," she said. "I want to have an emotional presence with them. … Flowers convey that so much."
SUOT Farm last December opened a floral studio that sells fresh bouquets, dried flowers, potted plants and more. The business also offers online sales and virtual classes.
Wagstaff said demand has increased for flowers and so have prices. Like many other industries, the flower industry is facing supply chain shortages due to pandemic-related challenges.
Shortages might give local flowers a boost.
"We are growing more than ever because we anticipate there might be a global shortage," Wagstaff said.