Officials from 14 hospitals across eastern and southeastern Idaho signed a letter saying their intensive care units and inpatient hospital floors are regularly pushed to capacity, re-upping requests for community members to get vaccinated against COVID-19.
The letter released Wednesday is the latest outcry about hospital capacity constraints.
Fears that hospitals may not be able to provide normal levels of care reached a fever pitch Tuesday, after the state health department announced that it authorized hospitals in north Idaho to formally ration care according to a disaster plan that gives hospitals legal guidance and protection to ration scarce and potentially life-saving care focused on saving people with the best chance of survival. The rest of the state remains "dangerously close" to declaring Crisis Standards of Care, said Idaho health Director Dave Jeppesen.
"The choices Idahoans make have a direct impact on whether hospitals have the human resources necessary to care for our community. We are imploring our community to get the COVID-19 vaccine," the 14 hospitals said. "Protect yourself, protect our children, and protect the vulnerable members of our community unable to receive the vaccine. Do your part to make sure we can protect our precious hospital resources and care for those who need us most."
Hospitalizations for COVID-19 in four eastern Idaho hospitals — Eastern Idaho Regional Medical Center, Portneuf Medical Center, Idaho Falls Community Hospital and Madison Memorial Hospital — more than doubled in August, increasing from 74 in July to 157 in August, the letter said.
"Hospitals throughout the region are currently experiencing COVID-19 hospitalization rates exceeding those of the peak surge in December 2020. While our facilities remain open and are capable of caring for patients in need, the current COVID-19 crisis puts a significant strain on hospital resources, including staff and bed availability," the letter said.
People hospitalized with COVID-19 are "overwhelmingly unvaccinated," the hospitals said. New data released Tuesday by the Idaho Department of Health and Welfare shows that between May 15 and Sept. 4, 90% of cases, 91.6% of hospitalizations and 88.7% of deaths were among people who were not fully vaccinated against the virus.
On an average day last week in Idaho Falls, less than three ICU beds were available, according to federal data reviewed by the Post Register. Each day, the region's largest hospital, Eastern Idaho Regional Medical Center, was using an average of almost 27 of its 29 staffed adult ICU beds, data from the U.S. Department of Health and Human Services shows.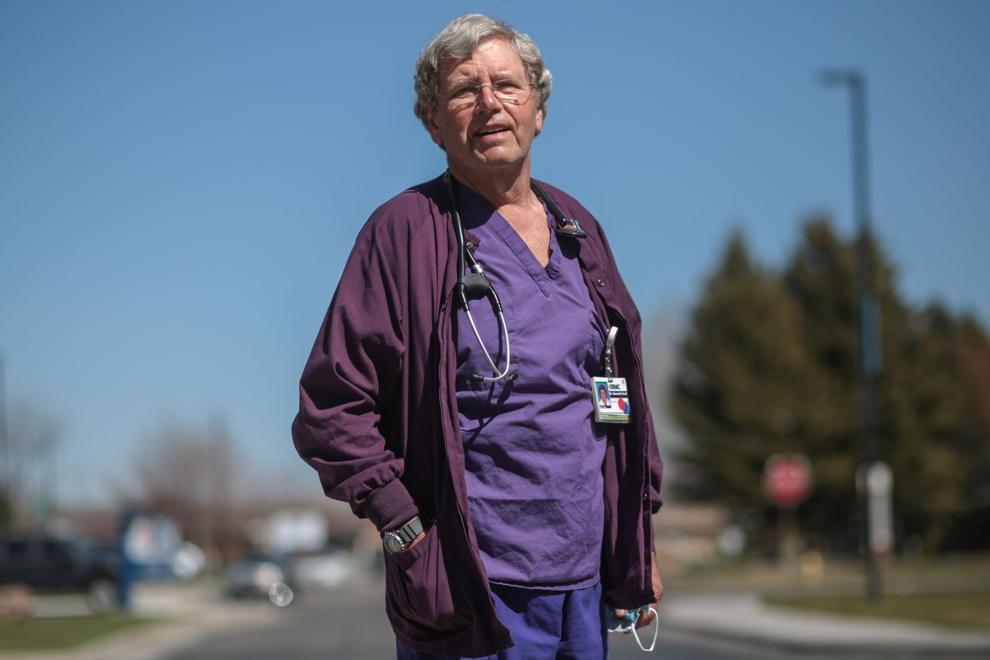 Since then, it's only worsened, according to one doctor.
Dr. Kenneth Krell, an intensive care physician at EIRMC, said the hospital's ICU was treating 35 patients Wednesday afternoon.
"We are over our capacity at this point, as is virtually every other referral center in the state," Krell said.
"It is pretty grave," he said. "Our staff is stretched. We're pulling in staff as much as we can, utilizing our travelers and our nurses who normally work on the floors to assist in the ICU. And we have to remember at the same time that there are no beds on the floor. Every patient bed is filled in the hospital. So that staff is stretched to the limit and beyond both on our floors and in the intensive care units."
"We are really stretched," Krell said, "but we don't want people avoiding care," which he said happened too often last year.
Krell said regional hospital administrators are discussing whether to request a Crisis Standards of Care declaration. Krell, who serves on the state committee that advises state health department Director Dave Jeppesen on whether to implement the standards, said he personally feels like a statewide disaster declaration is on the horizon.
"My personal feeling is it's likely a matter of not if, but when," he said.
Across the street, Idaho Falls Community Hospital's ICU with 10 staffed beds was nearly full, with an average of 9.9 out of 10.4 staffed beds in use daily, the federal data shows. Dr. Jared Morton, who leads the hospitalist program there, told the Post Register in a text message that the facility was at capacity Tuesday and was "right below it" on Wednesday afternoon. He said the hospital arrived at this point because people didn't use the tools available, such as vaccines, "that could have helped avoid our current sad state of affairs and future problems."