Unrequited love, uncorroborated alibis, and a detective's unwavering commitment to finding an Idaho Falls' woman's killer added up to break in the cold case murder of Stephanie Eldredge.
Details of the case against the man charged with Eldredge's murder have been made public in the probable cause affidavit.
The affidavit by Idaho Falls Police Department Sgt. Jessica Marley describes a web of evidence connecting Eldredge's 2007 murder to Kenneth Ryan Jones, 30, and the 12-year investigation by multiple detectives that untangled that web. (Marley was promoted from detective to sergeant in 2017.)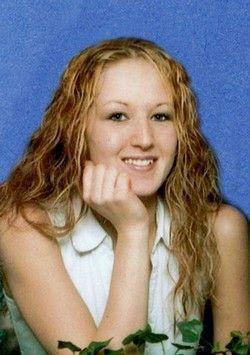 According to the affidavit, Eldredge was reported missing Aug. 20, 2007 by her boyfriend, Michael Jimenez. Eldredge and Jimenez were living with his half-brother, Jones, their mother, Linette Theisen, and Eldredge and Jimenez's 4-month-old baby.
Theisen told police she came home between noon and 12:30 p.m. to find the baby alone and unsupervised. Friends and family told police Eldredge would not have left the baby unattended.
Over the next few years, investigators would interview Jones, Theisen and Jimenez multiple times. Marley wrote that Jimenez and Theisen were consistent and forthcoming in their statements to police, but that Jones changed his story multiple times.
Jones told police he was the last person to see Eldredge alive when he left the residence for work at 10:45 a.m. He said Eldredge was on the couch with the baby when he left, and that he returned at noon to learn she was missing.
Marley notes that in 2007, Theisen told police Jones was in the bathroom when she came home and refused to come out.
Police checked with Jones' boss and coworkers to see if he had gone to work. None of them had seen him there, and there was no record of him clocking in. Jones suggested he may have forgotten to clock in.
Jones later changed his story, telling police he had gone to buy marijuana from a friend and play video games. Both the friend and the friend's wife denied this had happened. Police verified the friend's whereabouts with his employer.
The affidavit states Jones denied having an argument with Eldredge, but that he later told police they had argued when Jones woke Eldredge and the baby at 8:30 a.m. to use her cellphone.
Both police and family members observed vertical scratches on Jones' neck. He said they were caused by a branch near the residence. Marley wrote the scratches were not consistent with his story because a branch would have left horizontal marks.
Jimenez reported seeing Jones at the intersection of Ammon Road and Sunnyside Road at 11:45 a.m. on the day Eldredge disappeared. Jones turned east, in the direction of the Ammon foothills where Eldredge's body would be found in April 2010.
Jones went on a drive in 2007 with two detectives to retrace his steps from the day of the murder. During the drive, Jones made the same turn witnessed by Jimenez. His route went by the foothills where Eldredge would be found.
When Eldredge was found, it was clear her body wasn't there by accident. She was wrapped in a blanket, and her wrists were bound by black electrical tape. Similar pieces of tape had been found in Jones' car. Her face was also wrapped in black tape.
More than a year before Eldredge was discovered, a detective interviewed a man who said Jones admitted to the murder when they were in jail together.
The man said Jones described Eldredge as his girlfriend, and that Jones hit her in the back of the head in the residence's bathroom.
Jones reportedly told the inmate he held Eldredge down until she stopped breathing. Jones then wrapped her in a blanket, put the body in his trunk and drove out to the foothills to dispose of it.
The inmates' description is consistent with several pieces of evidence discovered when police searched Jones' car in 2007, as well as evidence on Eldredge when she was found in 2010.
During a 2018 interview, Jones denied having told the other inmate anything.
"It seemed unusual to me that Kenny didn't ask who (the inmate) was or ask anything about his involvement in the case," Marley wrote.
In 2018, Marley re-interviewed the man Jones confessed to in 2009. The man stood by his statement and added that Jones told him he was in love with Eldredge.
Eldredge was found wrapped in a blanket as the inmate said Jones described.
Strands of hair found in Jones' car were tested to see if it was Eldredge's. The test determined the hairs could belong to Eldredge or anyone related to her mother.
In a 2018 interview with police, Jimenez told police he knew almost immediately that his brother killed Eldredge because of Jones' behavior and the scratches on his neck.
The police department and Bonneville County Prosecutor's Office announced at a joint press conference last week that Jones had been charged with second-degree murder, punishable with a minimum of 10 years in prison and up to a life sentence. His bond was set at $500,000. A court date has not been set for Jones to appear in court.