BOISE — A bill to loosen Idaho's mandatory minimum prison sentences for heroin while adding fentanyl to the mandatory minimum statute passed the Idaho House 40-29 Monday.
The bill falls short of what a majority of House members want, which is to remove mandatory sentences from Idaho's drug trafficking statute and give judges the power to impose lesser sentences if they think the circumstances warrant. Bills to do this passed the House in 2018 and 2019 but have never gotten a hearing in the Senate.
Supporters of the bill, which is being sponsored by House Judiciary Committee Chairman Greg Chaney, R-Caldwell, said it would at least address the problem of heroin addicts with high tolerances for the drug facing mandatory minimum sentences for possession of personal use amounts. Chaney recalled the testimony he has heard in committee for the past three years from addicts who ended up in prison, and said if the bill doesn't pass, they would continue to end up there.
"Anecdote after anecdote, the examples given were for those caught with heroin," Chaney said. "This addresses the lion's share of those situations."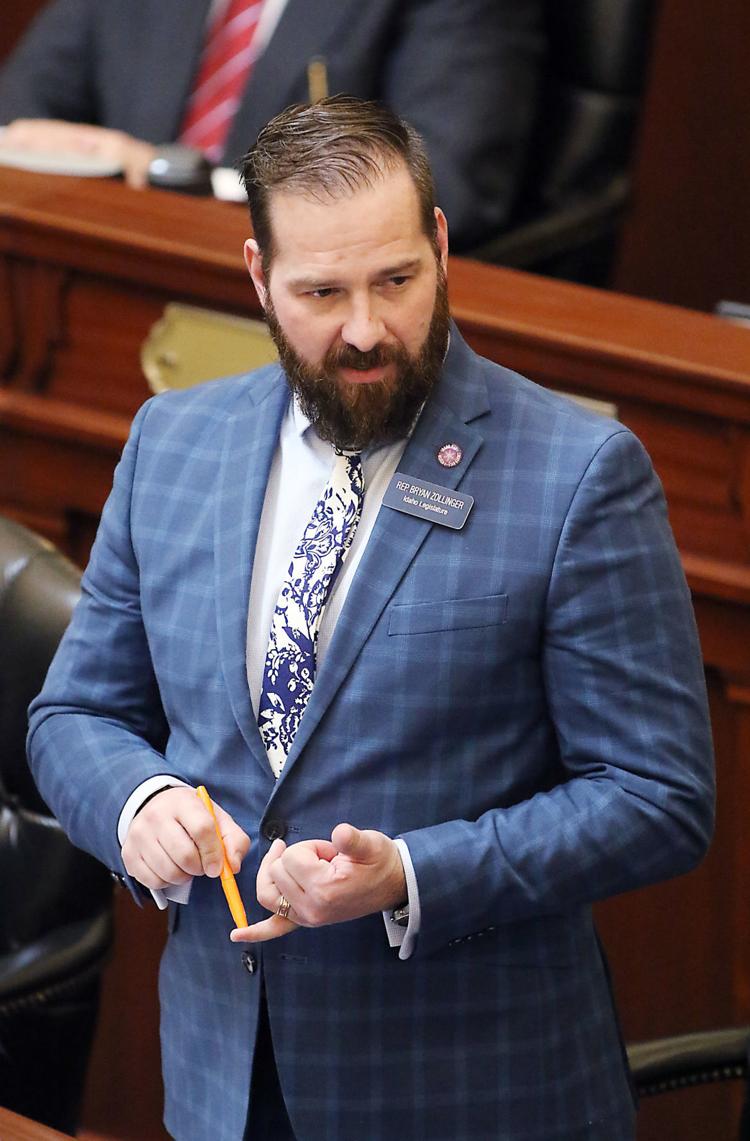 Rep. Bryan Zollinger, R-Idaho Falls, and Minority Leader Ilana Rubel, D-Boise, have been working for the past few years on mandatory minimum repeal.
"If you want to get rid of me from the Legislature, then please (fix) mandatory minimum sentences, because I will not leave this building voluntarily until this issue is solved," Rubel said.
Zollinger called the bill a "Hobson's choice," saying it would make some things better as far as heroin sentences but could reduce the chances of something more comprehensive passing in the future.
"It's just sad what could happen with this bill, so I'm just hoping at some point we get true reform," he said.
Rubel said she opposes adding a new mandatory minimum for fentanyl and that, by agreeing to that, the House was giving up its leverage to get additional changes out of the Senate.
"Creating new mandatory minimum sentences for those who possess fentanyl is absolutely not the answer," she said.
Rep. Doug Ricks, R-Rexburg, said he supported adding fentanyl to the statute.
"Fentanyl is a real problem," he said. "Fentanyl kills people. Small amounts kill people. This bill deals with that. It's between 100 times to 1,000 times more deadly than heroin."
The bill would raise the amount of heroin needed for a three-year mandatory sentence from 2 to 5 grams. Under current law, 7 grams of heroin triggers a 10-year mandatory minimum. Chaney's bill would change this so the next step on the scale would be 10 grams, which would lead to a five-year mandatory minimum. Twenty-eight grams or more would trigger a 10-year mandatory minimum under Chaney's bill rather than 15, as it is under current law. Fentanyl would be added to the bill with the same sentences as heroin.
Idaho law also is unclear as to whether marijuana edibles, such as brownies or gummies, are to be weighed whole when deciding how to charge someone — the "gummy issue," as Chaney dubbed it in committee. A pound or more of marijuana is subject to mandatory minimum sentences, meaning someone with a personal use amount of gummies or chocolates could theoretically be charged with drug trafficking.
Rep. Ryan Kerby, R-New Plymouth, urged his colleagues to take what they can get for now and work on the issue down the road.
"This is not the year to bite off the brownies," he said. "We can get this bill this year. Next year we take on the gummies and the brownies. Next year we try … something else."
The bill now heads to the Senate, where it is being sponsored by Senate Judiciary Chairman Todd Lakey, R-Nampa.