The Idaho Falls City Council is looking to build a new police station.
The Idaho Falls Police Department Facilities Evaluation Citizens Committee issued its report this week, recommending the city build its own police station. Currently, the department is spread across eight different locations, with the main station housed in the same building as the Bonneville County courts and assorted other county government functions.
Police say the current facility, which the department has occupied since the 1970s, is too cramped and inadequate for their needs and would like to be able to consolidate many functions that are in different buildings now in one place. Dave Manson, who was on the committee, compared the station to asking 20 people to build a house with 16 nails and just five hammers.
"We are asking them to provide 21st-century public safety with one hand tied behind their back and a half a tool in their hand," he said.
This is the second time a citizens' committee has recommended the city build its own station. A similar committee made the same recommendation in 2007, but the city tabled the idea due to the recession.
"We're just kicking the can down the road at the expense of security for the community," said Council President Thomas Hally.
If the Council decides to build a new station, this would be the first time in the department's 124-year history that the police had their own station. In decades gone by the police shared space with the Idaho Falls Fire Department or were based in the basement of the old City Hall.
The Council discussed the report and how to pay for a new station for almost three hours Friday morning. No final decisions were made — there isn't an exact cost estimate yet, and the city hasn't picked out a site either, although the committee recommended keeping the station as close to downtown as possible. However, there seemed to be a consensus to move forward.
"We understand the dire straits that we're in, and we need to do this as quickly as possible," said Councilman Jim Freeman.
A November bond vote is unlikely, as the deadline to get it on the ballot would be mid-September. However, the Council is weighing whether to pay for it with a bond, which would require two-thirds approval in a public vote, or to use certificates of participation, which wouldn't require voter approval.
The station
It isn't necessarily obvious to a person walking by that there's a police station in the courthouse, except for the gold letters on the side saying "Law Enforcement Building."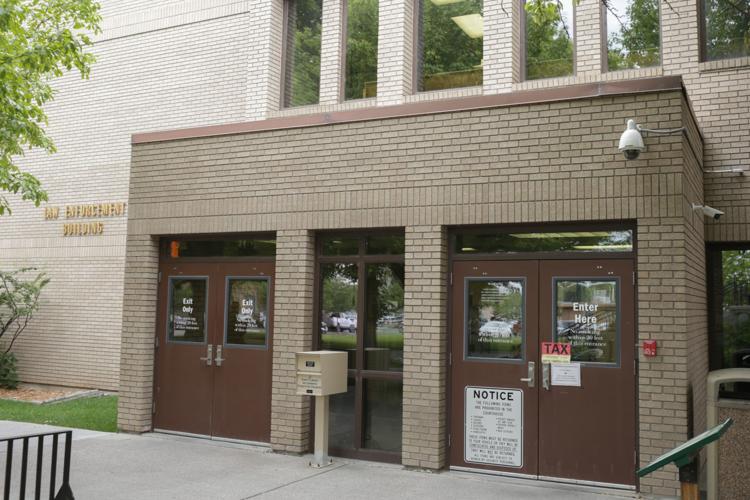 "There isn't anything that says Idaho Falls Police Department on it," said Chief Bryce Johnson.
Since it's also a court, members of the public coming to the station — for example, to report a crime or get fingerprinted for a job that requires it — need to pass through a metal detector. 
"Normally in modern police facilities, the main entrance is open. It's available. It's welcoming," said police department spokeswoman Jessica Clements.
Once you get inside, the waiting area consists of a wooden bench in a hallway in a public part of the building facing the doors.
"It doesn't project the levels of care and seriousness and professionalism that we would like to convey," Clements said.
A wide variety of meetings are held in a conference room that can comfortably seat eight people at the table. The room is used for pre-shift meetings, for example, and there could seven to 15 officers on a shift. It is used for leadership meetings, which include about 15 people, or for the 20 or so detectives to meet for briefings.
"That's a lot of people to fit in here," Clements said.
It is also often used for interrogations. However, the room has three doors, it's next to the patrol room and people pass through it to get to other parts of the station. Clements said this is particularly an issue in sensitive cases, for example when trying to interview a sexual assault victim.
When you walk into the patrol room from the conference room, the first thing you pass is the drug testing station. Clements said packaging fentanyl in such a tight space is a particular concern.
"If it travels any length of space, that can be a real risk to the people in the area," she said.
There are two small sergeants' offices, each shared by four sergeants, and a lieutenant's office shared by three right off the patrol room. The officers don't have a break room, so they have a small refrigerator and a microwave in the patrol room. Each filing cabinet is shared by two officers. During shift changes, there are two full shifts crowded in there.
"On days where there's been a big case, there's a lot going on, you have a lot of people here," Clements said.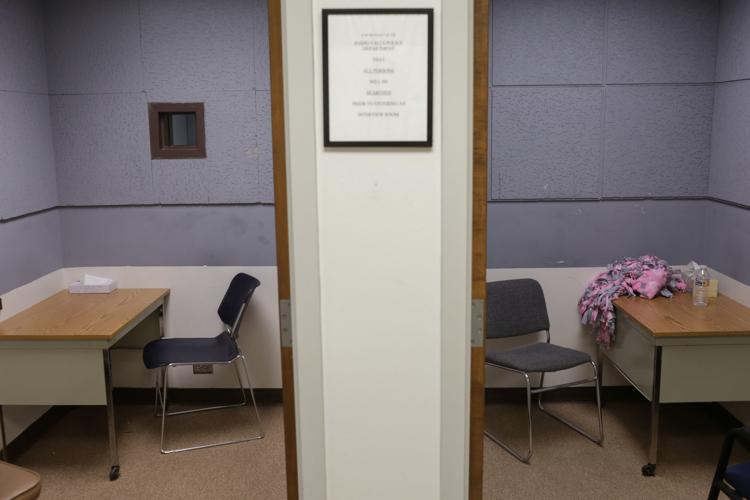 The station has two small interrogation rooms, but you can hear what's going on in one from the other next to it, and there isn't a good way to separate witnesses and suspects, which means effectively only one can be used at a time, so many interviews are done in the conference room.
"Interview science has changed a lot over the years from the '70s when these rooms were built," Clements said.
And interviews being moved unpredictably into the conference room interferes with other uses of that space. Clements said the citizens' committee itself had to move some of its scheduled meetings out of the conference room at the last minute.
The department also is tight on space for evidence storage and testing. The testing lab, which was the quartermaster's space before the quartermaster moved to the training annex on Park Avenue, is too small for when police are working on big cases with a lot of evidence, said Capt. Steve Hunt.
"You can only lay out a few pieces at a time, and if you want to look at a lot of stuff simultaneously, we just don't have the space to do that," he said.
Department officials also would like to get rapid DNA testing equipment, which can be used to get a preliminary DNA hit within a couple of hours. Now, the department must send it to the Idaho State Police lab and wait as long as six to nine months for a result.
"I bet we would use it monthly if not more, and I'm trying to be conservative," Hunt said.
The amount of space Idaho Falls police have in the station hasn't changed since the 1970s — there has been some remodeling inside such as moving walls, but the square footage is the same.
"What we have done is expanded outside the building," Clements said.
For example, a few detectives are moving to another city-owned building on Park Avenue near the training annex. Clements said the city had hoped to move its human resources department there, to save the money they're paying to rent a space now, but the detectives needed it. Melaleuca recently donated, for two years, office space at its North Capital Avenue building for police administrative offices. The former chief's office will become a break room soon. Clements said the department is grateful for the help, but it's a temporary solution.
"It's a Band-Aid, if you will," she said.
Dispatch and animal control will likely stay at their current off-site locations no matter what, but the department would like to consolidate most other functions under the same roof. Much of police work, Clements said, simply can't be done remotely. And she said being in one place rather than spread out in different locations would help them be more responsive to the people they serve.
"It makes us less accessible," she said. "And we're public employees. We serve the public. We want to be accessible."
How to pay for it?
The Council spent much of Friday's meeting discussing whether to pay for the station with a bond, which is how municipalities and school districts in Idaho normally pay for new facilities, or with certificates of participation, a method of financing that was authorized after a 2015 state Supreme Court case involving the Greater Boise Auditorium District.
"Does anyone else think it's ironic that it's called COP financing?" Freeman joked.
If the city were to default on the certificates, then the investors would get to take the property and lease it until they have recouped their investment, when it would revert back to the city. According to projections using a $25 million or $30 million project cost as a placeholder, a bond would cost about $1 million less overall in most scenarios — a 30-year, $30 million bond would result in taxpayers repaying $48.4 million overall, while they would repay $49.5 million on the certificates. However, some council members said using the certificates rather than holding an election would mean the city could get started sooner, thereby saving money on continually rising construction and design costs and on possibly higher future interest rates.
If the city wants to get started with the certificates this year, one possibility would be to reopen the budget the Council passed Thursday night and raise property taxes by taking some of the city's forgone balance, said Mayor Rebecca Casper. Casper said there could be risks to either approach. A bond might not get the two-thirds support needed. However, she said the certificate route could be politically risky, suggesting it could lead to debate over the procedure at the state level. Some members of House Republican leadership expressed a desire at a recent town hall in Boise to rein in local governments' ability to raise property taxes.
"There could be some entities out there that don't want to see this kind of thing happen without consulting the voters," she said.
For now, the Council plans to get more detailed cost estimates and discuss the issue more in the near future. While there is no timeline at this point, some Council members did express a sense of urgency for the project.
"The strong recommendation from the committee was we pursue this without delay," Casper said.