Judge Faren Eddins ruled Tuesday that Chad Daybell's case will go to a jury trial.
Eddins ruled there is "probable or sufficient cause to believe the defendant Chad Daybell committed the offenses."
Daybell and his second wife, Lori Vallow, each face felony charges involving the cover-up of the deaths of Vallow's children, 7-year-old J.J. Vallow and 17-year-old and Tylee Ryan. The bodies of the children, who were reported missing last fall, were found buried in Daybell's backyard on June 9.
Daybell's charges include the destruction, alteration or concealment of evidence and for the conspiracy to commit destruction, alteration or concealment of evidence. Both felonies carry a punishment of "up to five years imprisonment and/or up to a $10,000 fine."
"Oh, thank you, Jesus," said J.J.'s grandfather Larry Woodcock after the decision. "We are extremely happy with the results of it today. Next Monday, next Tuesday, next Wednesday, I hope to stand right here and tell you the same things."
Woodcock was referring to the preliminary hearing for Vallow, his former sister-in-law. The first day of Vallow's preliminary hearing will be Monday at the Fremont County courthouse.
Woodcock and his wife Kay were J.J.'s biological grandparents. The boy had been adopted by Vallow and her late husband, Charles Vallow, who was Kay's brother.
Eddins' ruling concluded the second day of Daybell's preliminary hearing. The day mainly consisted of testimony and examination of witnesses. Witnesses included Melanie Gibb, a friend of Vallow's, Gibb's boyfriend David Warwick, and multiple members of local and federal law enforcement.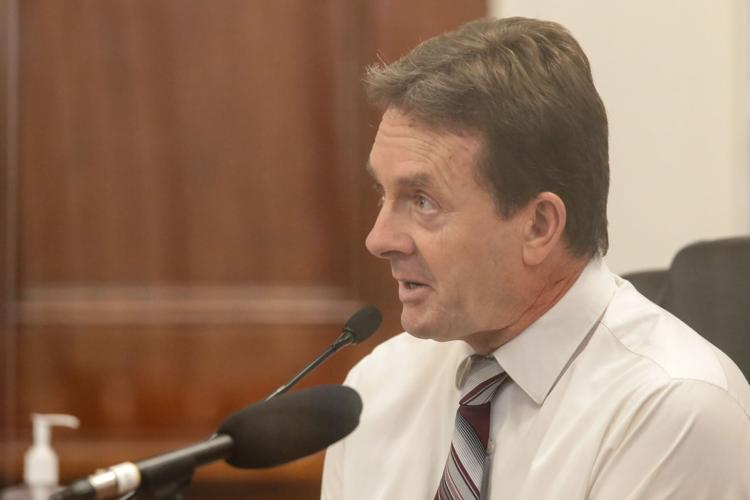 A significant portion of both witness testimony and closing arguments revolved around an LG cellphone with a glittery case that FBI agents seized during the execution of a search warrant on Daybell's home on Jan. 3. The phone belonged to Chad Daybell's first wife Tammy Daybell.
FBI analyst Benjamin Dean testified that he forensically examined Tammy's cellphone. Tammy died in her sleep on Oct. 19 under what law enforcement have called "suspicious circumstances." Daybell and Vallow were married just 17 days after Tammy's death. Earlier witness Gibb said Daybell was physically affectionate with Vallow prior to Tammy's death.
According to Dean, marital affection was shown in texts between Daybell and Tammy including "I love you," "eager to kiss you," and "can't sleep without you."
One text message from Daybell to Tammy was particularly focused upon in Dean's testimony:
"Well, I've had an interesting morning! felt should burn all of the limb debris by the fire pit before it got too soaked by the coming storms. While did so, spotted big racoon along the fence. hurried and got my gun, and he was still walking along. got close enough that one shot did the trick. He is now in our pet cemetery. Fun times!"
This text was sent Sept. 9, the day after Tylee was seen for the last time.
Law enforcement later found Tylee's burned remains in that "pet cemetery" on Daybell's property. Other than Tylee's remains, FBI Special Agent Steven Daniels said he found only cats and dogs in the cemetery; no raccoon.
Daybell's attorney John Prior found the text to be "obscure." He questioned Daniels about the dimensions of the pet cemetery. Daniels and Prior disagreed as to its size. Prior argued if the FBI had not dug up the entire property, there could, in fact, have been a raccoon buried there.
One of the most jarring moments was when prosecuting attorney Rob Wood played a recording of a jailhouse phone call. The phone call was made by Vallow to Daybell on the day law enforcement searched his property for the children's bodies. Though it contained no new information, it was the first time the public has heard the couple speak to one another.
The judge noted that the audio was particularly difficult to hear. The Post Register has transcribed as much as is audible. Elipses indicate inaudible portions.
Daybell: They're searching the property.
Vallow: The house right now?
Daybell: Yeah, yeah ... so Mark Means (Vallow's attorney) will be talking to you.
Vallow: Ok. Well, are they in the house?
Daybell: No, they're out in the property.
Vallow: Are they seizing stuff again?
Daybell: They're searching. There's a search warrant and so … the kids ... yeah. ... I'm glad you called.
Daybell: So we'll see what transpires.
Vallow: What do you want me to do? Pray?
Vallow: What do you want me...
Vallow: Ok. What can I do for you?
Daybell: I'm feeling pretty calm. I'll call Mark (Mark Means, Lori Vallow's attorney) though ... just talk with him.
Vallow: Have you talked to him already?
Vallow: So he acknowledges what they're doing?
Daybell: Yeah, it's ok. ... I love you so much
Vallow: Ok. I love you. Should I try to call you later?
Daybell: Um, I don't know. I don't know. You can try. Yeah. I'll reach you if I can.
Daybell: I love you, and we'll talk soon.
Vallow: Ok, baby, I love you.
Daybell: Ok, love you. Ok, bye.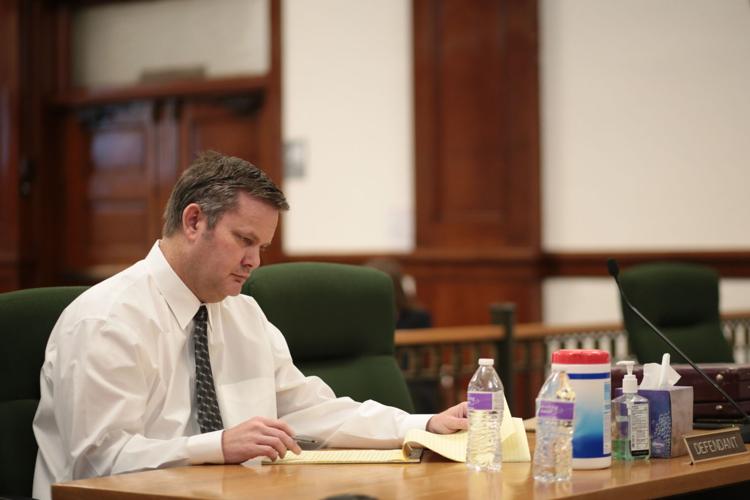 Daybell is being investigated for more than just his alleged role in the children's deaths. The suspicious death of Daybell's first wife Tammy also remains under investigation. Daybell and Vallow are currently being investigated for murder, attempted murder, and conspiracy regarding Tammy Daybell's death, according to an April letter from the Idaho Attorney General's Office.
The Chandler, Arizona, Police Department is investigating Vallow for her potential involvement in her estranged fourth husband Charles Vallow's death on July 11, 2019, following a reported family disturbance that also involved Vallow's brother Alex Cox. Cox told police he shot Charles Vallow after Charles hit him in the head with a baseball bat. The incident was initially deemed self-defense but remains under investigation.
Daybell's arraignment has been set for 9 a.m. Aug. 21 at the Fremont County courthouse. The dates for Daybell's jury trial will be set at the arraignment. Wood said Prior could have at least 60 days to file documents requesting a change of venue for the trial.