BOISE — The new federal Farm Bill, which legalized the sale of hemp plants, won't stop those transporting the plant from getting a criminal charge if caught in Idaho, according to Ada County Chief Criminal Deputy Prosecutor Scott Bandy.
Last week, the Idaho State Police arrested an Oregon man who was transporting a substance that tested positive for THC — 6,701 pounds worth, according to the agency.
The man, identified as 36-year-old Denis Palamarchuk, was arrested and booked into the Ada County Jail on a felony drug trafficking charge. The truck, registered in Oregon, had a load declared as hemp. But the state trooper was skeptical and tested the substance, which tested positive for THC, a psychoactive compound. Hemp contains tiny traces of THC, but not enough to produce a high.
Palamarchuk's load was the third hemp haul for VIP Transporter since the Farm Bill passed, said Ivan Pavliy, who owns the Portland-based trucking company.
"We are 1,000 percent sure that this will get resolved because we didn't break any law," Pavliy said.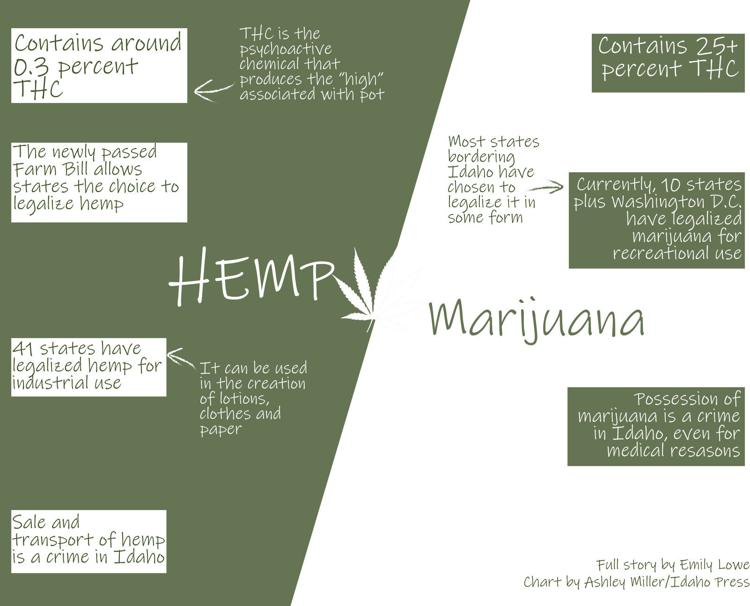 But Bandy said both the sale and transport of hemp and marijuana, under Idaho law, are illegal. The Farm Bill allows for states to choose to legalize the sale of the crop, which at this time, has not happened in Idaho.
"As far as we're concerned, it is and always has been illegal under Idaho law as it's currently written, and nothing has changed," Bandy said.
Hemp does have a path to legality in Idaho in this current session. Rep. Caroline Nilsson Troy, R-Genesee, plans to introduce a bill soon with Sen. Abby Lee, R-Fruitland, to legalize the production and transportation of hemp in Idaho. It's time for Idaho to step in line with the Farm Bill, Nilsson Troy said.
Idaho is one of the few remaining states where industrial hemp is illegal, according to the National Conference of State Legislatures. At least 41 states have legalized the plant, including all of Idaho's neighboring states.
Hemp has about 0.3 percent THC, while the marijuana plant has about 25 percent. Idaho law mandates that a substance that tests positive for any amount of THC is illegal.
Hemp has been grown across the country for centuries. It's been used for skin products, as a dietary supplement and as clothing accessories. Giving Idaho farmers a chance to grow a versatile crop could open new economic opportunities, Nilsson Troy said.
"There's so many other things you can make it into that could benefit Idaho," she said.
While the bill would only legalize hemp, she has heard some concerns about the possibility of opening up pot trafficking through Idaho. To deal with this, Nilsson Troy wants law enforcement input.
"They will have input on what that's going to look like," she said."We don't want this to be a nightmare for the Idaho State Police to manage."
She said she hopes to meet with ISP by early next week and introduce the bill shortly after.
ONGOING CASE
Idaho's decision to not legalize hemp also might impact two men arrested last year for transporting hemp plants.
In April 2018, police in Ada County arrested Andrew D'Addario, 27, of Colorado and Erich Eisenhart, 25, of Oregon after a traffic stop, according to audio from D'Addario's arraignment in Idaho's 4th District Court. Their trial is set to begin this May. If found guilty, under Idaho law, they face a mandatory minimum of five years in prison.
The trooper who arrested Palamarchuk did a test on the substance using a narcotic identification kit. The test doesn't measure the amount of THC, just whether or not it tests positive or negative for it, said Tim Marsano, ISP spokesman.
The investigation included sending the substance to a laboratory, though it was not within ISP's lab. Marsano said he doesn't know how long it will take to get results back, but they asked for the test to be expedited.
The trucking company plans to pay legal costs for Palamarchuk and is confident that this matter will be resolved soon.
"Whether interstate transporters choose to ignore that (the law) is a question I can't answer on whether or not we will have additional cases," Bandy said.