Two out-of-state residents have been criminally charged in connection to starting the nearly 3,900-acre Cold Creek Fire near American Falls on Monday, court records say.
Brandon D. Frias, 22, and Lucas C. Daniels, 19, both of Wheatland, Wyoming — a town of about 4,000 people located north of Cheyenne — have each been charged with a misdemeanor for allegedly starting the Cold Creek Fire, according to 6th District Court records.
Specifically, Frias and Daniels have each been charged with setting fire to timber or prairie lands, a misdemeanor, that states, "Any person who shall willfully or carelessly set on fire, or cause to be set on fire, any timber or prairie lands in this state, thereby destroying the timber, grass or grain on any such lands … is guilty of a misdemeanor."
The Cold Creek Fire started on Monday afternoon and destroyed two homes south of American Falls. The estimated 3,843-acre blaze was fully contained as of 6:30 p.m. Tuesday, according to the Eastern Idaho Interagency Fire Center.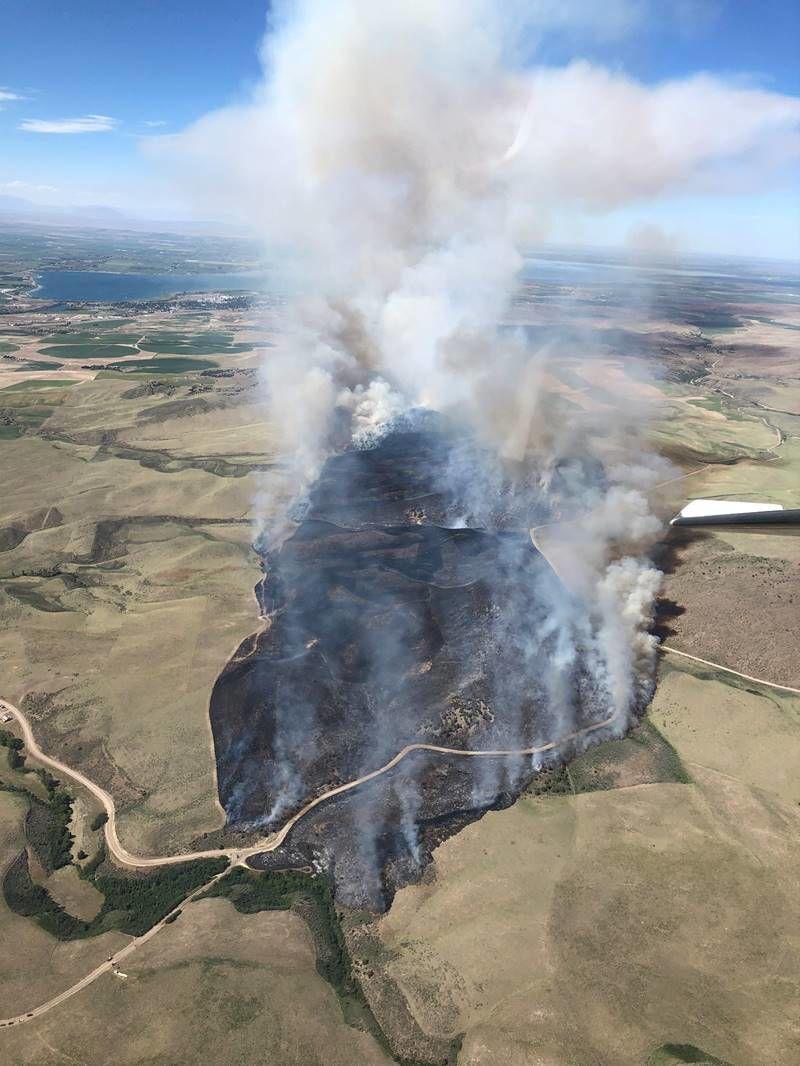 According to an affidavit of probable cause, a document that summarizes the charges against Frias and Daniels, the fire was first reported to the Power County Sheriff's Office at 2:37 p.m. Monday. Daniels was the initial person to report the fire, the sheriff's office said.
Daniels told the sheriff's office that the blaze ignited near a three-way intersection just outside of the Indians Springs area southwest of American Falls.
A Power County Sheriff's Office deputy responded to the intersection of Cold Creek and Wilske roads and reported the blaze was already consuming several acres, the sheriff's office said. Another deputy responded to the area of Cold Creek and Hornbacher roads and began conducting traffic control to prevent motorists from driving into the fire's trajectory, the sheriff's office said.
"The fire was moving rapidly and growing very fast, consuming a lot of ground," the Power County Sheriff's Office said in the affidavit of probable cause.
Power County dispatch soon told a deputy that one of the men responsible for starting the fire was located with a ground ambulance at a staging site on Highway 37 near Pioneer Equipment Co. Upon arrival, a deputy made contact with Frias, who said Daniels was welding along the side of the road when the fire broke out, according to the sheriff's office.
Frias told the deputies that he let Daniels weld using his truck and equipment while he took a nap in the truck.
The fire woke Frias up, he said, adding that after they failed to extinguish the blaze, they sped away from the scene to save his truck and equipment. Frias was driving a 2017 Ford F-250 equipped with a welding rig on the back of the truck, the sheriff's office said.
A deputy later interviewed Daniels, who provided the same version of events that Frias did. Both men were subsequently cited with the misdemeanor for allegedly starting the blaze and then released.
The Cold Creek Fire burned 3,287 acres of private land and 556 acres of state land, according to Chris Burger with the Eastern Idaho Interagency Fire Center.
The two homes that were destroyed during the blaze were both located on Sunbeam Road. The Journal on Thursday spoke to one of the homeowners, Brad Huse, who said, "We pretty much lost everything but our lives and a few vehicles.
Huse said he was working in the Michaud Creek area of the Fort Hall Reservation when he first noticed smoke from the fire. He called his wife to have her turn on a sprinkler system in a pasture near their home but she told him that she couldn't get enough pressure. Huse went home and got the water situation sorted out before heading toward the blaze from Sunbeam to Ferry Hollow Road.
"I saw the fire line and at that point I wasn't too concerned about it because I didn't imagine it would be able to jump across Ferry Hollow Road," Huse said. "Smoke was just shooting straight up into the air at that point."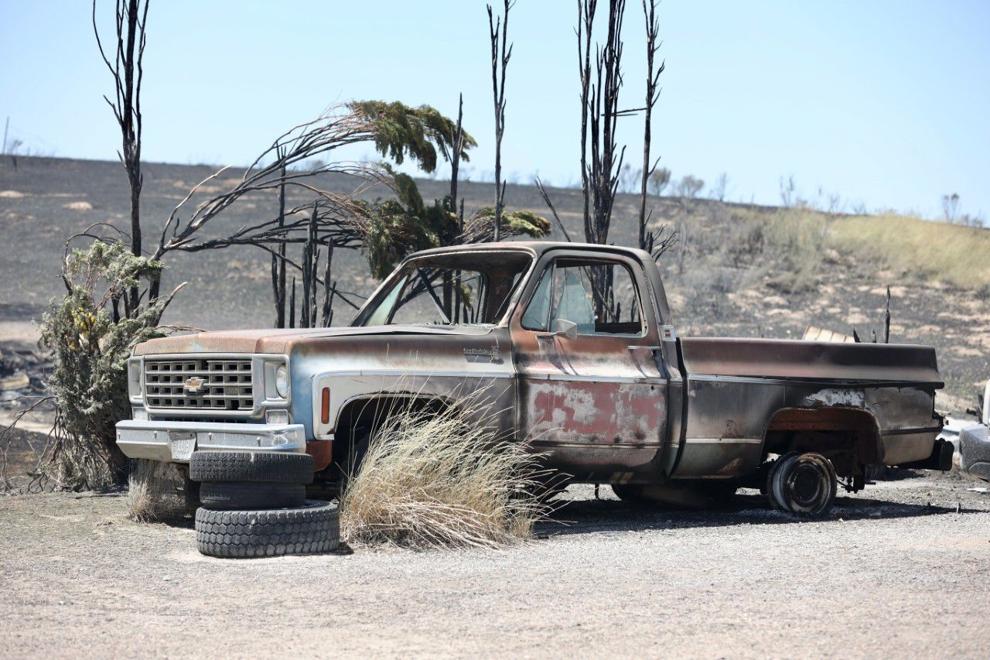 Shortly after Huse arrived back at his residence, a Power County Sheriff's Office deputy informed him that they needed to evacuate. He and his family members — his wife and four children between the ages of 4 and 24 — grabbed a change of clothes, a few picture frames from the walls and a safe with important documents.
"About 10 minutes later, the sheriff's office came by again and said we had to leave right now," Huse said. "I went to drop my all-terrain-vehicle off at the church and was planning on heading back up to get our fifth-wheel and some other belongings and the road was closed down. It's a good thing they didn't let me back up there because boy did that fire accelerate. I probably would not have made it back out."
The Huse family had lived at the home at 3054 Sunbeam for the last 19 years. Though the home was insured, Huse is concerned that skyrocketing home prices in the region might price them out of whatever the insurance company says their home was worth. In the interim, the local community has gone out of their way to ensure the Huse family is taken care of in this trying time, he added.
"The small community here in American Falls has been nothing short of amazing," Huse said. "They've given us some clothes and some personal items to see us through and we're very grateful for everything."
Both Frias and Daniels are set to appear in front of 6th District Judge Paul Laggis for an arraignment hearing on Monday.
If convicted of the misdemeanor charge of setting fire to timber or prairie lands, they each face up to six months in jail and a fine of up to $1,000.
Power County Sheriff Josh Campbell says in spite of the two homes that were lost, he was very thankful for the outcome regarding this fire in that it resulted in no loss of life. He also said Daniels and Frias were fully cooperative and their honesty played a part in the decision to file charges for this incident.
"Every agency that responded to this fire worked extremely well together and we came to a conclusion with no loss of life," Campbell said. "I am thankful for the interoperability of the area. There were no questions or egos involved. Everyone wanted to get involved and handle this as best they could. About every available fire and emergency services agency responded to this fire and worked extremely well together and I can't be more proud of our outcome."