POCATELLO — No more than 48 hours before a California man allegedly murdered an 87-year-old Pocatello woman, he was cited by sheriff's deputies near Rigby, according to court documents obtained Thursday by the Journal.
Dustin Garrett Alfaro, 18, of Marysville, Calif., is one of two people arrested early Thursday in the killing of Arlyne Koehler inside her home at 1055 McKinley Ave.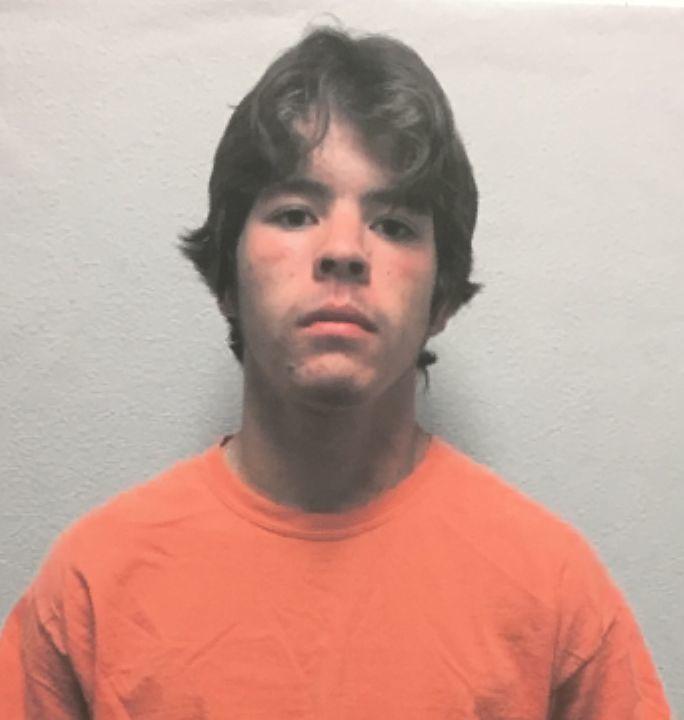 During a Thursday afternoon press conference at the Pocatello Police Department, Maj. Roger Schei said a male juvenile from Yuba City, Calif., was also arrested. His name has not yet been released.
"This is the ultimate crime that could happen," Schei said. "We take it personal when something like this happens in our community. Everyone who was behind us on this put forth their best effort, and they do that every day, but when something like this happens we want people to know that crime is not acceptable in our community."
Pocatello Police Capt. James McCoy said Koehler was killed between 4 p.m. Monday and 2 p.m. Tuesday. But around 6 p.m. Sunday, Alfaro was cited for failing to report an accident after he allegedly struck a power pole with his blue Ford Explorer on a rural road near Rigby.
A Jefferson County Sheriff's deputy made contact with Alfaro at the Teton West RV Park, court records said. Alfaro told the deputy that he lost control of his vehicle, struck the pole and panicked, so he drove back to the RV park. As Alfaro retrieved his identification from the car, the deputy smelled what he thought to be the odor of marijuana coming from the SUV, according to court records.
Upon searching the vehicle, the deputy located a marijuana pipe and small amount of marijuana, though the deputy did not cite Alfaro for possessing either.
Alfaro explained to police that he would be staying in Idaho for a while longer so the deputy issued him a citation with a scheduled first court appearance of March 25.
The Jefferson County Sheriff's office told the Journal on Thursday that the deputy who responded to the incident did not observe Alfaro with any juvenile individual during the course of the investigation of the alleged hit and run.
Alfaro and the unnamed juvenile were arrested in Yuba County in California Thursday by deputies with the Yuba County Sheriff's Office, which is located in the northern portion of California's Central Valley near Sacramento.
McCoy said police likely know why Alfaro was in Idaho but declined to comment on specifics. McCoy also said that he believes Alfaro is has a criminal record that includes a felony conviction.
Alfaro and the juvenile have been charged with first-degree murder and if convicted could face the death penalty. Prosecutors have not commented on whether the juvenile will be charged as an adult.
Alfaro is currently incarcerated with no bail at the Yuba County Jail in California.
McCoy added that detectives with the Pocatello Police Department have plans to travel to California to retrieve additional evidence in the coming days. Bannock County Deputy Prosecutor Zach Parris said the extradition process has been started but could not comment on when Alfaro and the juvenile are expected to arrive back to Idaho.
Moreover, McCoy said that once the juvenile is brought back to Idaho, a motion must be filed with the court to try him as an adult. Police will release the juvenile's name if that motion is approved, McCoy added.
Police said a family member reported finding Koehler's body at 7:39 p.m. Tuesday inside her home.
"A family member had come to the location because they had not heard from the resident," Schei said. "The family member discovered that their relative was deceased and called police."
Koehler's McKinley Avenue home is located within a residential neighborhood near NOP Park and busy West Alameda Road.
On Wednesday afternoon, Koehler's well-maintained home was cordoned off with police tape while police investigators continued processing evidence there. Schei said police detectives spent Wednesday collecting evidence and interviewing Koehler's neighbors.
On Thursday, McCoy commended local police for the many extra hours they spent working this case, which resulted in two arrests less than 48 hours after the investigation started.
"We put in a ton of leg work in this case," McCoy said. "Our entire detective division worked 24-hours non-stop to develop leads and to follow up on them. We're going to be working this until prosecution just to solidify the case and ensure we are successful on the prosecution. I couldn't calculate the man-hours but I have 15 people that have been working this 24 hours a day on this."
Schei also expressed empathy for the Koehler family.
"This is a very tragic event that has happened in our community," Schei said. "Our condolences are with the family, and we have the utmost respect for them."