BOISE — People who have an enhanced concealed carry permit could carry guns at schools, if a bill that is in the works becomes law.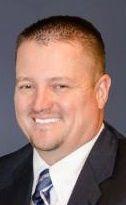 Rep. Chad Christensen, R-Ammon, is preparing the law. He said he has been working with Assistant Majority Leader Jason Monks, R-Nampa, who is on the House State Affairs Committee, and with Alexandria Kincaid, a lawyer who specializes in gun issues and has worked with the Idaho Second Amendment Alliance in the past. Christensen said he hopes to get it introduced next week into House State Affairs, the committee that usually deals with gun-related legislation.
"The biggest issue, I feel, is the gun-free school zones are a soft target for would-be shooters," he said.
Christensen said his proposal is similar to the law in Utah, where teachers and other school employees who have concealed carry permits can carry guns at school.
Christensen's bill says someone who has an enhanced concealed carry permit, which requires more training than a regular concealed carry permit, could carry a concealed weapon at a school with or without the school's permission and without having to reveal that they have it. The weapon would have to be concealed and on their person or under their immediate control — Christensen said he wouldn't want a teacher leaving a gun in a desk, for example.
Letting teachers carry guns has often been floated as a way to deter or stop school shootings. Opponents fear it would make schools less safe. It is a politically polarizing question, with most Republicans in most polls in favor of arming teachers and most Democrats opposed.
Right now, it's a local decision in Idaho and it's uncommon. A school board can vote to allow teachers or other staff to have guns but very few have. Christensen said he has talked to some school officials in his district, which includes rural eastern Bonneville County plus Teton, Oneida, Franklin, Caribou and Bear Lake counties. He said he has gotten mixed feedback but the majority have supported the idea.
"They feel the same way," he said. "Most parents want responsible adults being armed if possible."
Idaho School Boards Association spokeswoman Quinn Perry said she hadn't seen the bill but she expects the association would be against it. She said the group generally doesn't want to see more guns in schools, although they also believe it should be a local decision. Perry also said it could lead to school districts' insurance premiums increasing.
"It's likely something that we would oppose," she said.