BOISE — People with an enhanced permit would be able to carry a concealed handgun at public schools, if a bill introduced Tuesday becomes law.
Sponsored by Rep. Chad Christensen, R-Ammon, the bill would require anyone carrying a concealed handgun at a school to have immediate control of the firearm. It would protect schools from civil liability for any claim that "arises out of the lawful concealment of a firearm or other deadly weapon," and forbid schools from taking any retaliatory action against a teacher or other employee who carries a concealed handgun. Anyone carrying a gun at a school wouldn't be required to disclose it to administrators or to anyone else except a police officer "who is conducting an investigation when such information is reasonably related to the investigation."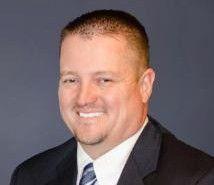 An enhanced concealed carry permit has more stringent requirements than a regular permit, including a daylong course and some shooting practice. Christensen said the bill would deter would-be school shooters.
"I want children to be safe," he said. "I don't want schools to be a soft target."
Private schools wouldn't be affected and their administrators could choose to allow guns or not. After about 20 minutes of questions, unusually long for an introductory hearing, the House State Affairs Committee voted to introduce the bill, clearing the way for a full hearing later.
Under current law, local school boards can decide to let teachers or others carry guns in schools, although only a handful of districts have done so. Christensen's bill would take away the local option and allow it statewide, a change some committee members were uncomfortable with.
"I like this bill," said Rep. Kevin Andrus, R-Lava Hot Springs. "I like the concept of protecting with being armed. But I also am a fan of local control."
Christensen replied that he believes people have a Second Amendment right to carry guns in public places.
"I believe local control is important when it doesn't violate the Constitution," he said.
Christensen said his intention, if the bill were to pass, would be that local law enforcement would work with school districts on safety training and build relationships with teachers. Rep. Brooke Green, D-Boise, whose husband is an Ada County sheriff's deputy, said this would amount to an unfunded mandate.
"For them to provide that training, there's a cost," she said. "There's man-hours necessary to do that."
Christensen, whose district encompasses rural eastern Bonneville County plus Teton, Caribou, Oneida, Bear Lake and Franklin counties, said he had talked to teachers in his district. He said the people he had talked to in Teton County — the only Democratic-leaning county in heavily Republican District 32 — were mostly opposed, but the others were in favor.
"A lot of school districts in my area are already carrying firearms in school," he said.
Christensen said Gun Owners of America is backing his bill, and the National Rifle Association is considering it. Christensen said he had talked to the Idaho Sheriffs Association about the idea and it had yet to take a position. He said the Idaho Fraternal Order of Police was backing the bill.
"Much of the law enforcement community is in favor of this (bill)," he said.
West Jefferson School District 253 superintendent Dwight Richins said the district and local officials in West Jefferson are not in favor of the bill. He said the district doesn't feel "comfortable with people being armed that they don't know on their campus."
Richins said district officials are already working with the local sheriff's department to have selected teachers trained and receive their concealed carried permits within the next year.
"West Jefferson is seriously considering selected teachers being armed and trained by local sheriff department," Richins said. "But to have anyone with a concealed carry permit to walk into our buildings is not good."
The section of the bill saying nobody carrying a gun in a school could be required to disclose it bothered Rep. John Gannon, D-Boise, who made a motion to not introduce the bill.
"I see this as an assault upon local control and local decision-making," Gannon said. "A school principal who is charged with the supervision of an elementary school cannot ask someone if they have a gun, even if there has been an incident."
Gannon's motion failed, and the committee then voted to introduce the bill.
"I'm not in love with this bill, but I do think these hard conversations about guns and our constitutional rights and protecting our children need to be had," Andrus said.