BOISE — A bill to require the estimated cost of a supplemental levy to be listed on the ballot moved one step closer to passing Monday.
The House Revenue and Taxation Committee voted unanimously to send the bill, sponsored by Rep. Doug Ricks, R-Rexburg, to the House floor.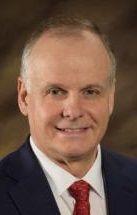 "We want to know what the out-of-the-door cost is on things, and by putting this disclosure on the ballot, it would help with that," Ricks said.
The predicted cost would be arrived at by multiplying the proposed levy amount by 100,000 and including a statement on the ballot that the levy would result in "a tax of $ per one hundred thousand dollars ($100,000) of taxable assessed value, per year, based on current conditions."
Former Rep. Ron Nate, who lost to Ricks in the May 2018 primary, sponsored a similar bill that passed last year requiring a cost disclosure statement on ballots for bond elections.
Brian Stutzman, of Iona, testified in favor of Ricks' bill. He said listing a levy's cost could help keep both its supporters and opponents honest.
"It tells taxpayers before the vote what a particular levy question's going to cost them personally in terms they understand," he said.
Idaho Farm Bureau Federation lobbyist Russ Hendricks also testified in favor. No one spoke against it.
"Always appreciate more transparency and more information for taxpayers," Hendricks said.
The committee also voted unanimously to approve a bill that would subject the Tax Commission and Board of Equalization to the state's Administrative Procedure Act, which establishes an appeal process from agency decisions.
Sponsor Majority Caucus Chairwoman Megan Blanksma, R-Hammett, said the bill could address situations such as what happened in Bonneville County last year, where agricultural land assessments spiked after the Tax Commission ruled, to the chagrin of county commissioners, tax valuations were systematically lower than those in surrounding counties.
"I know a similar issue did happen in Bonneville County, and I've heard from the county commissioners there were some things because of the timing and everything else, there was no ability to appeal it," said Ricks, whose district includes part of northern Bonneville County.
Blanksma told the committee about a similar situation where the commission hiked farmland assessments in Elmore County.
"What we've learned from that process is the state Tax Commission is essentially judge, jury and executioner, because there is no appeals process," Blanksma said.
The Tax Commission sent committee members a letter opposing the bill, although several of them said they only saw it shortly before Monday morning's meeting. No one came to testify for or against the bill.
Rep. Greg Chaney, R-Caldwell, said he was skeptical of the Tax Commission's estimate that handling the appeals could cost $3 million a year, while Majority Leader Mike Moyle, R-Star, said the commission had been given enough time to communicate its concerns better.
"Why would any of us vote against giving the opportunity to appeal?" he asked. "Makes no sense to me."