BOISE — A group of Republican lawmakers joined Lt. Gov. Janice McGeachin on Monday morning to outline their goals for the 2021 legislative session, a list of priorities they coined the "Idaho Conservative Agenda." Thirty legislators, along with McGeachin, signed onto proposals ranging from education reform to property tax cuts, but especially emphasized rolling back protocols meant to curb COVID-19's spread through the state.
Rep. Ron Nate, R-Rexburg, presented the agenda, saying, "It's a list of items that we think are very important to do for Idaho families and businesses."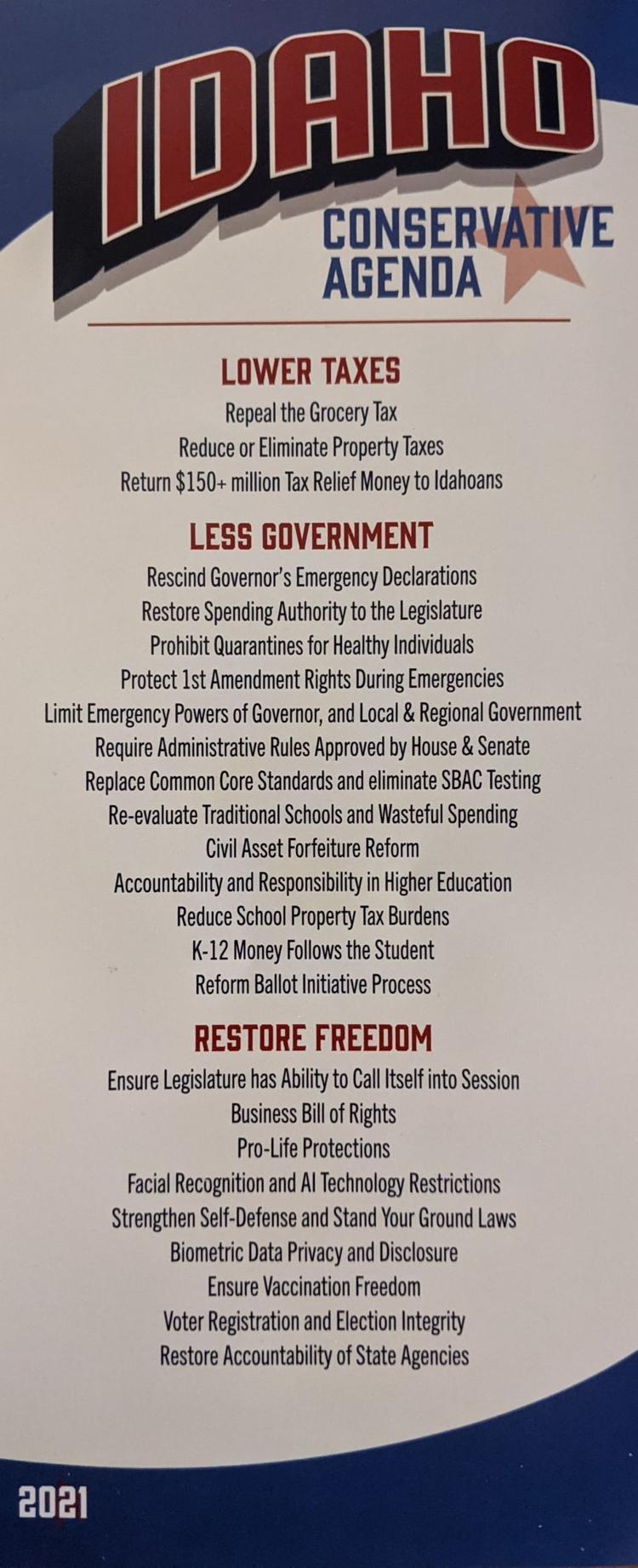 n Prohibit quarantines for healthy individuals.
n Limit emergency powers of governor and local and regional government.
n Ensure vaccination freedom.
After many exchanged unmasked hugs and handshakes, the legislators gathered shoulder to shoulder to condemn coronavirus restrictions and anti-virus policies.
"I've been hearing from constituents and from Idahoans all across the state in regards to their concerns on mandated vaccines," said Rep. Tammy Nichols, R-Middleton. "It is my honor to be able to work on and will soon be introducing a bill to make sure that people have the ability to control what is put into their bodies."
Rescinding the "governor's emergency declarations" is also on the group's agenda; it drew calls for "separation of powers" and one to "restore spending authority to the legislature," which has been divisive among Idaho Republicans as Gov. Brad Little allocates federal relief dollars in response to the pandemic. The group hopes to propose legislation to end Idaho's state of emergency by the end of the week.
The press conference was chronicled by staffers from the Idaho Freedom Foundation, along with Sara Brady, who stood in front and filmed it on her phone and wore a large yellow Star of David on her breast emblazoned with the word "EXEMPT," apparently referring to her opposition to wearing masks during the pandemic and equating it with Nazi extermination of Jews during World War II, according to Idaho Press reporter Betsy Russell's Eye on Boise blog. Brady has been an activist protesting against public health measures to combat COVID-19.
Foundation vice president Dustin Hurst met with Nate to discuss the conference in the halls of the Capitol upon the event's close; Nate, reelected in November two years after losing his 2018 primary bid, has pulled the foundation's support in the past.
Rep. Vito Barbieri, R-Dalton Gardens, called on the Legislature to continue "clawing its way back to equality with the other two branches" of state government.
Nate said, "The 2021 legislative session is in question due to speculation about delayed or maybe even a shortened session, so it is crucial that we are ready on day one, and we are with this agenda," Nate said. "It will put the Legislature on a path toward productivity and advancing conservative values whether it's a short session or not."
Two Democratic lawmakers with health conditions are suing the legislature and its Republican House speaker, saying a lack of coronavirus precautions makes attending the session in person unsafe. The suit cites last summer's special session in which many legislators did not practice social distancing or wear masks. The suit combined with further Democratic challenges to the session's coronavirus protocols have placed pressure on conservatives.
Legislators also set out to repeal the state grocery tax, reform the ballot initiative process, work on "voter registration and election integrity" and reduce the property tax burden on schools.
"We are not all tied into every single item in here," Nate said, "but in general the legislators behind me are in support of this Idaho conservative agenda for 2021."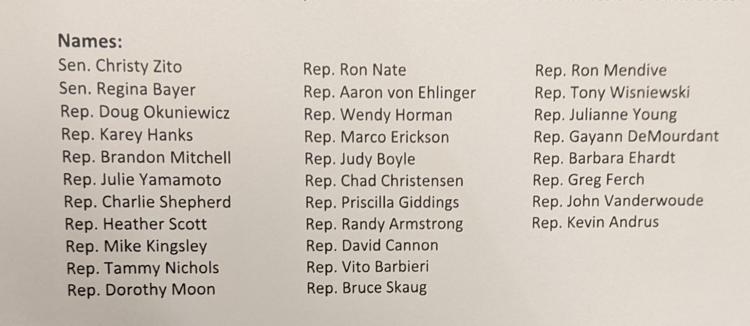 Of the agenda's 30 signatories, only two were senators, Hammett Sen. Christy Zito and Meridian's Regina Bayer.
Editor's note: An earlier version of this article misidentified Sara Brady.Blake Jones covers Kuna and Meridian for the Idaho Press. You can reach him at bjones@idahopress.com and follow him on Twitter @jonesblakej.