When Amy Pratt found out about Reclaim Idaho's effort to get Medicaid expansion on the ballot in Idaho, she knew she wanted to help.
"I went out every Saturday through Sunday, from sunup until sundown, from the day I started until the day I finished," she said.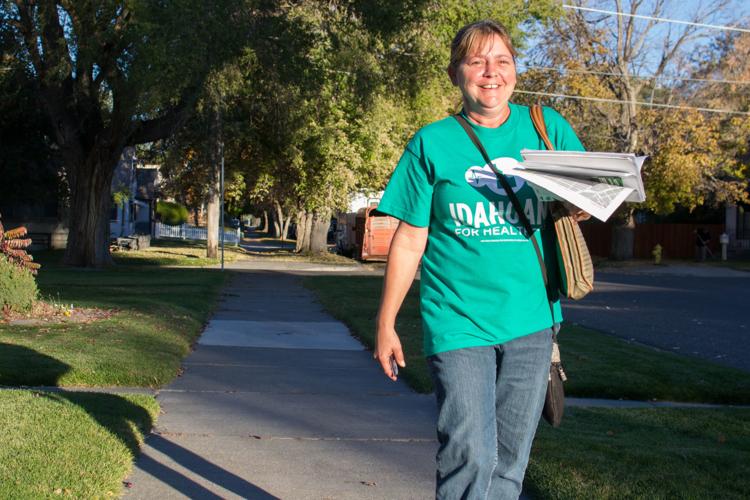 Pratt worked from the beginning of January 2018 until the signature-gathering deadline at the end of April that year. She had health insurance at the time, having recently gotten a job as a bus driver for Idaho Falls School District 91. But she knew what it was like not to have it. For 11 years before, she had worked as the kitchen manager at Holy Rosary Catholic School, a job didn't offer coverage.
"I did it because everybody else needed it," she said.
Pratt knocked on doors in Idaho Falls all day every weekend, and sometimes on weekdays when she could, wearing her green "Idahoans for Healthcare" shirt and braving the often bitter cold of an eastern Idaho winter.
"I was shocked at how many people believed in it, who knew somebody who (needed) help," she said.
Many of the people she talked to, she said, had close family members who fell into the "Medicaid gap," or the group of people who didn't qualify for Medicaid but also didn't make enough to qualify for tax credits to buy insurance on the state exchange. These stories, she said, inspired her to keep working.
"Republicans, Democrats, everybody wanted insurance for somebody who needed it," she said. "It was so rare to even come across anybody who wasn't interested in it."
Pratt said on her own block, she had just one person who refused to sign the petition. Many of her neighbors, even if they were personally unsure about Medicaid expansion, at least thought it should be on the ballot for the public to decide.
"I knocked on every single door and the majority of them said yes," she said.
Medicaid expansion made it on the ballot, with a big assist from Pratt, who gathered more than 1,000 signatures. Even before expansion made the ballot, Reclaim Idaho's effort started to get national attention from media outlets curious that an expansion of the Affordable Care Act seemed to be garnering such support in a state as Republican as Idaho. Pratt was featured in a March 2018 Huffington Post article about the effort, and again in a Boise State Public Radio story about Reclaim Idaho's canvassing efforts in the run-up to the November 2018 vote.
Within months of the end of signature-gathering, Pratt started to feel unwell. At first, she thought she had a problem with her hip. She stopped driving the school bus, fearing she wasn't well enough to do so, and started to work in the school district garage instead. One day, one of her colleagues noticed the bottom of her face drooping and worried she was having a stroke. Pratt went to the hospital and found out she has an inoperable brain tumor.
Pratt had to leave her job due to the cancer and is now covered by Medicaid herself. (She would have qualified for Medicaid without expansion due to her illness.) She is in a wheelchair, and one side of her body is paralyzed. The tumor has affected her speech somewhat, but she lights up and speaks as eloquently as ever when Medicaid expansion comes up.
"This is very important to me," she said. "I just think that it's something we got. I feel so good that we got this done."
As she spoke to the Post Register in mid-November, Pratt marveled at how more than 30,000 people have already signed up. An estimated 91,000 Idahoans are expected to be eligible for Medicaid expansion coverage. One of them is Pratt's sister, who lives in Boise.
"It's going to make all the difference in the world for her," Pratt said. "She refused to go to the doctor's for so many years."
Sixty-one percent of Idaho voters approved Medicaid expansion in November 2018, ending a yearslong debate over what, if anything, the state should do to extend coverage to the gap population. Although many Republican lawmakers had opposed expansion, they approved funding for it this year while also passing a bill that Reclaim Idaho opposed asking federal permission to make several changes to the program such as adding work requirements.
Whatever happens to Pratt in the future, she is glad she will see Medicaid expansion implemented on Jan. 1, 2020.
"This is the very first time I've ever been able to really, really help somebody," she said.