It was a busy day at Idaho National Laboratory on Wednesday.
The morning started with an announcement that INL will be home to a National Reactor Innovation Center, where the lab will work with private companies to test new reactor designs. INL also hosted the "Energizing the Modern Age" symposium Wednesday, where people from the private and public sectors learned more about what the energy needs landscape will look like in the future.
Wednesday evening, current and former INL employees, politicians and U.S. Department of Energy officials gathered at the Waterfront at Snake River Landing for a gala celebrating the lab's 70th anniversary.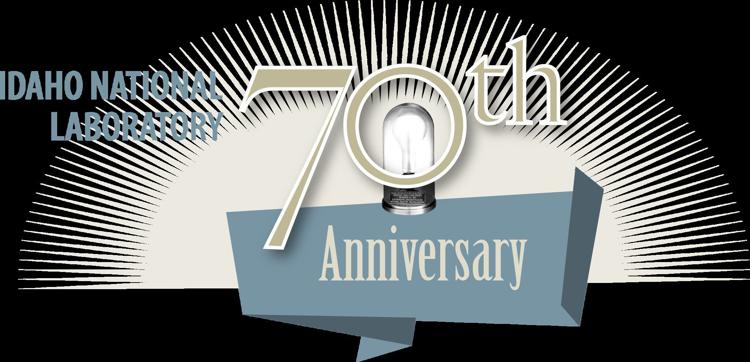 "It's kind of an incredible coincidence we're celebrating 70 years at the same time the Secretary (of Energy, Rick Perry) announced the new generation of nuclear reactors is going to be (developed) right here in Idaho Falls," Gov. Brad Little said at a press conference Wednesday evening.
Little reflected on how the lab, which was founded as the National Reactor Testing Station in the desert west of Idaho Falls in 1949 and since then has grown into a major research facility, has played a major role in meeting the country's needs, including developing nuclear power and space exploration technology.
"We've really grown into a lab that does a lot of things for the nation," INL Director Mark Peters said at the press conference.
Peters noted the NRIC announcement and said it has the potential to turn eastern Idaho into a hub for nuclear-related industries and manufacturing. He said he views this and cybersecurity research as two of the linchpins of the lab's future.
"Nuclear and cybersecurity, if you ask me what are the two things I think about, those are big ones," Peters said.
Assistant Secretary of Energy for Nuclear Energy Rita Baranwal was in town for Wednesday's gala. Baranwal was the director of the Gateway for Accelerated Innovation in Nuclear in Idaho Falls before the U.S. Senate confirmed her in her new role in June. Baranwal said she views sustaining America's existing reactor fleet and developing new technologies as among her top priorities and as important to the future of clean energy.
"Today's announcement (about NRIC) will certainly help support that," she said.
U.S. Rep. Mike Simpson, who grew up in Blackfoot, said he grew up around people who worked at the site.
"It's all about those people out there and the great work they have done for over 70 years for this country," he said.
He said now, as a congressman on the subcommittee in charge of INL's budget, he gets to see the global importance of the work done there.
"If you are concerned about global warming, climate change, you better be interested in nuclear energy," he said.
Simpson talked about his work when he was Idaho House speaker to get people to understand the importance of the lab, bringing his legislative colleagues to visit and learn more about it. Simpson, who has been a longtime supporter of increasing INL funding and of nuclear power in general, said many people were only aware of the old nuclear waste that is stored at and being processed at the site.
"When a lot of the state didn't know what INL did, it was easy to demonize it if you didn't like anything nuclear," he said.
Finding a place to permanently dispose of much of this country's nuclear waste has been an issue for the industry and national labs for many years. Congress voted in 2002 to make Yucca Mountain in Nevada a nuclear waste repository, but the project has stalled amid bipartisan opposition from many Nevada politicians and other local stakeholders. Meanwhile, waste that would be moved to Yucca Mountain or elsewhere for permanent storage is being temporarily stored at sites scattered across the country. Simpson tried to add an amendment to this year's DOE House appropriations bill to move along the process of opening Yucca. The subcommittee rejected it, instead giving more funding to consolidate some waste at interim storage sites.
Simpson said opening Yucca Mountain has gotten overwhelming support when it has come to a vote, but the politics of protecting the lawmakers who represent the swing state where it is located has kept it from moving forward. Last year, Simpson said, Republicans wanted to protect Nevada Sen. Dean Heller.
"Now we've got two Democrats and (Senate Minority Leader) Chuck Schumer is trying to protect their seats," Simpson said.
Simpson said the lack of a permanent solution makes it more difficult to convince communities to accept interim storage if there isn't a permanent solution upcoming. Baranwal said she wants to see more research into ways to reuse slightly used nuclear fuel.
"Those are options we're starting to reevaluate," she said.