Members of local chambers of commerce got a preview from eastern Idaho lawmakers Thursday morning of several issues that could come up during the 2020 legislative session.
There will be an attempt again — possibly multiple attempts — to rewrite the state's school funding formula. Advocates for liberalizing liquor licensing laws want to get a statewide bill passed and, failing that, at least a more targeted one so places such as Driggs can issue limited liquor licenses to restaurants. And due to lower-than-projected state revenue, it looks unlikely that 2020 will be the year the sales tax on groceries gets repealed.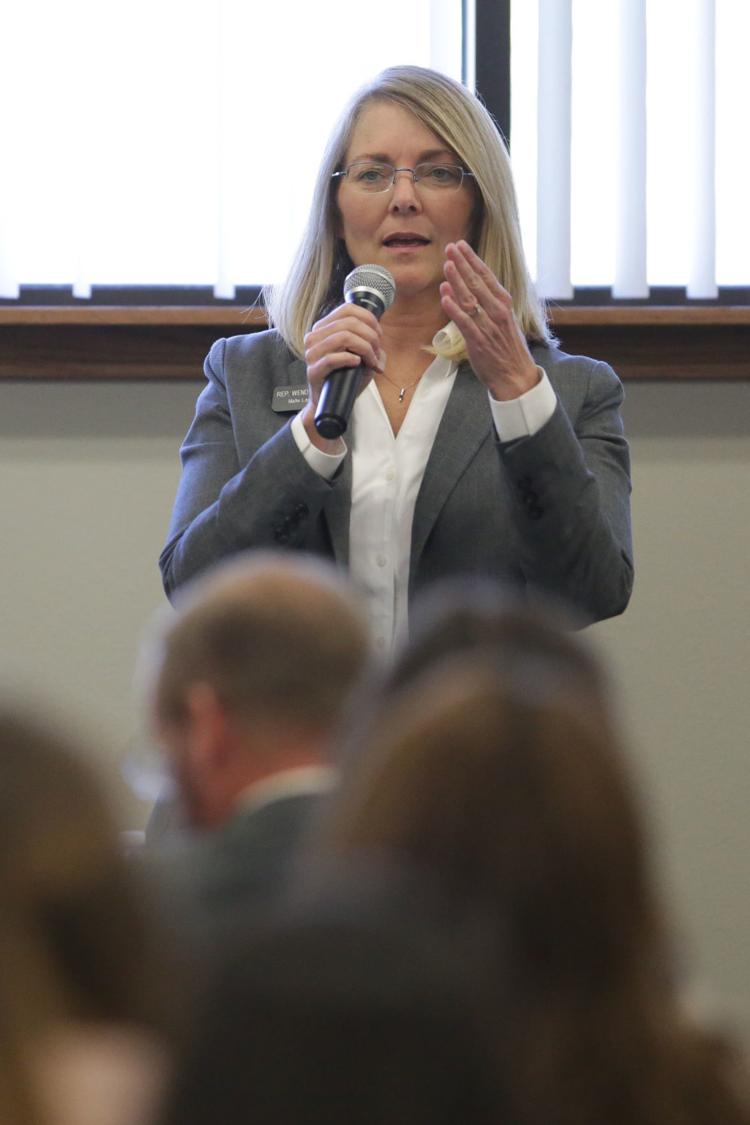 When the 2019 session started, everyone thought rewriting the school funding formula was going to be one of the year's major issues. Idaho lawmakers had spent about three years before studying switching from the current attendance-based formula to a weighted enrollment-based one that would give extra money to smaller and rural districts and give districts extra money for certain categories of students, such as economically disadvantaged, special education and gifted and talented students and English language learners. Several versions of bills to rewrite the formula were introduced, but none went further than a committee hearing. On Thursday Rep. Wendy Horman, R-Idaho Falls, who was on the committee that came up with the original rewrite proposal, said she plans to introduce a funding formula bill next year.
"It's the right thing to do," Sen. Dave Lent, R-Idaho Falls, who led the talk on education with Horman, told the crowd of local officials and chamber members at the College of Eastern Idaho. "It makes sense for the students of Idaho."
Horman said she also expects several other lawmakers to propose funding formula rewrite bills of their own.
"It's a little difficult to predict who all is going to come up with what, to be candid with you," she said
Horman said she is working with several other lawmakers on her proposal, including Sens. Lent; Lori Den Hartog, R-Meridian; Dean Mortimer, R-Idaho Falls, who heads the Senate Education Committee; and her seatmate Rep. Gary Marshall, R-Idaho Falls. One thing Horman wants to address in her bill is funding for certain groups of at-risk students who are now served by alternative schools such as Emerson Alternative School and Lincoln High School. Most districts, Horman told the crowd, can't afford to build a separate building for at-risk students. Horman said Thursday afternoon that she is still working on the details but she would like to craft a proposal that grandfathers in existing alternative schools while adding "at-risk" at a weight in the funding formula, so districts would get extra money but could teach at-risk students in the same buildings as others.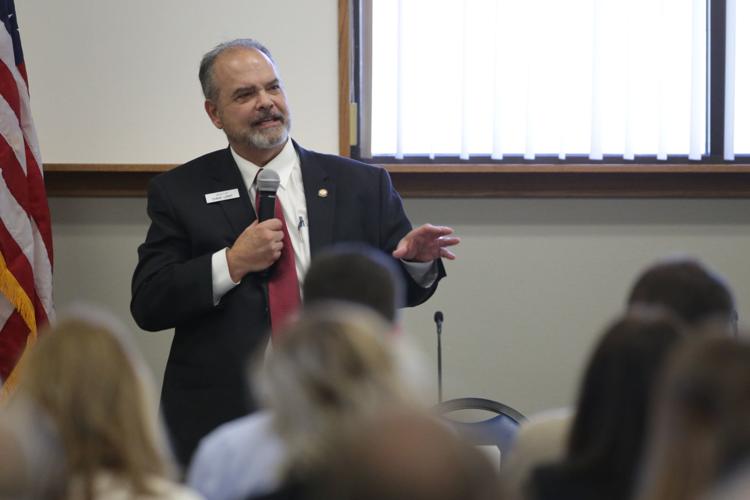 Thursday's forum was put on by the Greater Idaho Falls, Pocatello-Chubbuck, Greater Blackfoot and Rexburg Area chambers of commerce. It was broken into panels on transportation, liquor licensing, taxes, education and workforce development.
Rep. Rod Furniss, R-Rigby, who gave the tax talk, said the state's surplus at the end of this budget year will be lower than originally projected due to the income tax cut the state passed two years ago, and this will impact budgeting next year.
"We're running a pretty tight budget this year, and we're going to look at that and make sure we don't go over budget," he said.
When lawmakers set this year's budget, they expected to end the year with a $174 million surplus; it is now expected to be $51 million. Repealing the 6 percent sales tax on groceries is projected to cost about $85 million. The concept of repealing it has widespread support; a bill to do so passed on a bipartisan basis in 2017, but then-Gov. C.L. "Butch" Otter vetoed it. Now-Gov. Brad Little has said he supports repealing the tax, but Furniss said Little has also made it clear he wouldn't want it affect funding for education, transportation or other basic needs.
"If we're going to repeal the grocery tax, we've got to make sure we have options and we replace that money somewhere," Furniss said.
Furniss said big families generally get more money back in the $100 per person grocery tax credit than they would save by not paying the tax and could be hurt by repeal. He also said he worries about it making it more complicated for businesses to collect sales taxes.
"Larger families actually benefit from the grocery tax credit," he said. "There aren't a lot of tax things out there that benefit the family. This is one of them."
Rep. Bryan Zollinger, R-Idaho Falls, and Driggs Mayor Hyrum Johnson led a discussion on Idaho's liquor licensing laws, which were passed in 1939 and have changed little since then.
"Eighty years ago, Idaho was a very different place," Johnson said. "It was kind of a rough-and-tumble, frontier kind of environment. ... The word tourism didn't even exist then."
The formula, which allots liquor licenses based on population, has long been an issue for resort and tourist towns such as Driggs and some bigger cities such as Boise, and has led to licenses selling for hundreds of thousands of dollars on the secondary market. There have been attempts at statewide changes to increase the number of licenses, most recently a bill introduced this year by Sen. Jim Rice, R-Caldwell, but none have passed.
"I personally think it's time to do it, and I hope we get it done this time," Zollinger said.
Johnson said he supports statewide changes, but he also wants to introduce something more specific in 2020.
"This year we're going to introduce a Driggs-only bill," he said. "We can't wait any longer."
He told the crowd about the Forage Bistro, a high-end restaurant in his city that, he said, loses business since they can't get a liquor license. He said his proposal would let some restaurants serve up to two liquor drinks with a meal.
"I am looking at supporting small family businesses like Lisa (Hanley, the co-owner) and Forage Bistro, so they can serve a wider clientele," he said.