Idaho is one of 15 states in the country that doesn't provide any sort of compensation to people who are wrongfully convicted of a crime.
Driven by a high-profile Idaho Falls case, a local lawmaker wants to change that.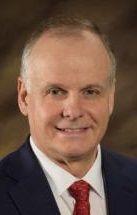 "I feel like if somebody's been put into jail wrongfully, and certainly spends years in jail, (like) this case with Christopher Tapp … I think the state owes people like that something," said Rep. Doug Ricks, R-Rexburg.
Tapp was charged in 1997 with murdering Angie Dodge, after he confessed to helping other men rape and kill her. He gave several names to detectives, none of whom were charged for the murder. He was convicted and sent to prison, but released in 2017 amid concerns his confession had been coerced. Earlier this year, Idaho Falls Police officers arrested Brian Leigh Dripps after his DNA was found to match samples found at the scene of Dodge's murder. Dripps told police he acted alone.
Ricks said he started to research the law earlier this year, including reaching out to Tapp and to the Innocence Project, a group that works to exonerate people who have been wrongly convicted and was involved in helping free Tapp. Ricks said Tapp has agreed to help, and he wants Tapp to come testify before the Legislature if the bill gets a committee hearing. The Idaho Innocence Project is helping Ricks craft the bill, which will be called the "Idaho Wrongful Conviction Act." Ricks said they are closely studying recent bills passed in Kansas, Indiana and Nevada.
As well as the Tapp case, the National Registry of Exonerations records five other wrongful convictions in Idaho in recent years, including two death penalty cases. One was that of Charles Fain, who was convicted of raping and murdering 9-year-old Daralyn Johnson in Nampa in 1983 and sentenced to death. He was released in 2001, after DNA testing found the hairs on the victim's remains weren't his. The other was the case of Donald Paradis, who was sentenced to death for a 1981 murder. Paradis admitted to helping hide the bodies of Kimberly Anne Palmer and Scott Currier but denied committing murder, and he was freed in 2001.
The 2020 legislative session starts in January. Ricks is still working out the details of the bill, but it would likely include money for each year wrongfully spent in prison plus other assistance. He said about $50,000 a year is typical in other states that have wrongful conviction compensation statutes, with more in cases where people were on death row.
"We're looking at trying to help them with some health care, dental, some counseling for a period of time, housing assistance if they need it, job training skills," Ricks said. "Some states provide some tuition assistance. We're talking about some ideas and trying to come up with what's right, what's a good scenario and what's fair."
A judge would likely be in charge of determining who gets compensated and how much money they get, Ricks said. Ricks said he wants to make sure the bill is worded in a way that only people who were genuinely innocent, not people who were guilty but get their convictions overturned due to a technicality, are eligible for compensation. He also said he is looking into how the compensation would be paid for. Ricks said he is considering making the bill retroactive by two years.
Speaking on behalf of the Idaho Prosecuting Attorneys Association, Twin Falls County Prosecuting Attorney Grant Loebs said he would need to see the bill and the exact details of the proposal to comment in detail. However, he said any bill would need to distinguish between cases where a truly innocent person is in prison and ones where a conviction gets overturned due to a procedural issue.
"Nobody is more opposed to wrongfully convicting people than prosecutors are, but the problem is, if you look at the wrongful conviction website (and) groups around the country that claim to be exonerating people, almost none of those are wrongful convictions," he said.
Kathy Griesmyer, policy director for the American Civil Liberties Union of Idaho, said the group supports compensating people who are wrongfully imprisoned.
"Yes it would be, just knowing how the system doesn't always dole out justice in the way we might always hope that it does," she said. "We know innocent people go to jail and to prison."
Innocent people can end up in jail for a myriad of reasons, she said, such as inadequate public defense or policing targeted at certain communities. Being wrongfully imprisoned, she said, has consequences including loss of income, time away from family and a criminal record when you get out. She said many people have difficulty finding jobs or housing when they get out of prison, and that it is good that Ricks' proposal might address those issues.
Ricks said he has talked to Sen. Todd Lakey, R-Nampa, and Rep. Greg Chaney, R-Caldwell, chairmen of the Senate and House Judiciary committees respectively. He said they have questions but they're not against the idea.
"Both those chairmen have a lot of weight on something like this going through, and I just wanted to make sure they were included in the process," Ricks said. "They're interested. It all depends on the language."