The Consumer Protection Division of the Idaho Attorney General's Office is now free to pursue a planned lawsuit aimed at banning Paul Hathaway, the former owner of Hathaway Homes Group, from selling mobile and manufactured homes.
Hathaway Homes Group is in the process of being liquidated.
The lawsuit has not yet been filed. Spokesman Scott Graf said the office could not comment on pending litigation.
Hathaway and his former company are both bankrupt. Sixteen former customers have claimed in interviews with the Post Register that Hathaway cheated them in one way or another, often receiving large upfront down payments for homes that were never delivered, were different than the homes customers ordered or were delivered long after the promised date. Some said they were left destitute and homeless after their dealings with the St. Anthony man.
Many other customers have filed suit against Hathaway.
Hathaway has admitted in bankruptcy filings to millions in casino gambling losses in recent years, though the precise amount cannot be determined. At least some of the funds Paul Hathaway gambled away — he claims only $20,000 worth — belonged to his customers. He faces millions in debt he's unable to pay.
The development comes as Hathaway claimed in court documents that he is continuing to operate in the mobile and manufactured home industry as a sales consultant, though a representative of the company he claims to have contracted with denied it in a phone interview.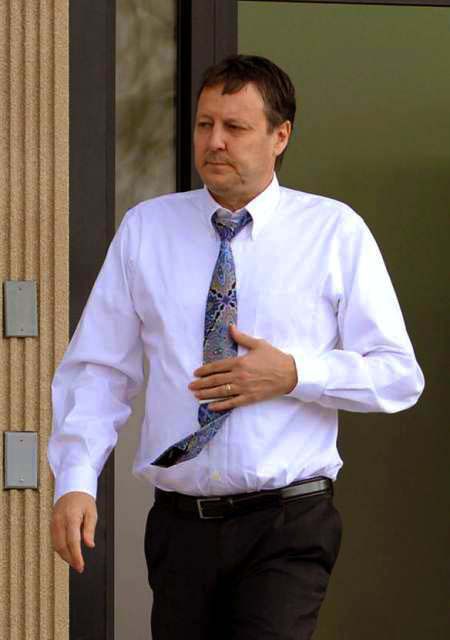 The Attorney General's Office had been holding off filing the consumer protection suit due to a procedure in bankruptcy court known as an "automatic stay." That's a block on most types of civil lawsuits which goes into place while a bankruptcy court is resolving the various claims against a debtor.
While Deputy Attorney General Stephanie Guyon argued in a hearing earlier this month that the stay doesn't apply to the consumer protection lawsuit, she said she sought permission from the bankruptcy court as a courtesy.
Stephen Madsen, one of Hathaway's attorneys, attempted to force the Attorney General's Office to disclose its suit in bankruptcy court, to push back a hearing on the matter and to block pursuit of the consumer protection suit.
But U.S. Bankruptcy Judge Joseph Meier ruled in each point for the attorney general, finding that it was not necessary to disclose the lawsuit before it was filed in state court and that the Attorney General's Office had a right to pursue its suit.
"The state is not here to collect a debt," Meier said. "... It is concerned about its citizens and its enforcement of consumer protection laws."
In Hathaway's most recent disclosure statement, he claimed to still be involved in the mobile and manufactured home business. That's how he proposed to pay back lenders the roughly $8 million he owes personally over the next seven years.
Along with continuing to operate a home transportation business he owns, Hathaway said had focused his efforts on "additional opportunities in the factory built homes industry throughout the country" and on a consultation agreement with Cascade Factory Homes of Woodburn, Ore. He said he expected $8,000 per month in commissions through the consulting agreement.
The Post Register contacted Cascade Factory Homes to ask if it indeed had a contract with Hathaway.
The man who answered the phone — who identified himself as the owner but refused to state his name — asked the Post Register why it was pursuing a story, given that Hathaway was out of business. The Post Register asked if, as Hathaway had stated in bankruptcy court documents, Cascade Factory Homes had contracted with him as a consultant. The man denied it and then abruptly hung up.
In the hearing, Guyon indicated the suit would not seek to shut down another company owned by Hathaway, All Terrain LLC, which transports mobile and manufactured homes.
"The conduct we're looking at has to do with selling and advertising manufactured homes," she said.
In a filing, Guyon noted that Hathaway had been under investigation since March 2017 following the "receipt of numerous consumer complaints" alleging "unfair methods of competition and unfair and deceptive business practices." She indicated that investigation by law enforcement is ongoing.
"The attorney general's ongoing investigation continues to reveal allegations that Hathaway ... (violated state law) by making misrepresentations concerning goods or services that consumers pre-purchased from Hathaway ... and failing to deliver pre-purchased goods or services to consumers," she wrote.
In a filing, Paul Hathaway said he vehemently denied such allegations.
Guyon wrote that the lawsuit would seek a judgment that Hathaway had broken the law, an order permanently barring him from advertising or selling factory-built homes and a $5,000 fine for each violation of the law.
"The above remedies are intended to stop Hathaway's unlawful conduct, punish him for his past unlawful conduct and prevent him from engaging in future unlawful conduct," Guyon wrote. "Putting aside the fact that the attorney general may never recover civil penalties from Hathaway, the attorney general certainly can take the necessary actions to prevent Hathaway fro devastating the lives of more consumers and wreaking further havoc on Idaho business."