Last week a College of Eastern Idaho student became one of the first in the nation to use a new technology that allows deaf and hard of hearing students to both see and understand an instructor in real time.
Rafa Elliott, a business management student from Idaho Falls, donned special gear called SignGlasses that allowed him to observe his teacher and a sign language interpreter at the same time. The glasses show a miniature video image of the interpreter on one side of the lenses. SignGlasses are connected to a webcam, a laptop computer, the internet and a microphone. The sign language interpreter can observe the class from a remote setting, via webcam, and interpret for the student through the internet. The session can be recorded and time-stamped for later review.
The new system is part of a recent technology explosion aimed at helping deaf and hard of hearing people communicate more easily.
SignGlasses — generically called head-mounted displays — are being tested by deaf and hard of hearing students at Idaho State University and Brigham Young University-Idaho where they plan to regularly use them in classes next semester. The system was created by two engineering students — one deaf, the other not — at Brigham Young University in Provo, Utah. A demonstration of the glasses can be found online.
"So far we've only been using it a week and a half and we've been testing it at College of Eastern Idaho and working through some kinks," said Casey Quiroz, interpreter services coordinator at ISU. "I'm pretty excited about what it will do."
Elliott said some of the new technology "is really going to benefit me in the work I'm going to do in the future. Without this technology, deaf people feel alone."
Other technology that Elliot and others praise include smartphone apps that link via Bluetooth to hearing aids and smartwatches, FaceTime, Skype, texting, video phones connected to interpreters and tablets and devices that translate the spoken word into captions.
Local interpreters praise all of these innovations, especially the SignGlasses.
"I see this as being something kind of cool where you can put on these glasses and have an interpreter wherever you go," said Kimberly Swanson, a Pocatello interpreter, who regularly works in Idaho Falls.
Elliott said the SignGlasses work great in the classroom.
"I can look at the person talking and also see the interpreter," he said. "I don't have to do three things at once, always looking down at my computer for the translation and trying to take notes."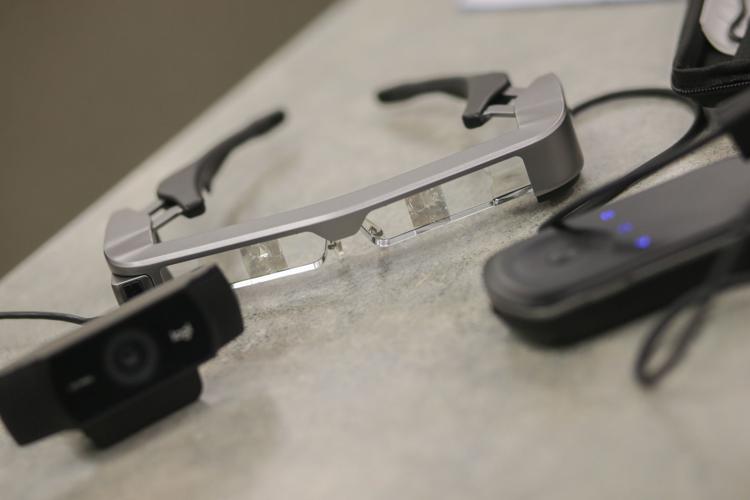 Swanson said simple innovations in the past, such as closed-captions on TV shows, make a huge difference for the deaf and hard of hearing.
"I remember watching 'Saturday Night Live' with my deaf boyfriend in the '90s and he couldn't figure out why I thought it was so funny," Swanson said. "Then Nov. 27, 1993, was the first captioned 'Saturday Night Live' and he got to laugh at it with me."
Quiroz said SignGlasses will allow her small staff of interpreters to aid students at various ISU class locations in Idaho Falls, Pocatello and Meridian without having to be physically present. Val Sturm, deaf and hard of hearing services coordinator at BYU-Idaho said that is the most valuable feature of the new system.
"With a shortage of interpreters, this allows us to offer the students help without the interpreter needing to be present," Sturm said.
One kink in the system is access to the internet.
"One big problem is bandwidth on campus," Swanson said. "Once we get a (bandwidth) booster, we hope that solves it."
Korey Hocker, founder of SignGlasses, said right now the company is focused on educational use of the technology, but sees a more general use in the future.
"A long-term vision is that we hope it can be useful even outside of the classroom," Hocker said. "If someone wants to just have a normal day-to-day conversation and they need an interpreter, they could throw on our glasses while they're at the mall or whatnot."
While much of the technology has been in use for a few years, new devices and apps have made it possible to use video relay services in new ways over smartphones, laptops and tablets while on the go. The latest voice-to-text technology uses computers, such as smartphones, to hear spoken words and instantly convert them into captions on a screen or eyeglasses. This allows some deaf or hard of hearing people to carry on conversations without delays or at least "listen" to conversations as they occur. Voice-to-caption technology is often error-prone, but improving all the time.
"We are living at the right time in life — the perfect age," said Steven Snow, director of the Idaho Council for the Deaf and Hard of Hearing. He was speaking through an interpreter using a video relay service. "Technology is mainstream and before you had only one device for this purpose. Now our devices are compact and everything is included in one device. It puts us all on the same page. The communication gap is really getting closer. There's still gaps, but compared to before it's definitely closing."
Snow said that years ago, options for communicating person to person over phone lines were limited and cumbersome. It started with a phone system called the teletypewriter in the 1960s.
"Most deaf people were using (a teletypewriter) relay service," Snow said. "It was a device that you had to put the regular phone on top of it and that device would hear the tone and you would type back and forth through the (teletypewriter). I believe the device came about in 1964. It's old and antiquated. That allowed deaf individuals to communicate with other deaf individuals that spoke through the TTY. Or a hearing person that had a TTY to type onto. It was a slow, cumbersome and painful process."
Later versions involved hearing-impaired people calling communications assistants who would read the typed messages over the phone to the other party who could hear the message. Newer technology allows for word recognition and creates captions on special phones or smartphones with apps. Captioned telephone service uses the internet, rather than the telephone network, to provide the link and captions between the caller with a hearing disability and a communication assistant — a go-between. It allows the user to simultaneously listen to and read the text of what the other party in a telephone conversation is saying.
The latest technology — video relay service — utilizes an interpreter between the two parties.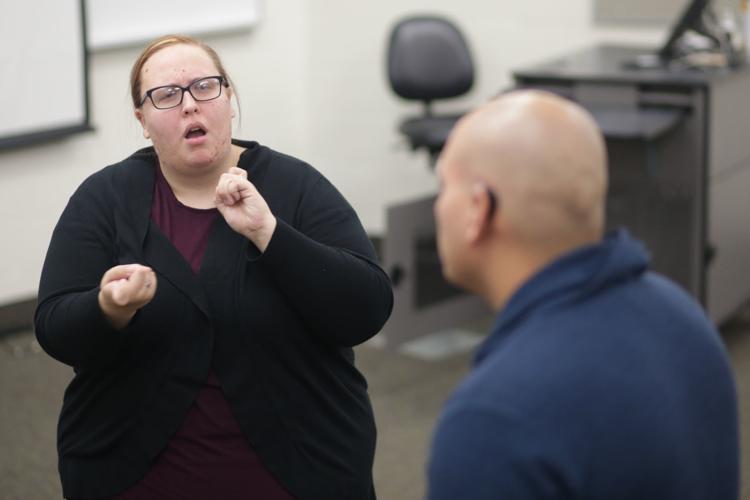 There are pools consisting of hundreds of skilled sign language interpreters sitting in booths in large call centers, taking video calls from the deaf community, then acting as a voice to speak English, or in some cases Spanish, to the hearing enabled and signing back responses to the deaf.
One such center is Sorenson Communications in Salt Lake City, which employs more than 200 people.
Video relay services are available as a stand-alone video phone, units attached to TVs and as setups for computers, tablets and smartphones. New apps are continually being developed to allow video relay phone calls between deaf/hard of hearing, an interpreter and another hearing enabled person or persons. Features such as conference calling, mail and deaf-to-deaf calling also are offered. Some new products are wristbands or other alarms using lights and vibrations that alert the deaf or hard of hearing to incoming calls, texts, social media updates, emails, etc.
With the latest in technology, it is understandable that the old teletypewriter systems are a thing of the past.
"The video phone was invented and that changed the world, it changed everything — it was a game changer," Snow said. "It was awesome. Deaf people struggle with English sometimes and the (teletypewriter) was a challenge. There was a lot of misunderstanding, you can't see emotion. The video relay is perfect. We can see each other and it's pretty cool."
Video relay service and the technology to take advantage of it is free to deaf and hard of hearing people.
"The free service is funded with appropriations from the Telecommunications Relay Services fund administered by the Federal Communications Commission. Money comes from surcharges on consumer telephone bills," Sorenson Communications CEO Pat Nola said in a news release.
Snow said the Idaho Council for the Deaf and Hard of Hearing offers training to people to aid in setting up whatever technology they need.
A general clearinghouse for connecting disabled people with useful equipment in eastern Idaho is Living Independently For Everyone Inc. or LIFE. Director Val Johnson said her office offers everything from low-tech crutches and walkers, to high-tech computerized gear for the disabled. Her office operates on grants and donations.
Perhaps someday technology will replace human interpreters. Snow foresees the possibility of a video relay service consisting of a video robotic image signing to the deaf, then interpreting the signed response in English to the hearing enabled.
"The warm-bodied interpreters would be laid off but again that technology is a long way off," Snow said.