The city of Ammon Fiber Optic Utility hosted on Wednesday an information meeting on its growing fiber network. Amid their most ambitious expansion to date, Ammon Fiber officials say they're dealing with a lot of misinformation about the utility.
That's why representatives from Ammon Fiber and city leaders held the meeting, which was geared toward residents of Ammon's Centennial Ranch neighborhood, the next targeted neighborhood for fiber installation.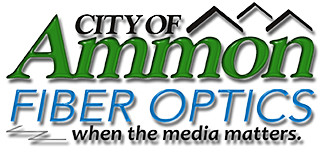 Ammon's fiber utility is an open-access, wired internet infrastructure. The city installs and maintains fiber optic wires and allows competitive internet service providers to sell service through the wire.
Ammon residents opt in to the utility and pay for the residential connection.
A few dozen residents, the majority of whom live in Centennial Ranch, attended the meeting at Mountain View Elementary School. They had a range of questions, related to the cost of installing the wired infrastructure and cost of internet service over the wire, as well as the city's fiber expansion strategy.
Expanding the network
This year, Ammon Fiber is working on its third local improvement district (LID), an area of the city targeted for fiber installation based on public interest. Neighborhoods in LID3 include Bridgewater, Hawks Landing, Centennial Ranch and Jennie Jean.
Expansion based on interest ensures Ammon Fiber can cover the cost of installation. The utility aims for a 60 percent opt-in rate in each neighborhood.
More than 50 percent of homes in both Bridgewater and Hawks Landing opted in this year. In Centennial Ranch, where wire installation will begin in the coming weeks, about 25 percent of residents had opted in as of Wednesday.
The utility is expected to connect more than 300 homes this year.
Connecting to the network
Cost of connection varies depending on how many people in an LID opt in (the more people that opt in, the lower the cost). Typically, a residential connection costs between $3,000 and $3,500.
Those who opt in can either pay for the connection up front, with no interest, or pay in annual increments over 20 years, including annual interest. If paid annually — payments are between $250 to $260, including interest — a 20-year bond is attached to the property.
Bringing fiber to your neighborhood involves some grassroots campaigning.
Residents who want the fiber network are trying to convince their neighbors to express interest and, if Ammon Fiber targets their neighborhood, opt in to bring the cost down for everyone in the LID.
Robert Brown, 78, and Carolyn Brown, 75, residents of Centennial Ranch, hope their neighbors will join them in opting in.
"We have 19 homes in our (neighborhood), and right now 13 have expressed at least an interest," Robert Brown said.
Carolyn Brown added, "He has been talking to the neighbors."
Bruce Patterson, Ammon's technology director, said the number one benefit to the fiber network is the value it adds to a home.
Patterson cited a 2015 study from the University of Colorado and Carnegie Melon University that found a home's value increases more than 3 percent when it has a fiber connection. Fiber connection added $5,437 to homes worth $175,000, the study found.
"If you gain that much on the value of your home, I like to look at it like it's free," said Tom Crapo, 75, another Centennial Ranch resident who attended the meeting.
Patterson stressed that the fiber infrastructure and internet service are separate costs.
"We intentionally separated the cost of the infrastructure from the cost of the service," he said.
An Ammon Fiber customer pays the one-time connection fee and a $16.50 monthly fee for network maintenance, which is billed in conjunction with other city utilities. Customers also can choose to pay the connection fee on an annual basis.
Although the connection cost is billed annually, it works out to about $23.50 monthly. With the maintenance and connection fees combined, the monthly cost of connecting to the network to about $40 each month.
Internet service, however, is billed separately.
Connecting to the internet
Once a home is connected to the fiber network, residents can begin receiving internet service through the wire.
Customers select from several different internet service providers via Ammon Fiber's online portal. There are a range of options for data speeds that come with different costs. None have contracts attached, and customers can switch between Ammon Fiber's four available internet service providers at any time.
The average cost of internet on the network is $10, which pays for 1 Gbps data speeds. (Gpbs stands for gigabits per second.)
One of the network's internet service provider, FyberCom, offers 15-Mbps service (enough data for basic uses of the internet) for free. (Mbps stands for megabits per second. A Gbps is 1,000 Mbps.)
"It's going to save us about $13 a month and I'll have 20 times the speed," Robert Brown said.
To express interest in bringing Ammon Fiber to your neighborhood or to opt in to the network, visit ammonfiber.com.