NAMPA — After being a stay-at-home mom for 16 years, Rhe Perdue decided to enroll in Northwest Nazarene University's nursing program as a "quick and easy" way for her to apply her intelligence.
She didn't know it at the time, but nursing school would be the hardest thing she had ever done.
Perdue now works on St. Luke's telemetry floor at its medical center in Meridian. Even though it was challenging, she said her experience at NNU was positive. But she could tell the nursing program was at capacity — every chair was filled in most of her classes.
That may pose a problem to NNU and other Idaho nursing schools nearing their capacity. Randall Hudspeth, executive director of the Idaho Center for Nursing, said each of the state's 11 nursing institutions must increase their annual output of nurses by 40 graduates to meet the growing need for nurses, but he doesn't believe most of those schools will be able to do it.
St. Luke's Nampa Chief Nursing Officer Joan Agee said Idaho will face a shortage of registered nurses by 2025 if it doesn't retain at least 750 new nursing graduates per year. Idaho puts out enough nursing graduates each year to meet that need, at about 800, Hudspeth said. However, he said only about 600 to 650 nurses are hired in Idaho each year. The loss of nursing graduates paired with Idaho's growing population is contributing to the risk of a shortage.
A 2018 study by the Idaho Nursing Workforce Center reported that most of Idaho's schools that offer nursing degrees have more qualified students apply than they can accept. But those schools often encounter challenges when they try to increase their capacity for students.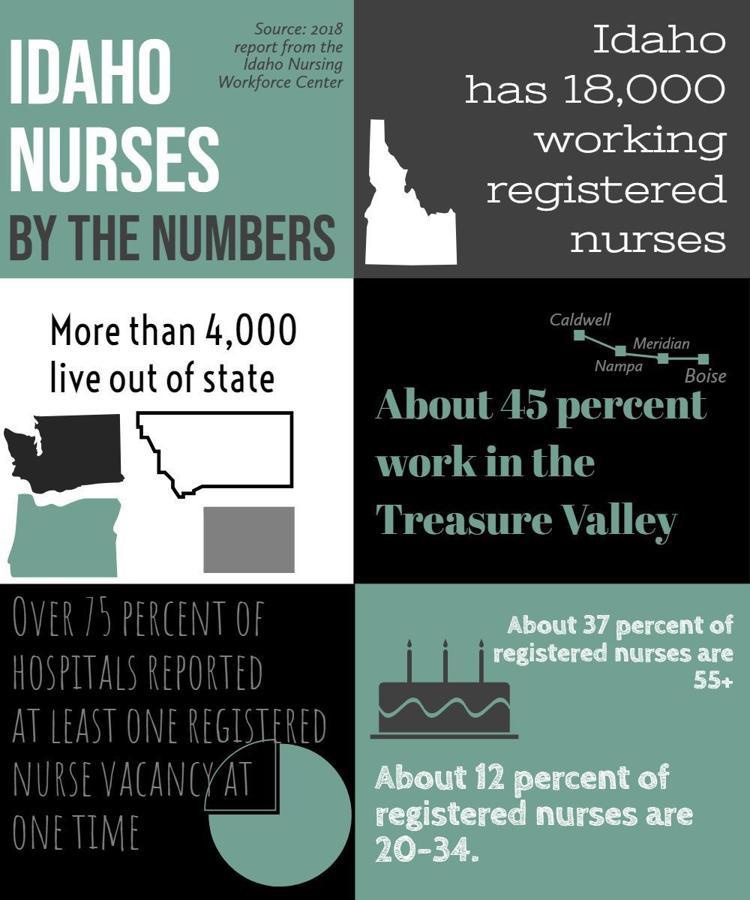 Allison Baker, chairwoman of the College of Western Idaho's nursing department, said this year CWI admitted about 20 more nursing students than normal, but the department does not have the space or staff to maintain that number of students in the long term. Most of the space allocated for the nursing department is made up of a single hallway at CWI's Canyon County Center, and Baker said they have outgrown it.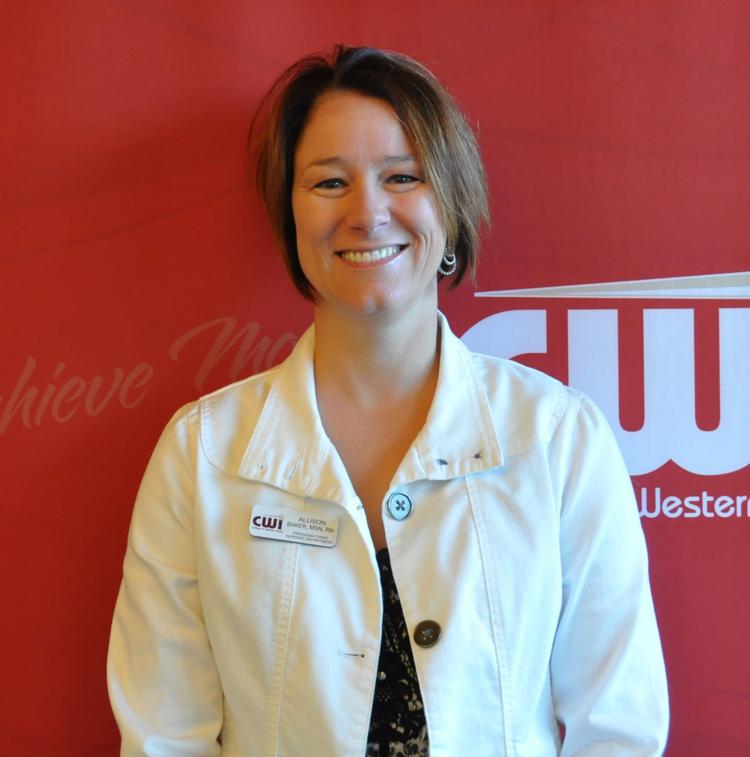 In November, voters rejected a 10-year, $4.7 million per year plant facilities levy that would have helped build a health sciences building on CWI's main campus. CWI officials marketed the health science building as a way for the college to help reduce the developing shortage of nurses in the state.
"The need is not going away," CWI spokesman Mark Browning said. "If anything, it's increasing."
The building would have increased CWI's student capacity by about 2,500 new students, a portion of which would be for the college's nursing program. Without the building, CWI usually admits about 40 nursing students a year and graduates 32 to 40, Baker said.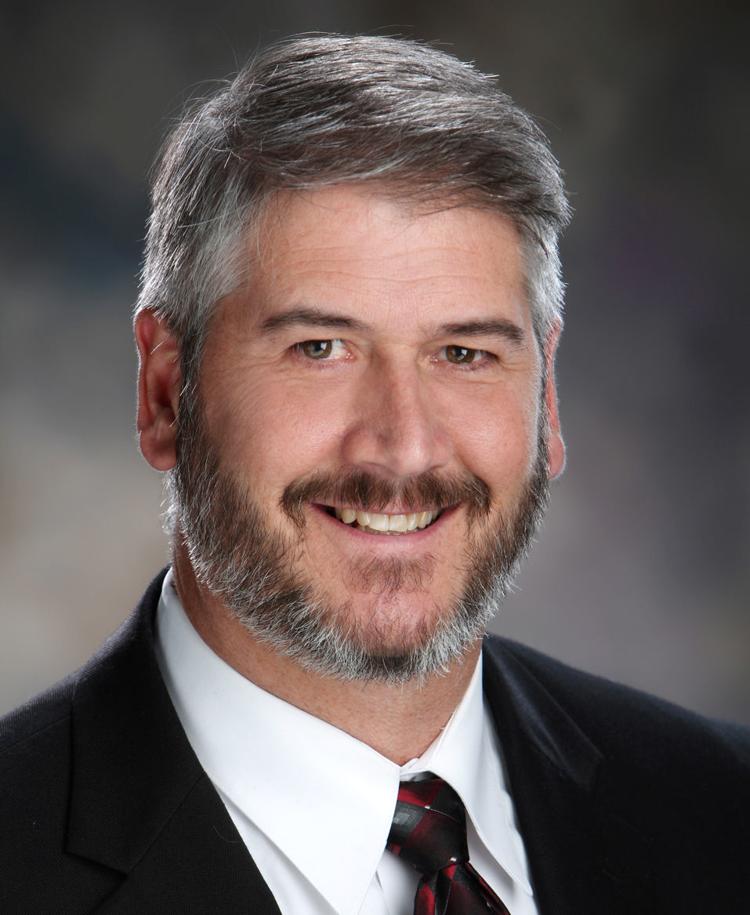 Hudspeth said Idaho is not yet experiencing a nursing shortage, but it will soon if the rate of nurses entering the workforce does not increase. More rural areas may be feeling the impacts of a shortage already. Of the approximately 18,000 registered nurses working in Idaho, about 45 percent of them live in the Treasure Valley. Ada and Canyon counties make up about 38 percent of Idaho's overall population.
AGING POPULATIONS
When Stephanie Orr became the chief nursing officer for Steele Memorial Medical Center in Salmon eight years ago, she said a large portion of her nursing staff retired within her first few years.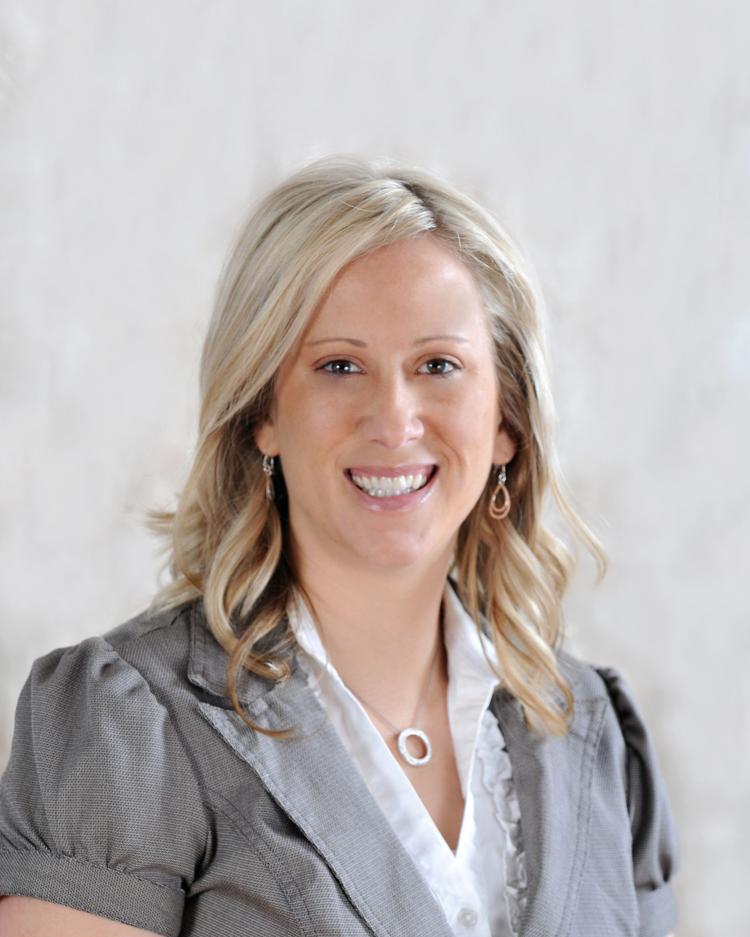 "From there, it's been non-stop turnover," Orr said.
Hudspeth said a large portion of the state's nurses are nearing retirement age, which he expects will be a major contributor to a future shortage. According to a 2018 report from the Idaho Nursing Workforce, about 37 percent of Idaho's registered nurses are 55 and older, while only about 12 percent are 20 to 34.
Orr said it has been difficult to recruit nurses with such a high demand for them because of the competition from other hospitals. She said Steele Memorial, in a city of about 3,100 people, consistently has one or two nursing positions that need to be filled.
Right now, the hospital is top heavy with new graduates in its nursing staff, which Orr said makes up its largest recruitment group. But most of those new graduates don't stay at Steele Memorial for long. Orr said many new graduates work at the hospital for the duration of their two-year contract, then leave if they don't have any other connections in the area.
Orr said these new graduates move on for a variety of reasons. She said some want to specialize in certain areas, while others want to work in a larger city. Because the demand for nurses is so high, Orr said she and her staff are bombarded by offers to work somewhere else.
Idaho's growing population also poses a problem. According to the U.S. Census Bureau, Idaho is the fastest-growing state in the nation, and the state's senior population has also been growing, according to the Idaho Department of Labor, all of which means the demand for medical care is increasing, as well.
An issue with new graduates is that many of them don't have specialized skills yet, which Orr said is affecting Steele Memorial. There is only one nurse working in labor and delivery at all times, and only one nurse and one technician working in the hospital's emergency room at all times. Orr said she would like to recruit more experienced nurses, but she hasn't figured out how to do that yet.
Orr said the hospital's nursing staff is small enough that if just one nurse takes a day off, it affects the entire staff. She said she has had to ask nurses to pull overtime more often, and develop incentives to persuade nurses to work longer. Because Steele Memorial is in such a remote location, Orr said they can't pull extra help from nearby hospitals either, as the closest one is about 90 miles away.
One of the most prominent medical providers in Idaho is St. Luke's Health System, which has four critical-access hospitals and about 160 smaller clinics statewide, according to talent acquisition supervisor Sherri Walker. Walker said St. Luke's hired about 600 registered nurses in fiscal year 2018 — an increase from 2017, when it hired about 550. St. Luke's spokeswoman Anita Kissée said just under 70 percent of those registered nurses came from Idaho.
Walker said there are unique challenges in recruiting nurses for any of St. Luke's facilities. It's not more difficult to bring in nurses for its rural clinics — it's just different, she said. Some nurses find value in working in rural areas because the smaller populations allow them to gain a variety of experiences, and Walker said being connected to a larger network like St. Luke's is beneficial for nurses who may seek opportunities in larger areas later on.
RETAINING GRADUATES
There wouldn't be an impending shortage if Idaho retained all of the nurses who graduate each year. So why is Idaho losing about 200 nursing graduates every year?
Idaho's nursing salaries have caught up in recent years to be more competitive with its neighbors. In 2012, Idaho had the lowest average nursing salary among its six bordering states. Since then, Idaho has moved up to fourth out of seven, with an average annual salary of about $62,000 for registered nurses. Washington, Oregon and Nevada offer higher average salaries.
Hudspeth said he believes some nursing graduates move out of Idaho to work in a bigger city, while some move on to other out-of-state institutions for a higher degree. One of the largest suppliers of nursing graduates in the state is Brigham Young University-Idaho, Hudspeth said, but BYU-Idaho's nursing department chairwoman Erin Bennion said only about 57 percent of the institution's nursing graduates work in Idaho.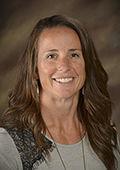 Some of Idaho's other nursing schools retain a much larger portion of their graduates. Baker said usually about 95 percent of CWI's nursing graduates choose to stay and work in Idaho, while NNU hovers around 80 percent, undergraduate nursing Chairwoman Michelle Hunt said. Only a small handful of the approximately 40 students in Perdue's graduating class at NNU intended to work out-of-state, and she said every student had a job before they graduated in May.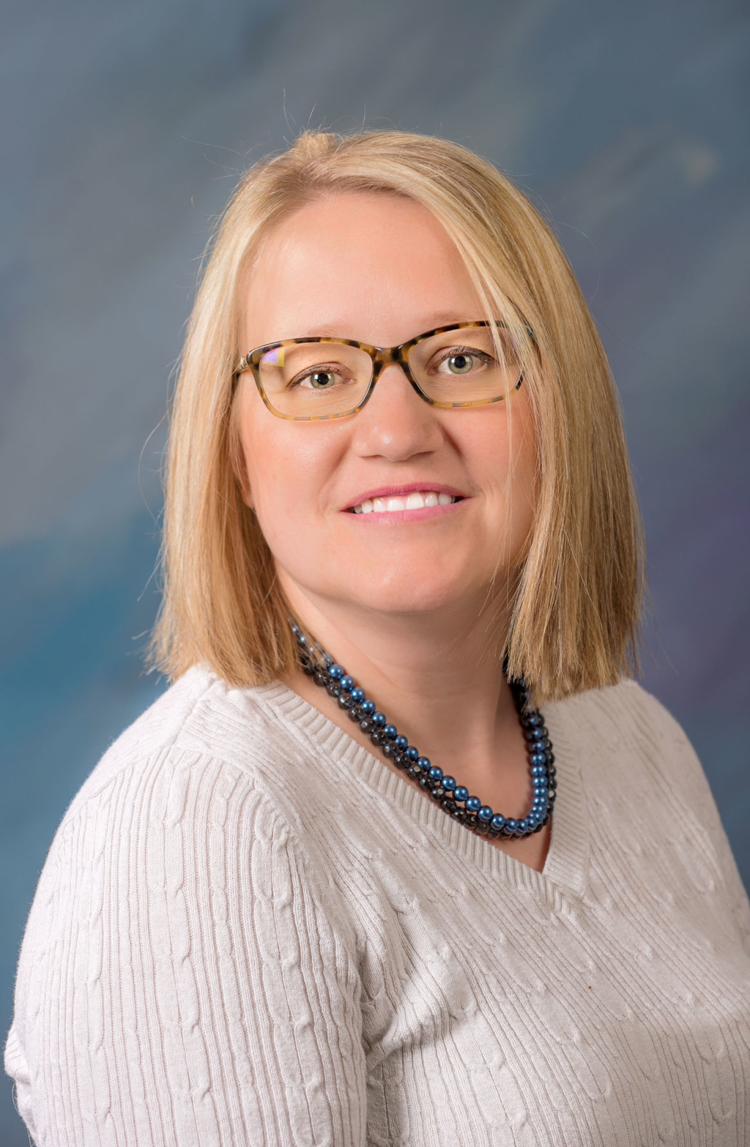 Bennion said BYU-Idaho graduates about 180 nursing students every year, but many of their students come from out of state, which may be a factor in why so many leave once they finish their education. About 21 percent of BYU-Idaho's nursing graduates work in Utah, about 7 percent are in Texas and many others are scattered across the country.
EXPANDING CAPACITY
Bennion said BYU-Idaho is trying to increase its number of nursing graduates to 240. The biggest obstacle BYU-Idaho faces in that goal is a lack of clinical space, she said. Based in Rexburg, there are fewer clinics than in the Treasure Valley, meaning fewer options where students can shadow professionals.
"BYU-Idaho is growing, but the community around us is not growing at the same rate," Bennion said.
NNU is also working to increase its capacity. Hunt said the university typically graduates about 40 nursing students every year and hopes to nearly double that each year by offering more undergraduate programs in the fall and the spring next year.
Among Idaho's institutions that offer nursing degrees, the Idaho Nursing Workforce report cited a lack of clinical space as a limitation on student enrollment, but also a difficulty in hiring qualified faculty. The Idaho Department of Labor reports that there were just over 250 nursing instructors working in the state in 2016, but by 2026 Idaho must gain at least 300 more instructors to match the need.
Hudspeth said one reason for the low faculty numbers is little financial incentive for nurses to switch to teaching. Most nursing instructor positions in the state offer salaries similar to what an entry-level clinical nurse receives.
But Hunt said there are other reasons nurses seek positions in education. Hunt said she previously worked as a clinical nurse but decided to pursue an educational role for reasons not based on pay. She said teaching typically offers better hours than most clinical nurses get and gives her several weeks off at different points of the year to spend time with her family. Instructor positions also allow nurses to spend more time working on research, and in general offers a sense of fulfillment.
"I feel I can impact more patients by teaching students," Hunt said.
NNU has about nine regular faculty members in its nursing department and about 20 adjunct faculty. CWI has 10 staff members in its nursing department, Baker said. BYU-Idaho has 15 full-time faculty in its department.
THE IMPACT
Craig Shaul, research analyst supervisor with the Idaho Department of Labor, said if Idaho's nursing shortfall continues to grow, future patients likely will encounter longer wait times and possibly higher costs to receive medical care. He said a shortage could also create more competition among medical providers for staff.
Perdue said she has not encountered anything indicative of a shortage at her new job at St. Luke's yet, and she is not sure if she ever will. Currently, she pulls 12-hour shifts three days a week, and for safety reasons, she said she can't work much more than that even if there were a higher demand.
"You can only work so many shifts in a row," Perdue said.
Perdue said she thinks a nursing shortage may have the biggest impact on administrative staff at local hospitals, as they are the ones who have to figure out how to work with a limited supply of nurses and a growing number of patients.