Editor's note: This article has been updated to correct Kyle Naylor's city of residence at the time of the accident.
Tyson Dennert was remembered as a fine student, talented athlete and a "wonderful young man" as those who knew the 26-year-old expressed grief at his sudden death.
Dennert's family thanked the Idaho Falls community for supporting them and other families after he and eight others were killed in a plane crash Saturday.
Dennert was pheasant hunting with his in-laws in South Dakota when their plane returning to Idaho Falls crashed shortly after takeoff. He had married Jessica Hansen in 2014, and they had two children with another on the way at the time of his death.
"The Dennert family is deeply touched with the many expressions of love and caring, offers of help, and interest in the well-being that has been so graciously expressed for our family as well as for the Hansens and Naylors in the aftermath of our recent tragedy. We mourn along with those good families who have become tightly intertwined with ours over the years," the family wrote in a statement to the Post Register.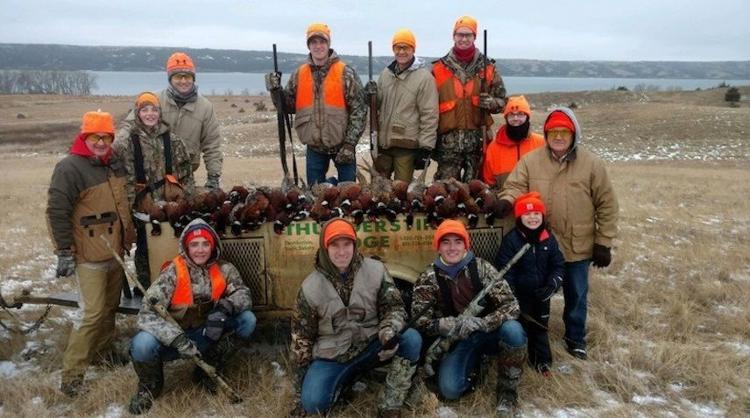 Dennert and his brother-in-law Kyle Naylor were the sons-in-law of Kirk Hansen, who also was killed in the crash. Naylor, who was originally from Twin Falls, was living in Las Vegas with his wife Alexis and their children at the time of his death, according to a family member. Naylor was attending dental school in Las Vegas.
Tyson Dennert graduated from Skyline High School in 2012, where he played football and basketball. During his senior football season in 2011, he set the school records for pass attempts, completions and touchdowns in a game, was selected to the all-conference first team and helped Skyline win its first Emotion Bowl in five years.
Skyline football coach Scott Berger worked with Dennert for three years as a football coach and also taught him in his social studies class. He remembered Dennert as someone who always had the best interest of his teammates in mind and made a huge impact on the Skyline program.
"He was conscientious, a nice kid to have in class. If you had to say what an all-American kid was like, he would be it," Berger said.
After high school Dennert served a two-year church mission in Saltillo, Mexico, before attending college. Barry Dennert, Tyson's father, said his son had turned down college football recruiters from multiple universities to attend Brigham Young University with "a full academic scholarship for all four years he was there."
Berger said that Dennert had the tools to have done well as a college quarterback, had he chosen to. Berger stayed in touch with Dennert after he graduated and Berger recalled that Dennert would occasionally come back to Skyline to throw passes to the new players and test how well his arm worked.
Dennert graduated from BYU with a degree in microbiology in 2018 and moved to Seattle to attend the University of Washington School of Dentistry.
Gary Chiodo, interim dean of UW's School of Dentistry, described Dennert as a "wonderful young man and fine student" in a statement posted online Tuesday. Other students remembered that he would help teach them Spanish and volunteered for the school's Health and Homelessness program.
The Dennert family's statement specifically mentioned the support from members of their congregation of The Church of Jesus Christ of Latter-day Saints and the Idaho Falls Fire Department, where Tyson's father, two of his uncles and his brother-in-law worked. They also thanked the first responders and doctors in Chamberlain, S.D., who helped rescue the three survivors of the crash.
"We have some understanding of the difficult situation you had to respond under, yet did so with great dedication. We are so thankful that you were able to give needed care to the survivors," the family wrote.
In the days since the crash, two online pages have been set up in honor of the extended Hansen family. A Hansen Family Memorial Fund established on GoFundMe says that its proceeds "will be donated to the young widows affected by this tragedy." The page can be found at tinyurl.com/Hansen-Family-Memorial-Fund.
A Hansen Family Legacy page has also been started on Facebook, where community members can share their memories of those killed in the crash. The page can be viewed at tinyurl.com/Hansen-Family-Legacy.
A viewing for Tyson Dennert has been scheduled from 6:30 to 8 p.m. Dec. 13 at the LDS meeting house at 1345 Clarence Drive. The family's full statement can be read on the Post Register website.