Two microscopes are set up on Keila Poulsen's desk.
One is state-of-the-art, identical to the ones located in the hematology lab down the hall of Eastern Idaho Regional Medical Center. The second was a gift to her from the rest of the hospital staff — a 1920s microscope stored in a wooden box, complete with brass features and a drawer of original samples.
The antique microscope is much older than Poulsen, but she has been testing blood samples and looking for diseases long before EIRMC opened its doors. Last weekend she celebrated 50 years of working for hospitals in Idaho Falls, the only job she's ever had. And Poulsen said she has no plans to retire soon.
"This place has provided so much to me. I never would have grown into the person I've become without the leadership of all the front offices I've had," Poulsen said.
For Poulsen, working hard has never been about needing to earn money. She was born in Idaho Falls in 1948 and grew up working on her father's mink farm outside the city. Helping at the farm was what needed to be done, so she never thought about having to work to earn a living.
She was inspired to go into the medical field as a student in Bonneville High School, when she stumbled across a brochure in her high school guidance counselor's office with a woman in a lab coat and a microscope.
Poulsen said that hematology and other blood-related medical fields have been female-dominated for as long as she could remember.
"It's a very fine level of detail that you're looking for in a blood sample. There's usually not a lot of men that want to do that kind of work," Poulsen said.
Other than going to college at Brigham Young University in Provo, Utah, she's lived in the city for her entire life. She interned at the Idaho Falls Latter-day Saints Hospital during college and was hired to work there immediately after graduating in June 1969. Paychecks from her internship piled up in unopened envelopes for months because she never considered that she should be paid for that work.
"I was always thinking about what you could do for the facility. I had no idea the facility did things for you as well," Poulsen said.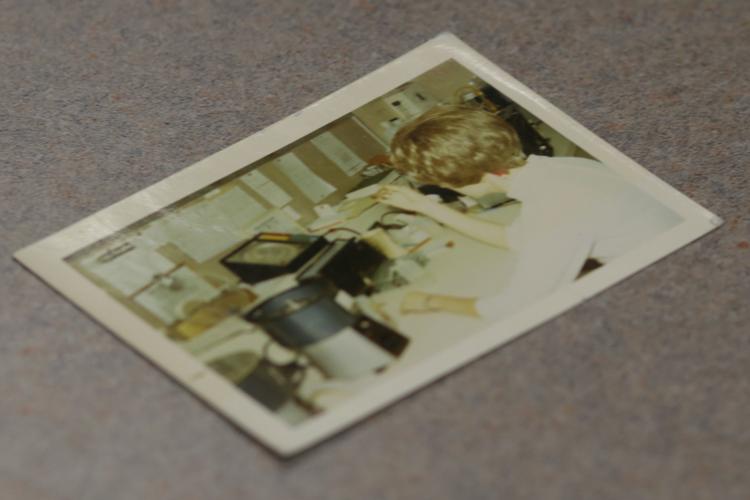 The Idaho Falls LDS Hospital became the Idaho Falls Hospital, Idaho Falls Consolidated Hospitals and eventually opened as Eastern Idaho Regional Medical Center in 1986. Many of the staff members held on between the name changes and new owners, but none stayed with the hospital for as long as Poulsen has.
When she started 50 years ago, the hospital's blood lab had 12 employees and could only run complete blood counts on seven patients per day. EIRMC's facility now has 63 workers and goes through nearly 150 blood counts each day.
Diane Stumpf was hired by Poulsen in 2003 to work in the hematology lab, when Poulsen was the hospital's hematology lab supervisor. Stumpf said that the lab's technology and the speed of the machines have changed dramatically even in the 16 years that she's worked there.
"(Poulsen's) ability to keep up with what is happening with technology and trends is amazing," she said.
The lab still keeps some of its older instruments around as backups for the new devices and has turned to them in several cases. Recently, a new machine arrived with the wrong size of pipette and couldn't be used for several days. Poulsen was the only employee equally skilled with the brand-new devices and the remaining machines from the 1980s.
Because she was hired immediately after her internship, Poulsen has never had to write a resume or apply for a new job. Some of the hospital staff helped create a mock resume for her in 2015 and laid out her impressive list of accomplishments.
Member of the Year award-winner for the American Society of Clinical Laboratory Science in 1999. Two-time Member of the Year for the ASCLS chapter in Idaho, once in 1991 and again in 1998. Frist Humanitarian Award winner at EIRMC, also in 1998. Contributing writer for two textbooks on the subject of hematology, one of which is about to release its third edition later this year.
Poulsen is much more interested in talking about the things she's learned than the honors she has collected. She still attends as many workshops and training events as she can. In between going four-wheeling and spending time with her 10 grandchildren, she read books on hematology and blood diseases for fun. Every time she reads or attends another lecture, she picks up new information to bring back to the hospital.
"The thrill of learning and the thrill of using the new thing you study is autocatalytic. It feeds back on itself," she said.
Stumpf took over for Poulsen as lab manager in 2016 but says that she remains a leader for both the hospital staff and other labs in the region. Blood technicians from across eastern Idaho will text Poulsen pictures of blood samples to get a second opinion on their findings, especially if the condition is something they'd never seen before.
"She will always be my boss and always be my friend," Stumpf said.
Poulsen has worked as an adjunct professor in BYU's microbiology department for nearly 40 years, returning for a week or two of lessons every year. She always gives the medical students in Provo the same advice about their future in a hospital lab.
"I tell them, 'If you don't have a passion for this, you need to change your plans right now.' You should do something that you want to do for the rest of your life," she said.