Hundreds of Idahoans took the time to send emails to the Ada County Board of Commissioners this summer, vehemently in support or against two far-right nominees, Doug Traubel and Ryan Cole.
Traubel, a candidate for Ada County Sheriff, and Cole, a nominee for Central District Board of Health, each inspired campaigns for and against them as part of their controversial nominations.
Groups leaning left, including Democrats, and right, including Republicans, each walked away with one win — Traubel was not chosen and Cole was. Despite all the op-eds, campaigns, and plenty of social media posts, neither political party made significant headway against the other. But the polarizing political battles that have become common in recent years seem likely to continue for the foreseeable future.
And that could have a negative effect on Treasure Valley society.
"I think the ways that people are demonstrating their unhappiness with policy issues is increasingly less civil and edging on violence, when you're demonstrating outside of elected officials' homes with torches and signs and banging on the door," said Stephanie Witt, professor in the School of Public Service at Boise State University. "I don't know how many degrees away from somebody getting hurt that is. It's concerning to me."
Political extremism is fueled by feelings of distress. It increases political instability and the likelihood of conflict between groups of society, according to a 2019 article in the journal Current Directions in Psychological Science.
"Excessive confidence in the moral superiority of one's own ideological beliefs impedes meaningful interaction and cooperation with different ideological groups and structures political decision making as a zero-sum game," the authors wrote. "Strong moral convictions consistently decrease people's ability to compromise and even increase a willingness to use violence to reach ideological goals."
There are some who believe the Republican Party has moved further to the right and others who believe the Democratic Party has moved further to the left. But many agree that Idaho politics have become increasingly polarized. While there are those who point to national politics, others say the cause is the closing of the Republican primary in 2012, which Witt said was the party's prerogative.
The Idaho Republican Party said in an emailed statement that the state is not unique in its increasing levels of polarization. Many current events over the last few years "present unprecedented challenges and debates worthy of discussion."
"The Idaho Republican Party continues to promote unity through civility, and we encourage voters to debate the issues freely and openly," wrote Jacob Miller, the group's director of communications and external affairs. "We actively encourage voters to engage in the political process respectfully through civil debate."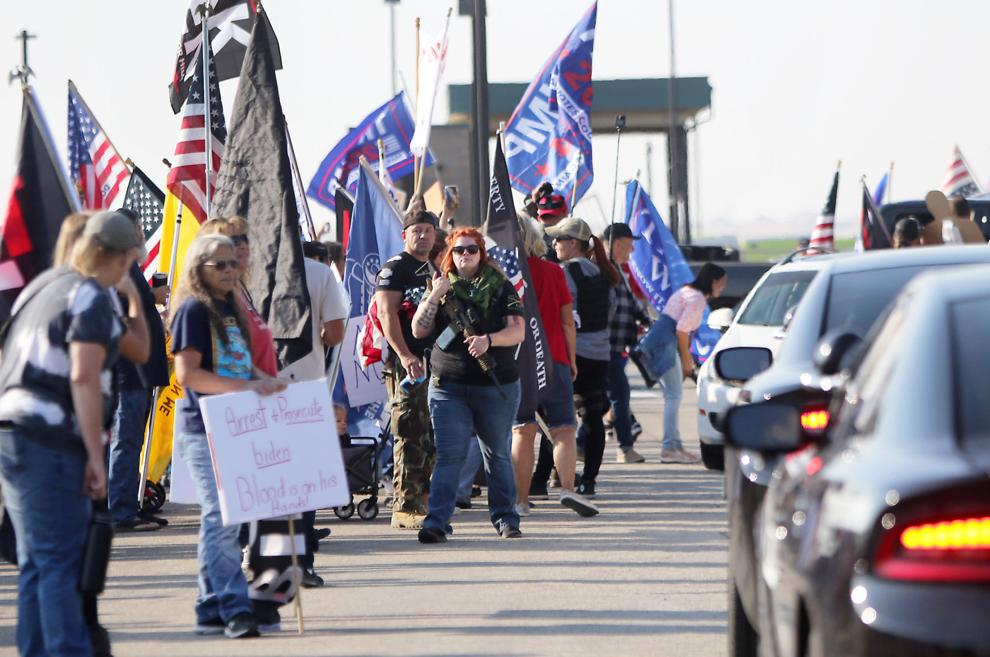 In 1998, the Associated Press noted that Idaho had received as much publicity at the time for extremists as the state had for its renowned potatoes. At the time, the article noted state residents are "sensitive to the tainted image, and most applaud the governor for speaking out against fringe groups like the Aryan Nation." That year, 90 white supremacists marched in Coeur d'Alene in an event organized by the Aryan Nations, which had a compound near the city.
Many viewed North Idaho as a haven for extremists but now those beliefs have trickled into the southern part of the state as well, Witt said.
Just this summer, several events have shown how extreme views haven taken hold in southern Idaho.
• On July 3, the Proud Boys marched in a parade in Buhl as part of the community's Sagebrush Days parade that went through the center of town.
• On Sept. 13, a number of individuals carried posters with swastikas on them at a 1,000-strong protest at the National Interagency Fire Center that marked the arrival of President Joe Biden to the region to talk about wildfire risk and prevention.
• Later that month, St. Luke's hospital in McCall was defaced with swastikas as health care staff throughout the state continue to manage the onslaught brought on by the COVID-19 pandemic.
Shane and Natalie Plummer of the Boise Bubble podcast recently addressed the issue of extremism on their show, in an episode called "Unselling Boise."
"There is a lot of extremism here," Shane said. "There are some things that I love about this awesome red state and then there's some things about it that I'm like, c'mon, this is really getting in the way of some progress."
"It almost turns it so black and white," Natalie added. "We don't really think black and white is a good way to go."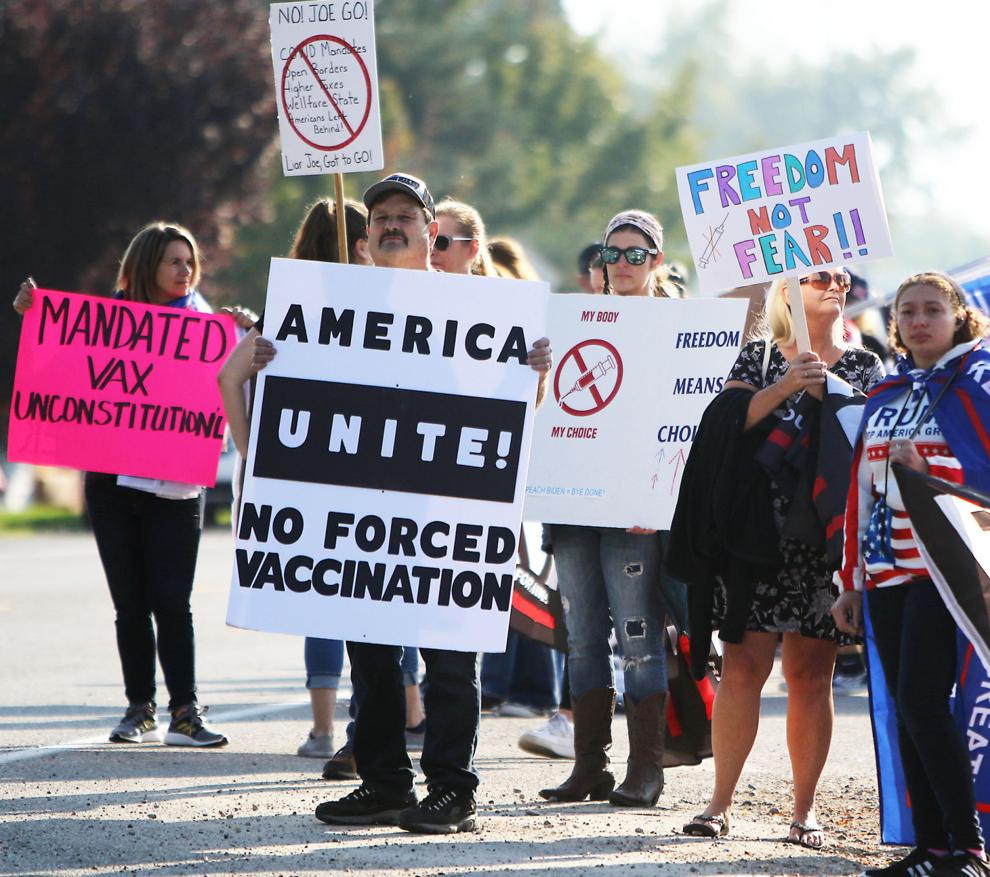 In December 2020, Democratic Ada County Commissioner Diana Lachiondo left a Central District Health meeting in tears. Her 12-year-old son was home by himself and armed protesters were outside the door, "yelling, banging, firing air horns, amplifying sound clips from Scarface, accusing me of tyranny and cowering inside," she reported on Facebook the next day.
Two months later, a group of protesters, some carrying torches, stood outside the Caldwell home of Republican Rep. Greg Chaney after he co-sponsored a bill which would make it illegal to protest at the private homes of public officials.
The Gem State's charged political climate could perpetuate itself, Witt said. Local politicians facing angry residents at public meetings may decide they don't want to serve, leaving behind those who are passionate about their ideology, Witt added.
Nampa City Councilmember Jean Mutchie recently announced she would not be running again for the seat because of the current political climate.
Polarization is not unique to Idaho. Despite contentious disagreements between different political sides in the state, Idaho still leans heavily Republican. The state had one of the most polarized and right-wing leaning legislatures in 2013, according to Vox. Gallup ranked Idaho's political ideology in 2016 and 2018 as among the most conservative in the country. Republicans have a huge advantage in the state, to the point where New York Magazine wrote earlier this year that even the most extreme Republican nominee for governor will be a general election favorite.
The Republican Party controls the Gem State and holds the majority of offices in Idaho, including all of Idaho's congressional seats, every statewide elected office, and more than 80% of the seats in the state Legislature.
What's happening here is "reflective" of Republican Party politics nationwide, Witt said, but the closing of the Republican primary in 2012 could have had an impact.
There have always been very conservative people in Idaho, Witt said, but the candidates who are winning and officials running the party have shifted further to the right.
"The people who tend to vote in primaries tend to be the more zealous members of the party on both parties' cases," Witt added. "I think it's resulted in more victories for more conservative candidates."
Idaho previously had open primaries, allowing voters to choose which party's ballot they voted at the polls, and had no official party registration. But the Republican Party sued to close its primary to anyone other than registered Republicans, and in 2011 won its lawsuit.
Before then, a farther-right faction of the party used to be powerful in some areas of the state, including Kootenai County, Witt said.
"That part of the party is now really in control throughout the state," she said.
There are also districts in Boise which were represented by moderate Republicans a few decades ago. Now those districts are represented by Democrats, further signaling the trend of candidates moving away from the center.
"There used to be a lot more moderate Republicans than there are now," Witt said.
Boise native Richard Peebly, executive director of the Ada County Democrats, said national politics have a lot to do with polarization in the state. He also said the closing of the Republican primary made elected candidates more extreme.
Peebly said his volunteers have been harassed.
"I'm hopeful that cooler heads can take back the Republican Party," Peebly said. "Most Republicans aren't that way and most conservatives aren't that extreme."
But he said this type of harassment is not forcing people out of politics.
"I've noticed that it does dissuade a few potential candidates from running," Peebly said. "There are a lot of problems in Idaho and there's a lot of work to be done to fix them and I think that is more motivating to people than harassment is dissuading."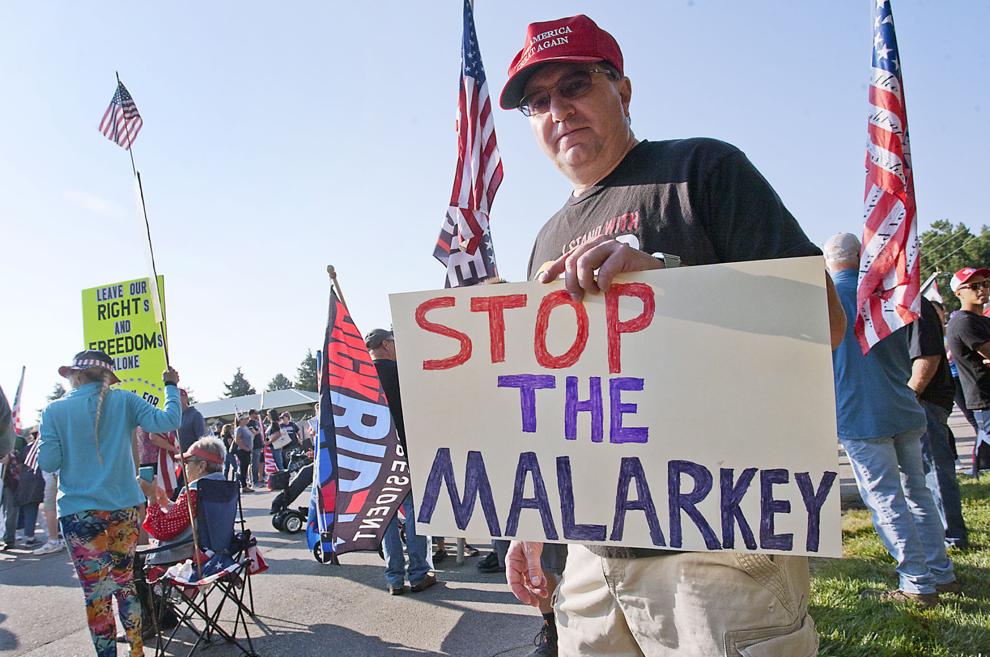 Boise resident Bren Dykes voted for Bill Clinton during the former president's first term. Decades later, he stood outside the National Interagency Fire Center on Sept. 13 to protest President Joe Biden's arrival.
"At one point, I did espouse some ideas that were not as conservative," Dykes told the Idaho Press in a later interview. "A long time ago, the Democratic Party wasn't that removed from my beliefs. But they have just moved further and further left until they're unrecognizable."
Dykes said he's moved slightly right, but mostly the Democrats have moved left.
He said he considers himself libertarian but his views line up mostly with Republicans and closer to Idaho Lt. Gov. Janice McGeachin, who is mounting a far-right challenge to current GOP Gov. Brad Little. Dykes said Idaho is somewhat more polarized, a trend he attributed to nationwide polarization.
"Usually, the conflicts in Idaho seem to be within the Republican Party," Dykes said, especially since one party controls the state. "Not between parties as much."
Though he doesn't see a lot of extremism locally, Dykes said gubernatorial candidate Ammon Bundy seems to be veering in that direction. Dykes agrees with some of Bundy's positions, but said Bundy goes too far.
Dykes also has mixed feelings about some of the instances in Idaho where protesters gather outside of officials' homes.
"In some respects, I look at it and think, 'Oh you can really get their attention,' but on the other side, I look at it and say you really probably should leave people's personal houses and their families completely alone," Dykes said. "I lean a lot more strongly towards, you don't mess with people's houses."