Dutch Driggs stirred in bed. He blinked himself awake. Someone was trying to wake him, but why so early, especially in the beginning of a global pandemic?
"You need to get on right now," said Brandon Taylor, Driggs' brother-in-law, standing in Dutch's bedroom. "We're going to play with JaVale McGee."
What? Driggs thought. JaVale McGee?
JaVale McGee. The Lakers center, the two-time NBA champion.
On this April morning, Driggs hopped out of bed, brushed his teeth and settled in front of his gaming computer. The Thunder Ridge High School senior flipped on Call of Duty: Warzone, the game that was about to change his life. He joined a party with Taylor and McGee.
To be sure, this wasn't the first time the 18-year-old Driggs had gamed with an NBA player. Days earlier, he had played with Lakers forward Kyle Kuzma, one of Taylor's old teammates at Utah in 2016. Besides, Driggs was already acquaintances with Kuzma when he attended Utes games and Taylor introduced him to his teammates.
"But when JaVale was like, 'Let's run it,' I remember he was sweating," said Taylor, a professional basketball player who had returned from his home in Italy because of the pandemic. "He didn't know what to do, but he was just so locked in. He closed his door and put that sign up, and he was just going to work — 29 kills, getting us wins."
Right away, Driggs got started. McGee and Taylor totaled two or three kills each, but Driggs used his quick-twitch reactions, accurate aim and map knowledge to pile up nearly 30 eliminations, eventually leading the trio to a win.
Driggs — DrizzyRD on social media — may be talented, but it was still an accomplishment. In Warzone, a first-person shooter, battle royale game, players drop into a giant map with 150 players. Victory goes to the last player standing, or to the team of two, three or four.
So considering that Driggs won with Taylor and McGee, two professional basketball players whose schedules had only recently opened up for video games because of the pandemic, the teenager's talent crystallized.
"The first time I played with those guys, I was super nervous," Driggs said. "But now, I can just do my thing. I'm going to carry these guys anyway. This is why I'm here. They're NBA basketball players, not professional Warzone players. I just do my own thing, get in my groove. They're not going to say anything. I was nervous, but now, I'm just super chill about it."
By all accounts, Driggs has made an impossibly fast ascent in the gaming world. During his freshman and sophomore years — the first at Hillcrest High School, before Thunder Ridge opened the following year — he logged thousands of hours on Rainbow Six Siege, another first-person shooter in the vein of Call of Duty.
Not just a few thousand, by the way. On this Monday afternoon, under strings of Christmas lights in the dimly lit gaming room of his family's basement, Driggs strode over to his PC and checked the exact total: 10,000 hours.
That translates to a shade over a year.
"But that's the grind," Driggs said. "That's what people don't get. Like, I'll sit here for 12-hour days just to get better."
Driggs has reaped the rewards by the bushel.
He picked up Warzone around the time it released, in March 2020. Across 10 short months, he's played with household names in several orbits. In the NBA: Ben Simmons, Paul George, J.R. Smith, McGee and Kuzma. In the entertainment industry: World-famous DJ Marshmello and rappers like Tee Grizzley and Ty Dolla $ign. In the gaming sphere: Members of FaZe, arguably the most influential Call of Duty organization on the planet.
Even so, what sticks with his family and friends is that Driggs didn't just play with these people once. He plays with all of them on a regular basis.
"I was shocked. I was like, 'Dang,'" said Driggs' twin brother, Lloyer. "You know you're tough when you're playing with people like that. So it was cool. I was in shock. But then again, I kind of did expect it, because he's legit."
The first connection came courtesy of Taylor, who encouraged Kuzma to game with Driggs. Kuzma felt impressed with Driggs when they played together, so because he was teammates with McGee at the time, Kuzma told McGee about Driggs' talent. Another relationship was born.
Since then, NBA players have passed around Driggs' name like an extra-pass assist, which has generated a dash of stardom for Driggs.
"Now, he's a top dog, so he doesn't need me anymore," Taylor said with a chuckle. "So I have to always humble him sometimes. I say, 'Look, don't you forget. If it wasn't for me, I don't know if you would be having this little fame that you have.' We laugh about it."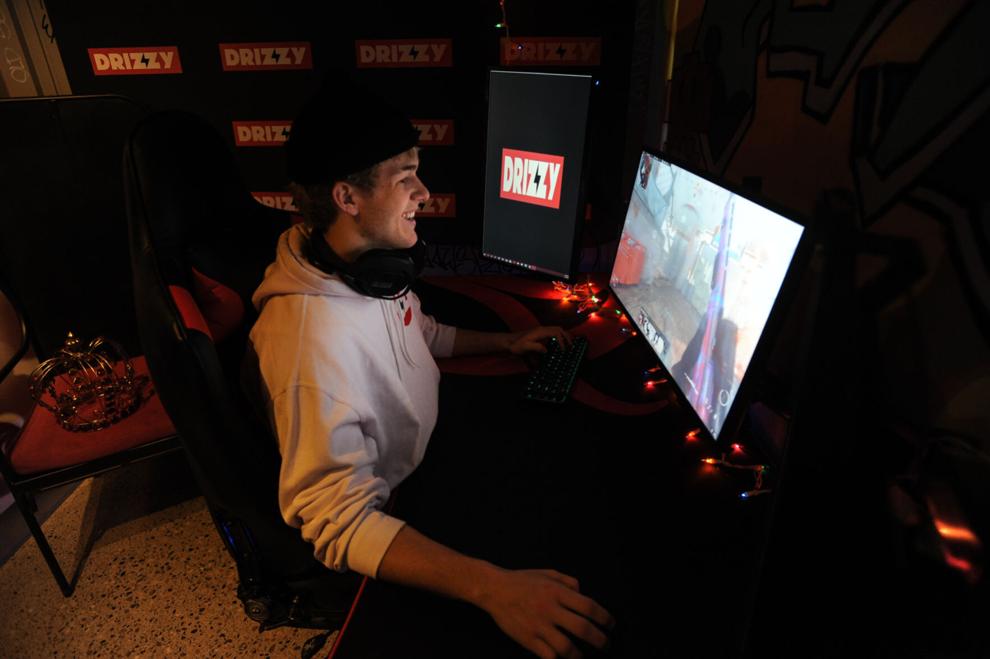 Still, for Driggs, the experiences haven't only been virtual. In July, when he and his family took a vacation to their old home of Newport Beach, California, Driggs' eyes lit up. He received a text from Marshmello's manager, Moe Shalizi, who invited Driggs to his Los Angeles home to hang out with him and Marshmello.
"I talked to them, made sure they're not sex traffickers," said Driggs' mother, Tiffany Tallman, laughing. "I'm paranoid."
With mom comfortable, Driggs happily accepted. Shalizi ordered an Uber for Driggs and his best friend, Gabe Houston, and within a few minutes, they arrived outside Shalizi's gated neighborhood. Driggs let Shalizi know they were outside, the gates swung open and soon they arrived at the house, complete with luxury cars in the driveway, an outdoor basketball court on the side and Marshmello's platinum plaques on the interior.
When you visit Marshmello, the guy who has produced smash hits like "Come & Go" with Juice WLRD, "Silence" with Khalid, "Everyday" with Logic and dozens more, you enjoy some opulence.
Still, like with Kuzma, Driggs had already been playing with Marshmello, who logs 30 million Instagram followers and 41 million Spotify monthly listeners, which ranked 14th on the entire platform at the end of 2020.
"So it was cool to see him in person, but it was more like dapping up your homies in person," Driggs said. "That's how it felt to me. It wasn't like, 'Oh, Marshmello.'"
"He followed me on Instagram and whatnot," Driggs added, in the same nonchalant tone that amazes his parents.
Tallman laughs when she recalls those types of stories. Once, she said, Driggs was scheduled to play with Simmons, the Philadelphia 76ers star point guard. He had to get to football practice, though, so he told Simmons he would call him when he returned home.
"Dutch is an interesting individual. Always has been," she said. "Dutch does his own thing. He is not influenced or upset or if people have negative thoughts. He doesn't let things bother him. He has the world's best coping skills I've ever seen. He can just let things go off his back."
It's easy to forget, considering the heights he's reached at such a young age, but Driggs is a high schooler. He'll graduate in May — "He's an adult," Tallman said — but he still lives at home, which means he has to find ways to balance gaming with school and sports and family and friends.
He has something resembling a regular playing schedule, coming home from school and gaming from around 4 p.m. to 12 a.m., but still — that is no small task. He's had to make sacrifices.
For example, Driggs played JV basketball as a sophomore and made the varsity team as a junior, joining brother Lloyer in the backcourt. Together, they made for an athletic tandem for a solid Thunder Ridge squad.
The Titans failed to crack the 5A state tournament field that year, though. Their season ended in a district tournament loss to Madison on Feb. 22.
Three weeks later, the pandemic started and Warzone dropped.
If the game were an ocean, Driggs dove to the floor. He regularly logged double-digit hours in single days. On multiple occasions, he gamed through the night, sometimes until 9 a.m.
Once, he ran into his mom around the house.
"Oh, you're up early," Tiffany said.
"Yeah, yeah," Dutch replied.
"Did you go to bed?" she asked.
"Uh, no," her son answered.
"I'm like, 'Dutch, you're young. Your sleep,'' Tiffany said. "I'm a big natural consequence parent, too. So I don't want to have somebody tell me when I'm tired and when to go to sleep. I'll go to sleep when I'm tired. That's how I like my kids eating. If you're not hungry now, it's in the refrigerator. Remake it for yourself."
What Tiffany likes most, though, is that those interactions may have happened a few times, but they don't represent her son's approach to life. Ask mom and you learn about a kid who emphasizes balance, realizing when he's in danger of burning himself out and dedicating that time to hanging out with friends, playing other games and staying involved in football.
Just last weekend the family traveled to Dallas so Driggs could play in the Blue-Gray All-American Bowl at AT&T Stadium — the home of the Dallas Cowboys.
A slot receiver, Driggs prefers football over basketball. The Titans produced an average season in 2020, finishing 5-5 with a season-ending loss to Eagle in the 5A state playoffs, but Driggs used his blazing speed to keep secondaries guessing.
In large part because of gaming, Driggs chose not to use those gifts on the basketball court his senior season.
His logic checked out. He liked basketball, but he loved gaming, and because of tournaments and his Twitch streaming schedule, those would clash. Driggs was leaning toward opting out of basketball.
Thunder Ridge basketball coach Lee Toldson told Driggs he wanted to chat.
"I told him that he needed to focus on his passion," Toldson said. "I didn't want him to do something that his heart wasn't in, and his heart is in gaming right now. And playing basketball would have taken up a lot of his time. I didn't want him to jump into the season and wish he would have done gaming."
Lloyer, Driggs' brother, expressed something similar. He reasoned with Dutch. As seniors, he said, they only had one more season together. They could push for a state championship. They could form another versatile backcourt.
"I knew the potential he had on the basketball team and how much he would help us win, and how much it meant to me," said Lloyer, a rising star who is turning into one of the best scorers in the area. "He knew that. I was pushing him to do that. I didn't really quite understand where his gaming would go. I was kind of ignorant in that sense. I wasn't really sure if he was going to make anything out of it. But then he put it in perspective for me, like how big of a deal it is to him and how passionate he is about it.
"I didn't want to force him to do anything that he doesn't love. That doesn't help."
Finally, Driggs felt comfortable turning down basketball because his parents supported his decision.
For Tiffany and Scott Tallman, that took some work. At first, as their son carved out his role in this world, they felt confused. What was Warzone? How did streaming work? Was Dutch really as good as he said, and did gaming have the potential he claimed?
One by one, they found answers. They watched Dutch play in a Warzone tournament on Twitch — "We had never done that before," Tiffany said. And when their older son, Rydder, assured his parents that Dutch really was profoundly talented, she began to feel reassured.
After all, worldwide in 2020, esports market revenue totaled $950 million according to Forbes. In the year alone, 1.955 billion people were aware of esports, up from 1.1 billion in 2016. Plus, the esports audience reached 495 million worldwide.
"You have to look at it like this," Scott said. "Lloyer's in the gym for four hours practicing. You're like, 'This is awesome,' but if your kid's playing video games for four hours, you're like, 'What a loser.' But why is that any different from practicing basketball or football, if you're that good at it?"
It isn't, husband and wife realized.
"It was fascinating, but then you feel weird," Tiffany said. "You're like, 'Yes! You're an awesome killer.' Is that a proud moment? I don't know."
"We just decided to be supportive, because who are we to say what people's passions are?" Tiffany continued. "We're all different, intricate individuals and what some of us enjoy is not what others enjoy, and why should we determine what makes him happy and what he should focus on?"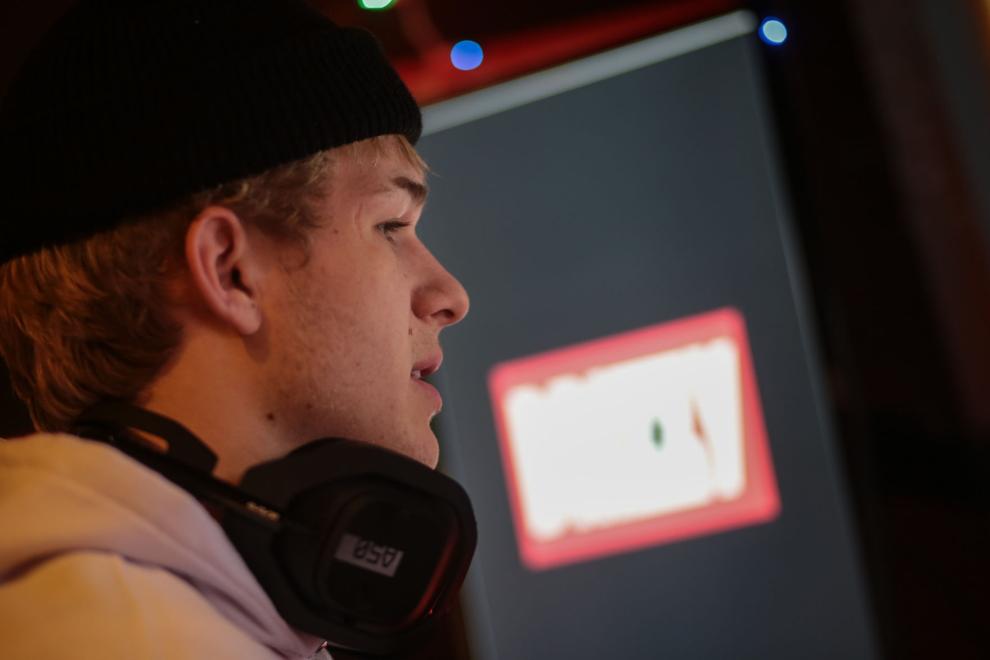 With that, Scott and Tiffany began really investing in their son. They helped Driggs buy the PC he now uses to game. After a family friend designed Driggs' logo that reads "DrizzyRD" as a nod to his late father Richard Driggs, mother and son worked together to create hoodies, which Driggs sells via social media and his website, drizzyrd.com.
Those serve a couple purposes. For one, it's another revenue stream for Driggs, who also earns income via Twitch streams. Second, it helped Tiffany realize just how practical of a career path this could be.
"I think we've become educated, and being educated about it doesn't make it as unrealistic," she said. "I think other parents might be stuck in, 'Oh, you're wasting your time.' When really, if they do have a passion for it, you can find out how to help them excel at that passion — just like you would for a kid that plays sports, or a kid that plays a musical instrument."
Esports can be quite lucrative for the world's top players. 
Yet Driggs isn't quite ready to make gaming his entire life. He would like to, just like he would like to join FaZe, but he wants to attend college first.
He's looking at a few options: Utah State University, which offers an ambassador scholarship Driggs feels confident he can grab. Westminster College in Salt Lake City. He's also considering joining the ROTC, because that means if that leads to a job with the Air Force, he could fly drones.
"It's kind of like a video game," Driggs said with a smile.
He's content to leave sports behind, he says, unless football generates openings. He wants to pursue a business or finance degree. He's interested in that anyway, but it also figures to provide him insight into the business side of esports.
What figures to stay the same is gaming, wherever it takes him, and whenever, during the day or in the morning, when someone is waking him for another opportunity.
"There's a lot of competition. You know how many people want to be in FaZe?" Driggs said. "I'm lucky enough just to play with these guys. People would die to play with these guys just once.
"I feel like the more I play with them, I feel like they take interest into that because they play with me a lot. It could possibly happen, but I'm never pushing it or saying anything about it. Hopefully, one day. I hope it does. When that day comes, it'll be the best day of my life. Otherwise, I just do my thing and take it slow."