Numbers from the Idaho Department of Health and Welfare show both a slight drop in drug overdose deaths compared to 2017 and some differences between Idaho and the rest of the country as to which drugs are driving the problem.
There were 241 drug overdose deaths in Idaho in 2017, according to the state's numbers, a slight drop from 244 in 2016. Those 241 overdoses reflect a rate of 14 deaths per 100,000 residents, which is substantially lower than the national average of 21.7 overdose deaths per 100,000 people in a report the Centers for Disease Control and Prevention released last week.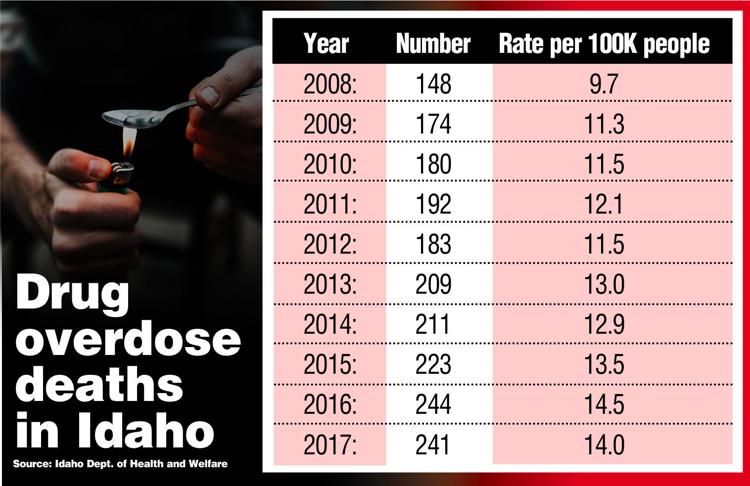 While opioid abuse is a major driver of overdoses both in Idaho and nationally, the state's 2017 numbers reflect some differences in which drugs are most often involved.
The drug involved was not recorded in 42 of the overdoses in Idaho in 2017. Out of the 199 where a drug was recorded, opioids were involved in 116, or 58 percent. Nationally, opioids are involved in at least 68 percent of overdose deaths, according to CDC data — out of 70,237 drug overdose deaths recorded in 2017, 47,600 are known to have involved opioids.
"Natural and semisynthetic opioids," the category that includes common pills such as hydrocodone and oxycodone, were the cause of 60 deaths in Idaho, followed by synthetic opioids, the category that includes fentanyl, which caused 28 deaths in Idaho in 2017. Heroin was the cause of 24 overdose deaths, and methadone 16.
This differs from the national picture, which showed heroin and especially synthetic opioids such as fentanyl are driving much of the increase in overdose deaths nationally. The CDC's report said synthetic opioids such as fentanyl were involved in 60 percent of opioid overdoses nationally, while heroin was involved in 33 percent and natural and semisynthetic opioids such as oxycodone and hydrocodone in 30 percent.
In Idaho, natural and semisynthetic opioids were involved in 52 percent of opioid overdose deaths, while synthetic opioids other than methadone were involved 24 percent of the time and heroin was involved 21 percent of the time.
Among non-opioids, stimulants such as methamphetamine and ecstasy were responsible for 54 overdose death in Idaho last year. Antidepressants were involved in 34 deaths and benzodiazepines in 28.
Overdose deaths are most heavily concentrated in the 25-to-34 and 45-to-54 age groups; people in these age groups had overdose death rates of 26.6 per 100,000 and 30.6 per 100,000, respectively.
While public health districts 6 and 7, which are centered on Pocatello and Idaho Falls, respectively, and cover eastern Idaho, have had more overdose deaths than any other part of the state for most of this decade, this could be changing if the trend in the 2017 numbers continues. In 2017, District 6 had the second-highest overdose death rate in the state at 16.8 deaths per 100,000 residents, behind the southern Panhandle's District 2, while District 7 had the second-lowest out of the seven districts, with 11.8 deaths per 100,000 residents.
The CDC's reports pegged the number of overdoses in Idaho at 243 in 2016 and 236 in 2017. There are a few reasons for the discrepancy, said DHW Research Analyst Supervisor Pam Harder. One is that a few deaths that were coded as heart attacks in the national data later turned out to be drug overdoses. Also, she said the CDC and her department used different cutoff dates for the 2017 data.