Idaho State University Family Medicine Residency Program has announced that a new class of eight resident physicians will begin their residency internships in June.
All eight will start their specialized family medicine training at ISU's base program, located in Pocatello, a university news release said. One of the residents, Dr. Colby Brower, will move to Fall River Family Medicine and Urgent Care after his first year.
Brower, a St. Anthony native, is the program's first resident to match into its Rexburg Rural Training Track, which means he will spend his second and third years in Rexburg. He comes to ISU from the University of Washington School of Medicine and is also in the TRUST program, which helps to prepare medical students for working in underserved rural areas and small cities throughout Washington, Wyoming, Alaska, Montana, and Idaho.
The ISU residency program received approval and partial funding to expand with one residency slot in Rexburg in October and program officials hope to add another slot in the coming years.
Dr. Austin Gillette, the site director in Rexburg, is an ISU alumnus, as is Dr. Kelly Dustin, one of the core faculty. Rachel Gillette is the site-coordinator in Rexburg. All three individuals were hired specifically for this endeavor.
The remaining incoming residents are:
— JJ Bennett, Tulane University School of Medicine. He is being trained as a rural family physician.
— Buck Courtney, University of New Mexico School of Medicine.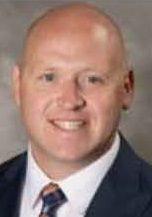 — Logan Jones, Campbell University School of Medicine. Jones grew up on a cattle ranch in Rigby. Jones has drawn inspiration to practice family medicine from Rigby's own physician, who cared for three generations of its citizens. Medicine is a second career for Jones, who was a contractor for many years, the release said.
— James Marble, Midwestern University Arizona College of Osteopathic Medicine.
— Jessica Martin, University of Washington School of Medicine in the Targeted Rural and Underserved Track program.
— Tyson Torgersen, Rocky Vista University College of Osteopathic Medicine.
— Marcos Valdez, University of Utah School of Medicine.
Since its creation 25 years ago, the ISU Family Medicine Residency has graduated 130 physicians, half of whom are now practicing in Idaho, the release said. These graduates provide care for 120,000 Idahoans.