Little: Schools are top priority, grocery tax repeal a year away
BOISE — Idaho Gov. Brad Little laid out a cautious agenda for the state in the coming year, holding down state spending with the aim of repealing the sales tax on groceries not next year but the year after. But he also called for significant investments in education, including raising Idaho's starting teacher pay to $40,000.
Currently, Idaho's starting teacher pay is just $35,800.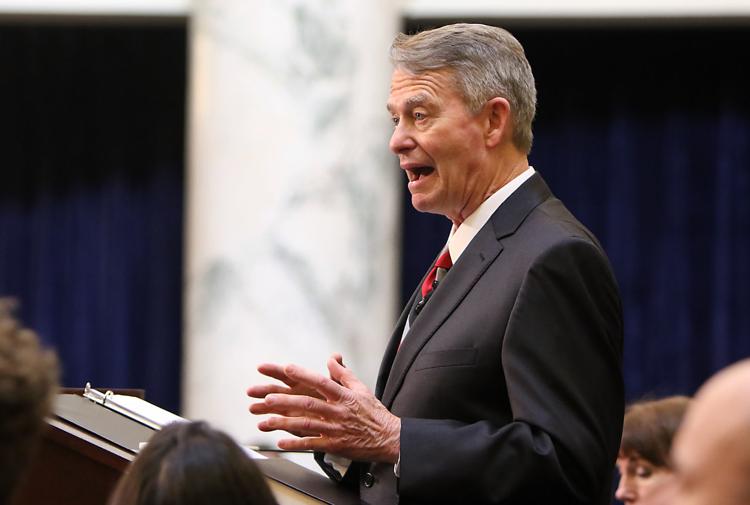 Little called education "my number-one priority for our state budget."
His school budget proposal is about $16 million less than state schools Superintendent Sherri Ybarra's, and he's not proposing any funding for her proposed $20 million school safety initiative. But she lauded his proposals anyway, saying, "I'm very excited. … It's huge, it's wonderful."
Little also called for funding Proposition 2, the Medicaid expansion initiative, by tapping the Millennium Fund, the state's endowment created from proceeds of a nationwide tobacco settlement, for $10.8 million next year. The remainder of the cost would be funded by offsets in the Department of Correction and Health and Welfare budgets, in which medical services now being provided with state general funds would be covered under the newly expanded Medicaid program, with the federal government paying 90 percent and the state's share at 10 percent. That means there would be no net impact on the state's general fund.
"On Election Day, over 60 percent of voters approved Medicaid expansion," Little told a joint session of the Idaho Legislature. "For months, I made it clear I would honor the will of the people. I intend to work with you to implement Medicaid expansion using an Idaho approach."
House Speaker Scott Bedke, R-Oakley, praised Little's first State of the State message to lawmakers, which ran just 34 minutes and drew periodic, enthusiastic applause.
"I thought it was upbeat and optimistic," Bedke said. "Idaho's in a good spot, and he outlined some areas where we'll keep up the investment that we're making and make future investments in other places. I thought it was well-received by the members."
However, Bedke said he thought Little was "strangely silent" on a major proposed revamp of the state's school funding formula that lawmakers have been working on for the past three years; depending on how it's implemented, it could cost millions.
Sen. Chuck Winder, R-Boise, the Senate majority leader and the co-chairman of the joint interim committee that's crafted the new formula, said, "I don't think he needed to mention it, because some of the things he talked about are some of the things we're actually encouraging to happen. I can see why he didn't weigh in on it. It's a legislative action that needs to take place."
Winder said once the interim committee's recommendation is vetted and refined by the House and Senate education committees, "I think that's the time to get his support for moving it forward."
Little is proposing a state general fund budget of $3.897 billion for next year, an increase of 6.7 percent over this year. His proposed budget also would leave larger-than-usual ending balances — $97.6 million at the end of the current budget year, fiscal year 2019, and $172.6 million at the end of next year, fiscal year 2020.
He noted that state revenues have been falling short of forecasts, due to lower than expected individual income tax withholding receipts.
"My team is following this issue closely, confident revenues will eventually match the rapid pace of economic growth," Little said. "Though we are confident, in true Idaho fashion, we will not spend money until it's in the bank.
"My budget recommendation will balance our books and fulfill important promises," he said. "I propose working together with you to set the stage next year — using our budget surplus — to eliminate the grocery tax once and for all."
That means Idaho would eliminate the current 6 percent sales tax on food in fiscal year 2021.
He also called for any new tax exemptions to be tied to "a proportional reduction in state spending or real income generation."
"As a conservative, I will utilize all other mechanisms to ensure our state remains fiscally sound over the long term," he said.
Little's budget includes only a 0.3 percent increase in the number of full-time state positions.
Little's conservative talk drew a strong, positive reaction from the Legislature, particularly when he talked about cutting state regulations. He said he'll issue an executive order "requiring state agencies to revoke two regulations for every new regulation they want to implement," drawing loud applause. "This commitment to cutting red tape will ensure we are governing with the lightest possible hand," he said.
His proposed budget for public schools calls for a 5.94 percent, $106 million increase in state funding for schools next year, to $1.89 billion in general funds.
Little's literacy proficiency proposal would distribute the $13 million increase in literacy funding to schools to increase reading proficiency and help ensure students are reading at grade level by 3rd grade. That could include things like all-day kindergarten, reading coaches or other approaches, at the option of local school districts.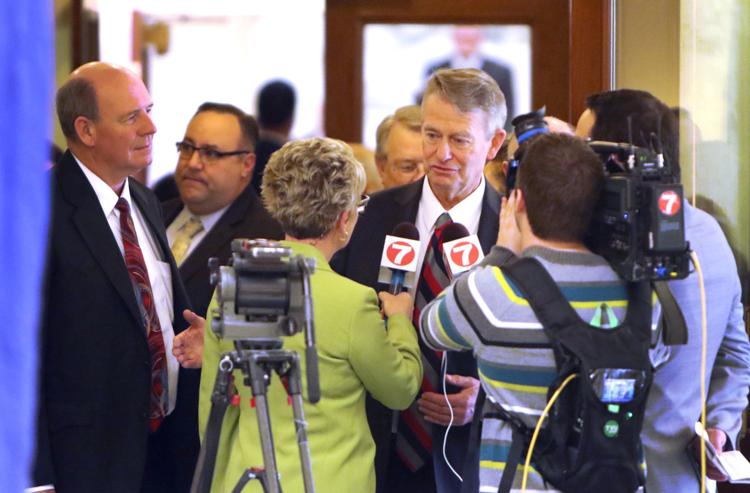 Here are some of the other issues Little addressed in his first State of the State address:
HIGHER EDUCATION. Little is proposing a 2.88 percent funding boost for Idaho's four-year colleges and universities next year, but he didn't provide any funding for the universities' proposed shift to an "outcomes based" funding model. Instead, the budget includes $4.3 million to fund the enrollment workload adjustment, and a $7 million boost to the state's Opportunity Scholarship. Last year, 1,780 high school graduates who applied for that scholarship were eligible, but were turned away for lack of funding. It would take $5 million to cover 1,870 more students. Little's budget director, Alex Adams, said the governor believes the shift to an "outcomes-based" funding model needs more study.
PRISONS. Little is proposing just a 3.63 percent funding increase for the state Department of Correction next year, far below the 15.24 percent the prison system had requested. But he is proposing some additional beds: 220 of them. He's also calling for funding to increase starting salaries for correctional officers, and to add 17 probation and parole officers.
STATE CONTRACTS. "I've been frustrated with the major shortcomings in customer service at the Division of Motor Vehicles," Little said. "The issues stem from contracting procedures. I have asked my new director at the Department of Administration to identify critical lessons from the DMV situation and provide a thorough review of our state purchasing and contract administration processes. Idahoans deserve an action plan for better results from government."
Staff writers Savannah Cardon and Xavier Ward contributed to this report.
Betsy Z. Russell is the Boise bureau chief and state capitol reporter for the Idaho Press and Adams Publishing Group. Follow her on Twitter at @BetsyZRussell.