Danese Maynard, of Mackay, woke up to the sound of her dog screaming in the wee hours Jan. 30, ran out into the snow in her bare feet and nightgown and tried to pull what she thought was another dog off her blue heeler. She was surprised to discover she was trying to break the death grip a young male cougar had on her dog's throat.
Maynard grabbed the cougar, which she estimated weighed 80 pounds, by the scruff of its neck and lifted its front end off the ground along with her blue heeler, Bella, which weighs 25 or 30 pounds. (In a press release, the Idaho Department of Fish and Game estimated the mountain lion's weight at 35 pounds.)
"Oh! These ain't dog ears!" she thought to herself. When she realized she was shaking a cougar, she thought "now what?"
"Cat!" Maynard shouted to her husband, Dean, who was still inside the couple's house on Fullmer Avenue on the southwest edge of Mackay.
"OK!" Dean called back, not understanding that this was no ordinary house cat fighting their dog. "Oh!" he shouted and came running when she hollered it was a mountain lion she had by the neck.
Normally, Danese, who is anemic, can't lift 40 pounds. "It was all adrenaline," she said.
Together, Dean and Danese couldn't pry the mountain lion off Bella, so Dean ran back into the house, got his gun and fired it next to the cougar's ear. Still no effect. So Dean shot the cougar through the ear, taking care not to hit Bella or his wife, who still had the lion by the neck. That worked.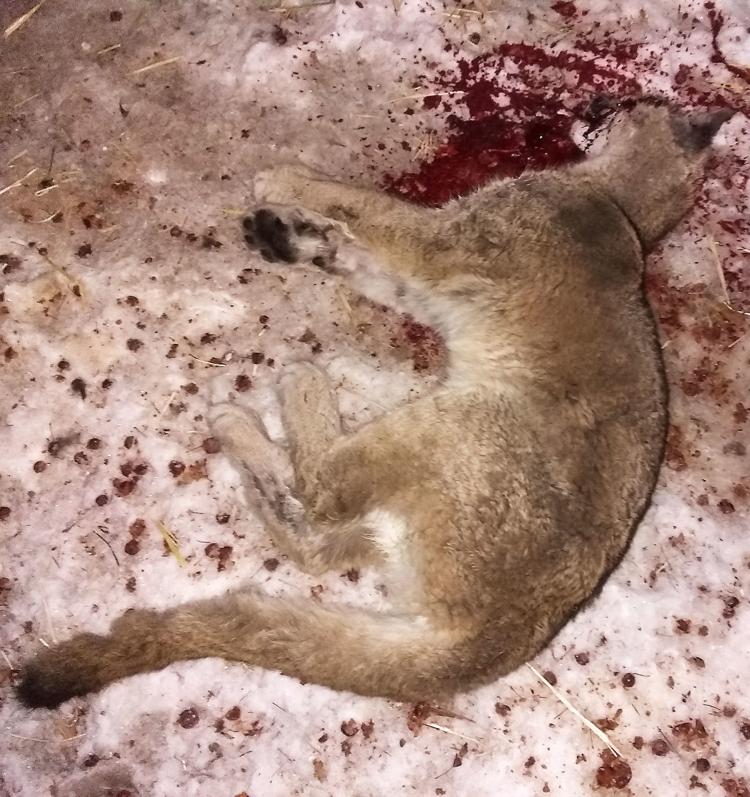 "We don't believe in killing animals unless we absolutely have to," Danese said. The Maynards don't allow hunting on their 25-acre property adjacent to the Big Lost River bottom and not far from Mackay High School.
Cougars have come and gone through their property and not caused any problems for the Maynards' dogs or the cattle and horses they used to keep. Now deer have moved into town, probably because there are wolves on Mackay Mine Hill, Danese said, so what's a hungry young cougar to do for a meal?
Once a cougar tastes blood, it won't give up its grip on its prey, Idaho Fish and Game Conservation Officer Steve Roberts later told Danese.
Mountain lions instinctively bite their usual prey, deer, on the neck and hold on with a death grip to smother them.
"This cat would just not let go!" Danese said.
Roberts estimated the mountain lion was about a year and a half old, which is about the age juvenile cougars leave their mothers and begin to fend for themselves.
"He didn't know what to do," and probably hadn't learned to hunt deer on his own, Danese said of the cougar. "He was just looking for an easy meal and Bella was small enough and convenient."
The cougar pulled Bella out of the doghouse that she shares with her pup, Fuzz, and tried to kill her about 20 feet from the front door of the Maynards' log home.
Danese believes the mountain lion got Bella, not Fuzz, because Bella was trying to protect her puppy. Bella had wounds to her head, neck and throat as well as on her stomach and paw, none of which were bad enough for a veterinarian to suture.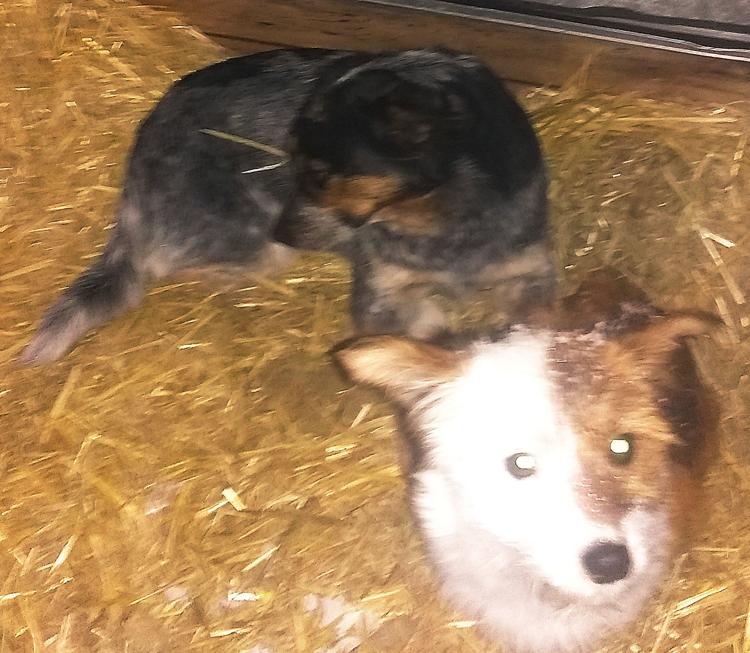 Danese had some superficial scratches she treated with hydrogen peroxide and antibiotic cream. Roberts had to report the encounter to the Idaho Department of Health and Welfare as a human-mountain lion incident even though Danese says it was all about Bella.
The cougar tested negative for rabies.
The Maynards have 12 dogs, all of which have their own separate houses and kennels except Bella and Fuzz, who share one. Danese, a lifelong Mackay area resident, used to work cows with her heelers but says she's now "medically retired."
Fish and Game reported this was the third incident in January of a mountain lion attacking a dog. A dog was killed by a mountain lion in the Ketchum area and another dog in the Bellevue area was attacked and later died from its injuries.
This article was reported by the Challis Messenger.