2020 was a memorable year even though many of us would like to forget it.
Locally, nationally and worldwide it was marked by a once-in-a-century pandemic, the effects of which seeped into every corner of our lives.
But while COVID-19 dominated the news and the conversation in 2020 there was still a lot of important news. 
There were triumphs and tragedies, historic milestones and key departures.
There also were eastern Idaho stories, good and bad, that captured the world's attention in a manner unseen since the collapse of the Teton Dam in 1976.
Here's a look back at the Post Register's top articles from the year:
The coronavirus pandemic
A chain of behavioral changes, education campaigns and on-and-off public health restrictions began in late March.
The first Idahoan had tested positive for the novel coronavirus.
A statewide stay-home order soon followed. Schools switched to online learning and restaurants, bars, theaters and other "non-essential" businesses shuttered temporarily in the spring.
Relatively few infections were reported in the state during the partial lockdown, which largely ended in May.
Between the isolation, confusion and fatigue, people coped, protested, conspiracized or disregarded the new disease, COVID-19.
Some found new hobbies and ways to connect with people, as community mainstay events in eastern Idaho were canceled, including the Mountain Brewers' Beer Fest and the Fourth of July parade and the Melaleuca Freedom Celebration fireworks show in Idaho Falls.
Eastern Idaho Public Health, covering an eight-county area home to over a quarter-million people, began issuing, lifting and re-issuing mandates in counties as infection rates ebbed and flowed. In October, as hospital capacity strains mounted in the Gem State, Little began restoring some statewide restrictions, later banning gatherings of more than 10 people. 
As 2020 wound up to a close, Americans also got their first glimpse at what experts hope was be the beginning of the end of the pandemic.
The nation's largest vaccine distribution effort took off in December, with health care workers receiving some of the first very limited COVID-19 vaccines on Dec. 14. That day, Rexburg ER doctor Russ McUne became the first Idahoan to be vaccinated against COVID-19.
Human remains found on Daybell property
When local law enforcement asked the public for help locating two missing Rexburg children in December 2019, no one had any idea the search would turn into one of the largest and strangest criminal cases in Idaho's history. The story of missing 7-year-old J.J. Vallow and 16-year-old Tylee Ryan received international attention. Their mother, Lori Vallow, and her fifth husband, Chad Daybell, became suspects in the children's disappearance when they refused to cooperate and avoided police by flying to Hawaii.
As friends and family came forward, the public learned the couple held strange religious beliefs. The couple believed they were reincarnated gods and prophets sent to lead the chosen ones through the coming end of the world. It also came out that each had former spouses who died under suspicious circumstances in 2019.
On June 9, more than six months after Rexburg police first attempted to conduct a welfare check on the children, everyone's worst fears were confirmed when the children's remains were discovered buried in Daybell's backyard in Salem. Both Vallow and Daybell currently sit in local jails as they await their joint jury trial in July. They are facing charges related to the cover-up of the children's deaths.
Peters to leave INL
Idaho National Laboratory will start the year with a new director.
Mark Peters, who had been the lab's director since 2015, announced in August he would be leaving to move into a new job as executive vice president for laboratory operations at Battelle. John Wagner, who has worked for the lab since 2016 and has been associate laboratory director for Nuclear Science and Technology since 2017, was picked to replace him, starting in his new job Dec. 11.
Peters presided over an era of expansion at the lab, both in its nuclear research mission and in newer ventures such as cybersecurity research. In 2019, INL was announced as the site for the National Reactor Innovation Center, a partnership between INL and private companies to test new nuclear reactors. Another highlight was the 2019 opening of two new cybersecurity and computer research buildings on INL's Idaho Falls campus.
While Wagner said in a recent interview he is passionate about INL's entire mission, his background is in nuclear energy, and he said he hopes to advance INL's nuclear reactor development research.
Costco arrives in Idaho Falls
Costco fulfilled years of anticipation in eastern Idaho when it opened its Idaho Falls location in August. 
The Idaho Falls City Council established the so-called "Costco ordinance" back in 2012 to establish construction incentives that would attract large businesses into investing in the city. Those efforts fully paid off in April 2019, when the city council announced that Costco would be opening a location at the corner of Lincoln Road and Hitt Road. 
Costco began construction in September 2019 on its store, retail warehouse and gas station and held the grand opening on Aug. 14. The retail chain paid $21 million in construction and capital improvements for the site, including expansions to the sewer and sidewalk, and in turn received $131,000 in incentive waivers through the city ordinance. 
At 180,000 square feet, the new Idaho Falls store became the largest of Costco's six Idaho locations after it opened. Costco hired more than 200 employees to staff the new location and saw more than 6,000 people sign up for memberships even before the ribbon cutting. Some visitors came from as far as Wyoming to shop during its first day of business.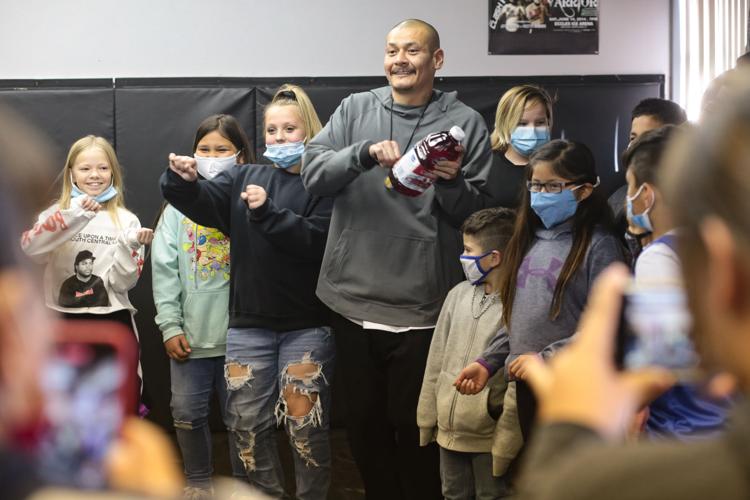 Idaho Falls man finds fame,
proves 'Dreams' really do come true
Idaho Falls local Nathan Apodaca, better known as Doggface208, shot to instant fame in September after his TikTok video went viral. The video was simple: it shows Apodaca sipping Ocean Spray cran-raspberry juice and lipsyncing to Fleetwood Mac's "Dreams" while skateboarding down U.S. Highway 20.
The video has been watched more than 100 million times across all platforms and skyrocketed the 1977 "Dreams" to No. 1 on iTunes. Tribute videos have been viewed more than half a billion times, according to NPR.
In a time when people have become all too familiar with seemingly spontaneous actions turning out to be calculated marketing tactics, the world was even more endeared toward Apodaca when they learned the backstory behind the moment.
Apodaca was no fame-hungry influencer. He lived in a trailer without running water and worked in a potato factory. Apodaca revealed his car had broken down on the way work the morning he recorded the video. Not wanting to be late, he grabbed his skateboard and juice from the backseat. He skated the rest of the way to work.
Apodaca has since been showered in fame. He was gifted a truck by Ocean Spray, filmed commercials with the likes of Snoop Dogg and bought a house with his new earnings.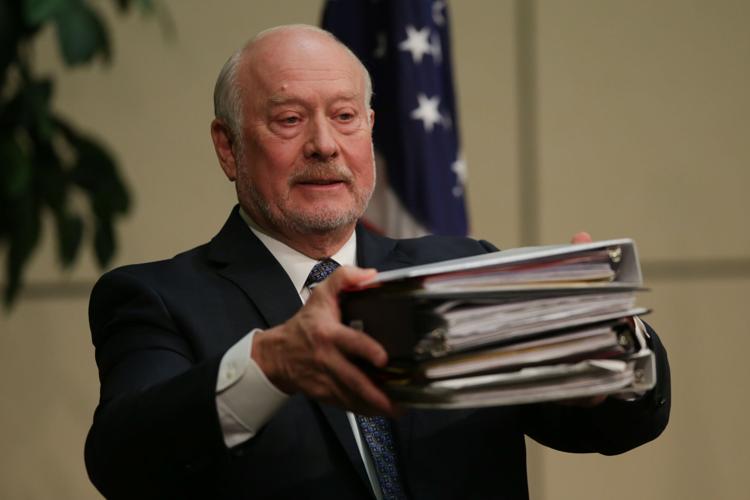 Little signs medical debt bill
A dispute with its origins in Idaho Falls led this year to the passage of a bill to give new protections to medical debtors in Idaho.
Melaleuca CEO Frank VanderSloot, who has long been an influential figure in state politics, started to take a public interest in putting some restriction on medical debt collectors in 2019, after his company was sued by the Idaho Falls law firm Smith, Driscoll and Associates in an attempt to garnish the wages of an employee whose original $294 debt had increased to more than $5,000 with attorney's fees. The Smith in the firm's name is Bryan Smith, who is active in Idaho Republican politics, and former state Rep. Bryan Zollinger, R-Idaho Falls, worked for the firm as a lawyer.
VanderSloot started a legal fund to represent some of these debtors and urged legislators to support his proposed Idaho Patient Act. It passed the House 49-20, with most of the further-right faction of the House GOP against it, then passed the Senate 32-1. Zollinger narrowly lost his primary this year to now-Rep. Marco Erickson.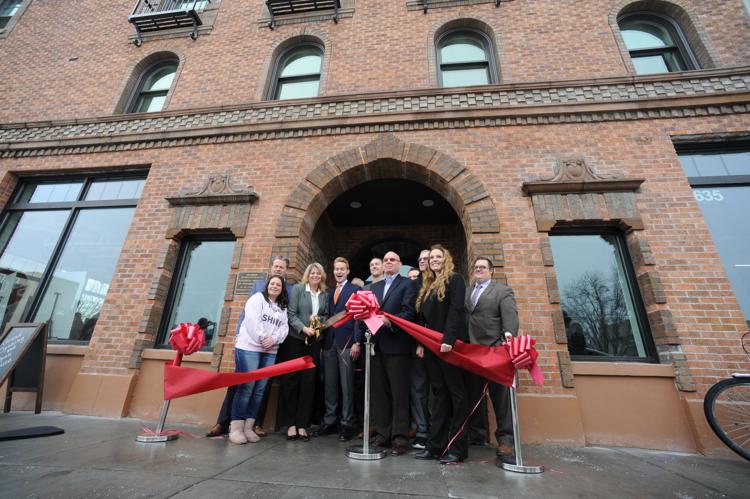 Bonneville Apartments reopen with affordable housing
Ninety-three years after it opened as the Bonneville Hotel, the historic downtown building welcomed a different set of residents this year.
The Bonneville Apartments held a ribbon-cutting on Jan. 29 to mark its new life as affordable housing. The renovation was overseen by the Idaho Falls Redevelopment Agency and The Housing Company, which began managing the building in 2018, and cost more than $10 million to complete.
The building has 35 apartments on its top four floors, 30 of which are priced based on the income of the resident. The ground floor is intended for retail stores, though the space has remained unleased since January.
"Growing up here, I had always heard about what the hotel used to be like," said Tylee Wright, one of the first set of residents in the new building. "When they started talking about putting the affordable housing in, I started really paying attention."
To accompany the opening, U.S. Sen. Mike Crapo entered a congratulatory note into the U.S. Senate congressional record and the Idaho state Senate passed a resolution honoring the Bonneville Hotel's history.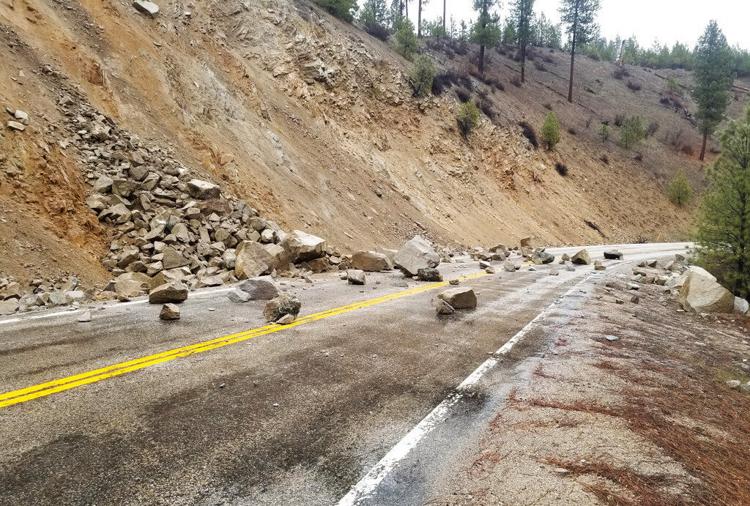 Earthquake strikes near Stanley, Challis
A 6.5 magnitude earthquake centered between Stanley and Challis rattled windows, shook loose backcountry avalanches and covered small stretches of Highway 21 and 75 with suitcase-size rocks in late March.
The quake reminded longtime residents of the Borah Peak quake that struck in 1983 that registered 6.9 and killed two children.
Custer County Commissioner Wayne Butts said the sparsely populated area "dodged a bullet" and most residents reported being shaken up, but no serious damage or injuries were observed.
Brett Woolley, a restaurant owner in Stanley, told the Associated Press he heard the earthquake coming before he felt it.
"I heard the roar, and at first it sounded like the wind but then the roar was tremendous," Woolley said about 10 minutes after the earthquake. "The whole house was rattling, and I started to panic. I'm sitting here perfectly still and the water next to me is still vibrating."
Marcus Smith, an emergency room health unit coordinator at St. Luke's Wood River Medical Center, told the Associated Press that the hospital, about 65 miles south of the epicenter, shook but the quake didn't interfere with the treatment of any patients.
"It felt like a wave going through the ground, so I knew right away what it was," he said.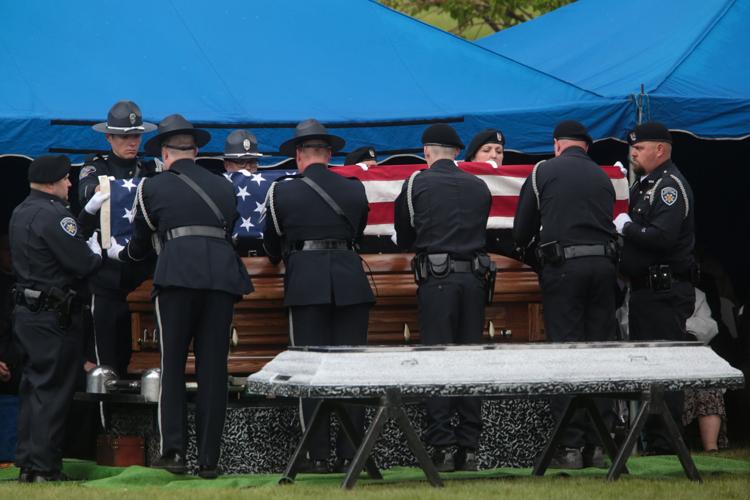 Bonneville County mourns the loss of a deputy
Hundreds attended the funeral of Wyatt Maser in May after he was killed on the job while responding to a car crash.
Despite the coronavirus pandemic, law enforcement officers came from across the country in a show of solidarity for one of their own, a deputy whose career had only begun.
According to court records, Jenna Nichole Holm ignored instructions from deputies the night of Maser's death and threatened Maser with a machete. She was stunned with a Taser, but while crossing the street to arrest her, Maser was hit by another deputy driving to the scene. Holm has since been charged with involuntary manslaughter, with a status conference scheduled for Jan. 6.
Maser's funeral was attended by the U.S. Honor Flag, an organization that flies a single U.S. flag to funerals in honor of military, firefighters and law enforcement officers who die in the line of duty.
Maser had been with the sheriff's office for 13 months. He was the first Bonneville County Sheriff's Office deputy to die on the job in 82 years.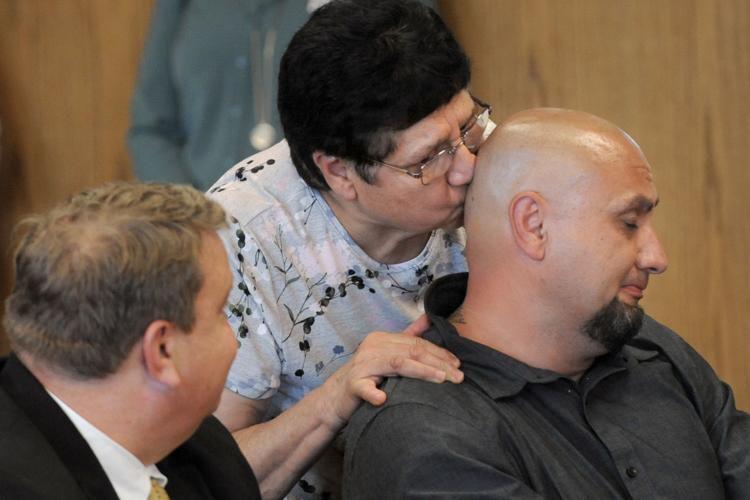 Christopher Tapp sues Idaho Falls
Christopher Tapp notified the City of Idaho Falls in 2019 he was preparing a lawsuit against it over his 20 years of imprisonment for a crime he didn't commit.
That lawsuit was filed in federal court in October, asking that the city compensate Tapp after he was convicted for the 1996 rape and murder of Angie Dodge.
"Tapp's conviction was the direct result of some of the worst police misconduct in the history of wrongful convictions, including about 60 hours of abusive interrogations and sham polygraphs," Tapp's attorney, Peter Neufeld said in a press release announcing the lawsuit.
Tapp was exonerated in July 2019 after Brian Dripps confessed to raping and murdering Dodge. Dripps was identified as a suspect by Idaho Falls Police Department detectives after his DNA was found to match samples recovered from the crime scene.
Attorneys for the city have since motioned for the case to be dismissed, with a hearing scheduled for April.