At first, the 23 fourth-graders at Rimrock Elementary School had their coats zipped up and gloves on as they cross-country skied a big loop the length of the soccer field Friday on the playground.
After the first loop, the youngsters were shedding coats and gloves with comments of "I'm burning up!" and "Way too hot!" Their teacher, Heather Gamett, built a big pile of coats and gloves on the packed snow.
"It was snowing here the other day and they were in heaven," Gamett said of the students. "They're much better than I am. I do like it, I was shocked that I do." She said it was her first time trying the sport.
When the program to introduce Bonneville District 93 fourth-graders to cross-country skiing during physical education was first introduced three years ago, the challenge was no snow. At the time the students strapped on skis and practiced in the school hallways.
This year, ironically, there was sometimes too much snow, closing school and stealing ski time from ski-hungry students.
"This is my first time," said Novi Bell, 9, on the Rimrock playground. "I love it. I didn't think I would. I'm a snowboarder."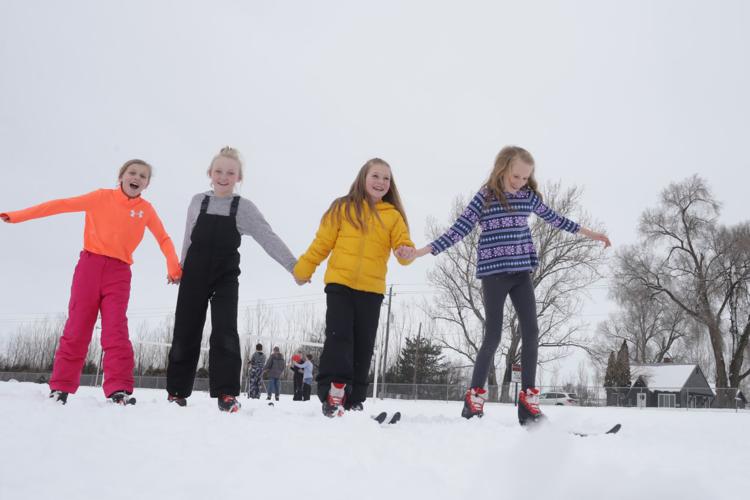 The program has grown from eight schools and 300 students in 2017, to include all 14 schools and more than 900 students this year.
With the funding help from the Idaho Falls Nordic Ski Patrol and gear from Idaho Mountain Trading, Tiebreaker Elementary School fourth-graders will be spending a school day skiing at Harriman State Park instead of practicing their times tables and spelling.
"Kids need to be out," said Julie Abbott one of the district's physical education coordinators in charge of the program. "Kids need to be moving in the outdoors just as a life skill. They do better at school. They have greater confidence. It's a long winter in Idaho and we need something that we can get out and doing."
On Friday, one group of Rimrock boys stuck close together as they skied.
"Those guys call themselves the ski patrol," Gamett said. "They meet over there and tell stories. They're kind of funny."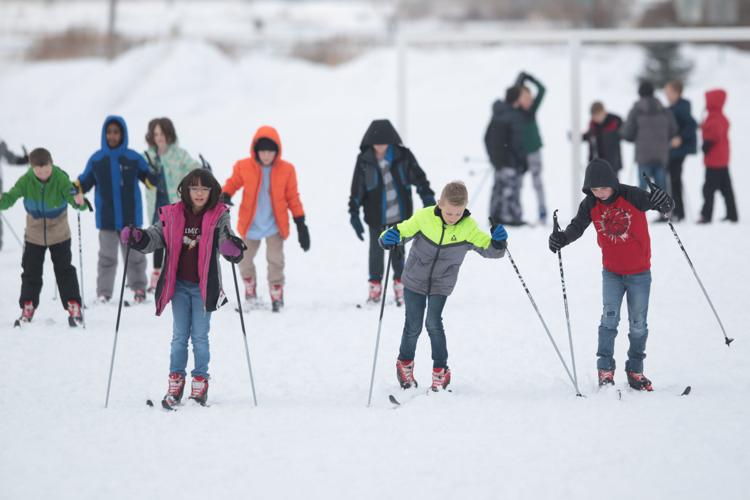 Dozens of grateful students have written notes (with artwork) to the ski patrol and Idaho Mountain Trading thankful for the opportunity to learn to ski.
"I never thought I'd like to ski but I love it!" a note from Luke said. "I still fall a bit but that's fun!"
"I learned that when you ski for the first time it's hard," wrote Victor. "But when you get used to it it's suuuuuuuper fun!"
The program, with grants from the Nordic ski patrol, now has two sets of 40 skis, poles and boots that allow two schools to conduct ski classes at the same time for a week. Seven schools have used the skis so far this winter.
Each December, Abbott and fellow P.E. coordinator Terry Belnap train teachers on how to teach cross-country skiing to kids. The first day, kids learn how to lace up boots, attach them to bindings and ski around the carpeted halls of the school. They learn how to slide and glide, how to move their bodies and how to fall and get up. With plenty of snow, the other days of the week, classes go outside and ski. Volunteers, including parents and other ski enthusiasts, lend a hand making trails and instructing beginners around school playgrounds. The next week, the skis are delivered to the other schools. Volunteer Art Hood, a retired teacher, was helping out at Rimrock all week.
"I wasn't sure (how it would go) but the teachers loved it," Abbott said. "A lot of the teachers had never skied, some are not fit, but they get parents to come help them. It's just the best thing. They have no discipline problems, the kids are excited, they actually come back and work better. They've been out moving and their minds are better. It's awesome."
This year, the Nordic ski patrol stepped up again to pay for 60 students from Tiebreaker Elementary to travel and ski at Harriman State Park on March 2. Teachers, volunteers and ski patrollers will be on hand to guide the process.
"We selected one school that was really into the skiing program," Abbott said. "The teacher sent a note home to make it optional for kids to ski after school. She had 30 to 40 kids skiing every day after school on their own time. So we picked that school (Tiebreaker Elementary) and asked if they would like to do the field trip. They said they'd love to do it."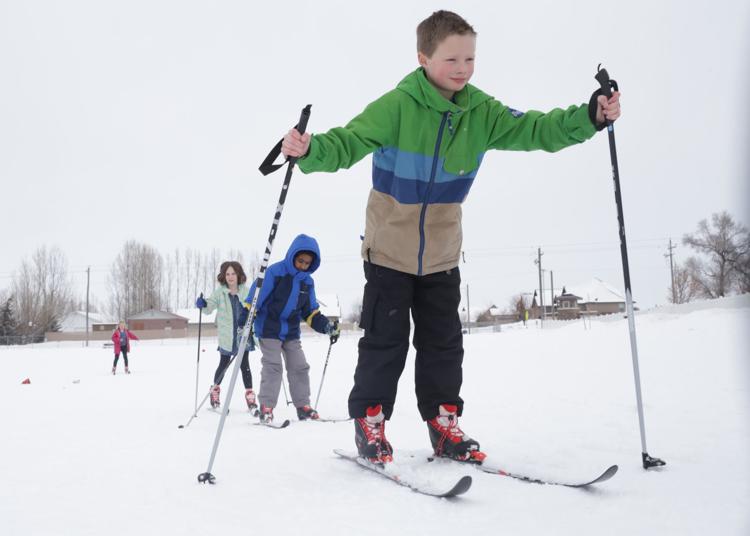 Abbott said the program is paying dividends.
"The major benefit of the ski program is that students are learning something new, being active in the outdoors on their playground and are socializing all at the same time," she said. "These are such important factors for today's youth."