The 2019 legislative session starts Monday.
If you're interested in state politics, you're probably aware of the big issues that will occupy much of lawmakers' time over the next three months.
Voters approved a Medicaid expansion initiative in November, and how to pay for it and whether to request waivers to put additional limits on coverage are certain to be major debates. Education funding and the state budget are going to be big, and the shortfall in state revenues could complicate these decisions. Idaho's prisons are overcrowded, and there could be some discussion of how to relieve the crowding, whether by building a new prison, finding more space elsewhere, reducing the number of people locked up or other approaches.
But what are a few things that haven't gotten as much attention?
Annexations
Idaho is one of the few states that allows "forced annexations" in some circumstances. A city can annex enclaves of fewer than 100 parcels without the consent of the landowners.
A couple of recent annexations by the city of Idaho Falls have led to objections from some affected residents. Rep. Bryan Zollinger, R-Idaho Falls, is crafting a bill that would require a vote of the people who live in the area being annexed.
"I'm doing this in direct response from constituents on the west side of Idaho Falls," he said. "I've been contacted by a dozen or more residents who are currently in this new batch of annexations that's going on. ... We're doing it in direct response to their concerns and I think it's just the right thing."
While the bill hasn't been finalized, it may require cities to give a year's notice before trying to annex an area. Zollinger said he is also considering having the bill say that if an annexation attempt fails, a city would have to wait three years before trying to annex the area again.
Executions
If you go to the website of the state Division of Financial Management, you'll find a page listing bills state agencies plan to bring in 2019. One, from the Idaho Department of Correction, would exempt some execution-related records from public disclosure, including ones that "could lead to the identification of any pharmacy, prescriber, manufacturer, wholesale distributor, compounder, or other entity that supplies any chemicals, substances, equipment, materials, or other services to the department of correction."
Department spokesman Jeffrey Ray declined to comment before the bill is introduced. However, several states have passed similar laws in recent years, as lethal injection drugs have been getting harder to obtain and as death penalty opponents have been using information about the drugs to challenge the practice.
Prison labor
Under current law, prison inmates can work on private farms growing and harvesting "perishable agricultural food products." In 2018, a bill to strike the words "perishable" and "food" from the law passed the Senate 34-1 but died after the House made some changes the Senate wouldn't agree to.
"We expect that to be brought back this year," said Sean Ellis, spokesman for the Idaho Farm Bureau Federation.
The Farm Bureau favors the bill, since it would make it possible to use inmate workers in more agricultural operations such as livestock and forestry that aren't allowed under current law.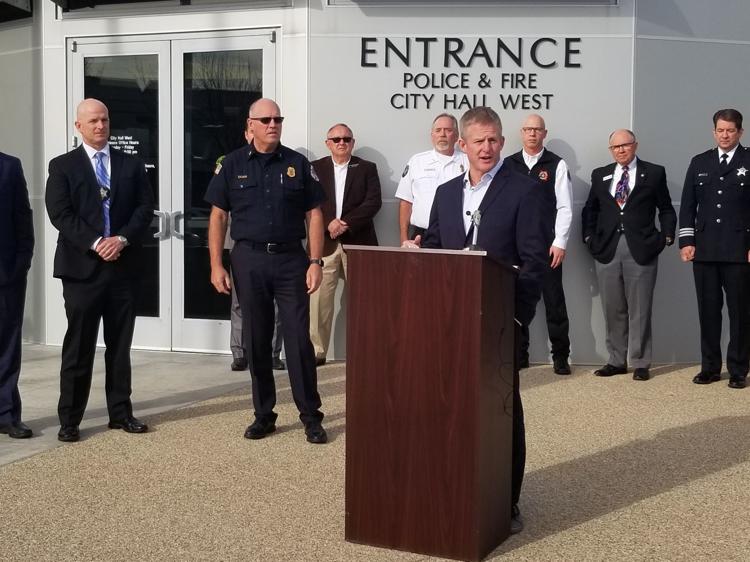 Workers' comp for first responders
House Minority Leader Mat Erpelding, D-Boise, plans to introduce a bill to make police, firefighters, paramedics, dispatchers and other first responders eligible for workers' compensation coverage for mental or psychological injuries. Currently, these need to be coupled with a physical injury to qualify for coverage.
In a November op-ed, Erpelding told the story of a Boise firefighter who sought treatment for post-traumatic stress disorder after responding to an accident where a young boy was dragged under a minivan. He had to use his time off while his family worked to make ends meet while he was being treated.
"Let's work together to show our first responders we truly value the sacrifices they make every day," Erpelding wrote. "It's the least the state of Idaho can do to show they care about our best and bravest."
Mandatory minimums
Reps. Ilana Rubel, D-Boise, and Christy Perry, R-Nampa, have sponsored legislation for the past two years to eliminate mandatory minimum prison sentences for possession of larger amounts of drugs, letting judges give shorter sentences if they feel the circumstances warrant. The bill passed the House in 2018 but didn't get a hearing in the Senate. Perry didn't run for re-election, and this year Zollinger plans to co-sponsor the bill with Rubel.
Marsy's law
For the past two years, advocates have been pushing for "Marsy's Law," which would add some protections for crime victims to the state Constitution. It passed the Senate in 2017 but died in the House State Affairs Committee; in 2018, it came up five votes short of the two-thirds support needed for a constitutional amendment in the House. Supporters plan to try again in 2019, said Todd Dvorak, spokesman for the Marsy's Law for Idaho campaign.