Editor's note: This is the first installment of a three-part series on affordable housing in Idaho Falls.
• • •
Russ Bybee started looking for houses last April. He needed a place for himself, his wife and their two sons. They had received a Federal Housing Administration loan that required an inspection be done before an offer is put on the house. Frustratingly, every time he would request an inspection, someone would come in with cash, offer more money than the original asking price, and agree to no inspections.
"Most people were putting in $10,000 to $20,000 over asking price," Bybee said. "Our Realtor said it was happening everywhere (in Idaho Falls)."
Bybee's Realtor told him most of the buyers who were outbidding him were people moving in from out of state. It reminded him of his coworker who had moved to town from California after selling his small house there for $750,000. The coworker then came to Idaho Falls and bought two houses in cash for around $200,000.
"I don't want say that it's all the fault of these people from California or New York or Seattle. But them moving here has made some things hard," Bybee said.
Bybee and his family have since found a house, but he still speaks with bitterness about that search.
"It was very discouraging. It made us feel like we were going to be stuck in apartments or rental houses forever," Bybee said. "We thought we would never have a home to call our own."
Housing has increased 56.97 percent in the last five years, according to Zillow, an American online real estate database company. The Zillow Home Value Index listed the Idaho Falls' median home value at $142,000 in October 2014 and $222,900 in October 2019.
In addition to higher prices, Juan Contreras, a local Realtor with Better Homes and Gardens, also has seen more people looking for homes.
"About two years ago, we started seeing multiple offers on homes. It's like somebody flipped a switch," Contreras said. "All of a sudden, you start seeing three or four offers on a home that was listed today, which we hardly ever saw in the past."
He has also noticed more people coming in from out of state, flush with cash from recent home sales in higher-priced areas such as California.
"Imagine you're a seller, you have two people come in. One person with cash in hand not asking for inspection and the other asking for an inspection, asking for a bunch of things, and has a loan. Which one would you go for?"
Contreras says it's not hard to see why people get frustrated.
"I have clients who have their hearts set on a house and then they lose it to someone else. And then they find another house they love, put in an offer and they lose that one as well, even though they're making a full-price offer. "
Eventually, said Contreras, people begin putting in offers higher and higher over the original asking price.
Rising population, rising rentsThe Idaho Falls' population has increased by 7.41 percent since 2010 and 4.95 percent since 2014, with 2,905 additional residents moving to the city between 2014 to 2018, according to the U.S. Census Bureau's American Communities Survey. Since 2014, Idaho Falls has added 1,320 single family homes and 204 multi-family homes.
Amy Davis also wanted a home. A place with bedrooms enough for herself, her son, her fiance and his son. When she began looking last August, they were renting a two-bedroom, 1,000-square-foot house for $600 per month. But they wanted something of their own. Davis was excited when, between her and her partner, they were approved for a $150,000 loan.
"I thought, 'that's a decent amount, we could easily find a four-bedroom house for that,'" said Davis before shaking her head. "There are no four-bedroom houses for that. And, if they are, it's because they need to be completely remodeled. There was a house I looked at for $160,000 and it just needed to be torn down."
Then, in October, Davis was unexpectedly told that her rent would be increasing by $200 in 45 days.
Rent increases are facing many in the community. The average rent in Idaho Falls dropped slightly during the Great Recession and was $698 a month in 2010, according to the U.S. Census Bureau's American Communities Survey. However, rents started to go up steadily after 2011. In 2016, the average rent hit $833 a month, overtaking the then-state average of $802 a month, and, in 2017, the average rent in the city was $831 a month, $9 a month more than the statewide average.
"Even just living there with as much as I make now, I had maybe $100 left at the end of the month when all of my bills and groceries were paid."
The rent increase, along with some personal challenges, made Davis decide it was time to leave her rental. She and her son have moved back into her parents' house for the time being.
"Hopefully, we can save up so we can get approved for more and hopefully the housing market goes down," Davis said.
But saving up isn't easy. Davis doesn't have health insurance, so when she had to have a tonsillectomy earlier this year, the surgery ended up costing her around $2,000 out of pocket. When she wanted to take her son on a trip, she began donating blood platelets and put the money toward a vacation fund.
Despite these setbacks, Davis refuses to pity herself, instead turning the conversation again and again to coworkers who earn even less than her. She knows many people who try to make ends meet on minimum wage.
While Idaho Falls' housing prices continue to rise, Idaho's minimum wage has not moved since 2009 and continues to sit at $7.25 per hour.
"I know there are people that make way less than I do, and somehow they manage, but what are they living without?" asked Davis.
Low-wage workers in a bindAlexandria Hayes is one of Davis' coworkers. She makes $10 an hour providing developmental services to disabled adults through Innovative Health Care Concepts.
She is one of the last of her family still in the area. Most have left Idaho Falls in search of cheaper housing. Her mother and sister both moved after finding more affordable places in Pocatello.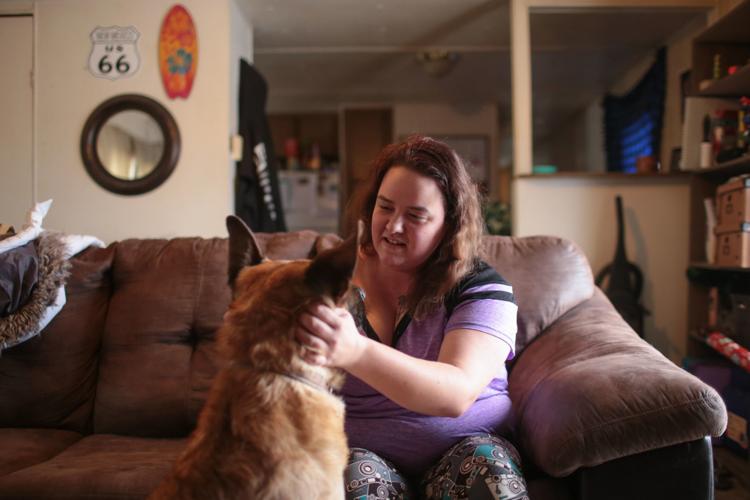 Hayes sometimes wishes she could do the same. Little by little, her rent has been creeping up. Six years ago, when her sister lived where she does now rent was $375. At Hayes' last lease renewal in 2017, it crept up another $25 per month, for a total of $445 per month. Hayes recently heard that her neighbors' rent was raised another $25 when they renewed their lease. She wouldn't be surprised if hers goes up again in the future. She knows the increase isn't a lot compared to other places, but any increase stings when she considers what exactly it is she's paying for.
"It was only $25, but I live in one of the cheapest, crappiest, most run-down places I've ever known," Hayes said.
That place is a trailer in Country Place mobile home park off Yellowstone Highway that she found on Craigslist. Her boyfriend has a 2-year-old daughter and they wanted to make sure to get a place with two bedrooms, so it could be comfortable for a growing child.
"For the amount I pay and the condition that it's in, I think it's fair. If I were to move into a nicer trailer, I'd expect to pay...$600 to $700 a month at least." Hayes said. "There's not a lot you can do when you need a two-bedroom and you can't afford $700. You go with what you can find."
Until recently, the trailer had holes throughout its outside walls, making for a very cold winter last year and an expensive heating bill. Hayes has had a persistent cough ever since she moved in and suspects the trailer may have mold in its walls. An inspection is a luxury she can't afford.
Yet Hayes is grateful that things aren't worse. Without her boyfriend contributing to rent, she believes things would be different.
"If my boyfriend wasn't helping me, I wouldn't be able to cover everything. I'd have my power off every other week or have my water turned off or be completely out of food."
For now, Hayes said she's comfortable. In fact, it's an improvement on the trailer she was in before. That trailer had bedbugs before she moved in and burned down after she moved out.
Her landlord recently patched up those long-standing holes, so Hayes is hoping for a less miserable winter. The place has room enough for her boyfriend's daughter to run around. There's a small strip of grass behind the trailer where she can let the dogs out. And, Hayes said, the trailer has a perfect view of the fireworks on the Fourth of July.
Tight market benefits landlordsAnne Johnson, manager of The Haven Shelter, said she also has seen a disturbing change in rental housing availability, particularly in the last year and a half. She's seen more people being evicted and more landlords refusing to renew leases.
"They just give them 25 to 30 days and they have to be out," Johnson said. "They just say 'You have to be out; we're not renewing your lease and that's effective the first of the next month.'"
In other cases, the landlord will tell residents that their rent will be raised next month and when they can't pay it, residents end up at the shelter. And once they are there, it is now more difficult for people to get out of the shelter and into housing, said Johnson.
"Even those places that were going for $400 are now going for $525. And sometimes you don't even get a bathroom in those; you're sharing a bathroom with a bunch of other apartments."
In the past 18 months, finding housing for those who walk through The Haven's doors has become much more difficult. A big reason is because many landlords and property companies are no longer taking Section 8 Housing Choice Vouchers. With housing vouchers, depending on how much a person makes, a percentage of rent is covered by the state.
"But the landlord has to agree to take the voucher," Johnson said. "Before, all landlords were taking them. And now, they are putting right on their website that they aren't taking vouchers."
The tight market also means that landlords have become pickier. According to Johnson, more and more landlords are asking for background checks and credit scores and turning away prospective renters based off those, leaving many with few options.
"We're trying to find more landlords who don't run background checks. We tell them what the situation is (with someone's background) and sometimes they're willing to give people opportunities," Johnson said. "But it's very, very scarce to find those now."
The vacancy rate of Idaho Falls' housing has fallen from 11.1. percent in 2014 to 7.6 percent in 2019, according to the American Community Survey.
With areas like San Francisco and Seattle — and even Boise — in the news more and more with their housing crises, it's little wonder that Idaho Falls' residents are looking around and beginning to get nervous.
"I understand that people want to move into Idaho Falls, but what about the ones who already live here?" Davis asked.
Coming TuesdayPart 2 — A look at the efforts to build more affordable rentals in Idaho Falls.