An explosion and ensuing fire at Terry & Sons Upholstery Company on Sunday injured two people and damaged everything inside the business.
At least two people were inside or close to the building when the explosion occurred, according to witnesses. One man was blown from the building, witnesses told first responders.
The injured people were transported to Eastern Idaho Regional Medical Center. Their conditions are unknown.
At about 11:45 a.m. Sunday, the Idaho Falls Fire Department was dispatched to the 300 block of Lindsay Boulevard, where there were reports of an explosion.
Upon arrival, firefighters found a plume of smoke and flames coming from the windows on the east side of the building, a one-story brick structure.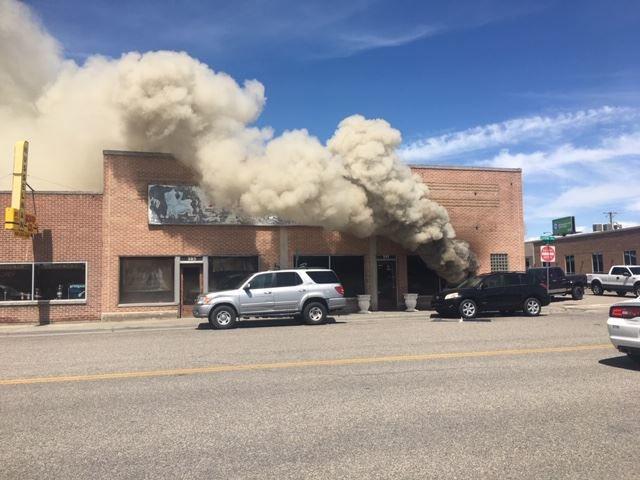 It took nearly two hours to extinguish the fire, including hot spots.
"The large amount of upholstery and other items inside the building made it challenging for firefighters to extinguish hot spots," a city news release said.
According to Kerry Hammon, city of Idaho Falls' public information officer, there were eight vehicles inside the shop, some of them classic cars, and the explosion created a lot of debris.
"Everything inside was a complete loss," Hammon said.
Terry & Sons is operated by Joseph and Dani Harding. The upholstery shop has been open for more than four decades. It was founded by Terry Young in 1978.
The business was operational at the time of the incident.
The cause of the explosion is unknown. Fire investigators were still on the scene Monday afternoon, Hammon said.
Pia Rydalch, of Rexburg, was driving across the bridge on West Broadway on Sunday morning when she saw the smoke, soon after the explosion.
"We were crossing the bridge, going toward Walmart," Rydalch said. "All of the sudden there was a big ball of smoke coming from there."
Rydalch drove toward the smoke and, when she arrived, tried calling 911. For several minutes, she either received a busy signal or was on hold, she said. Rydalch stopped calling 911 when she heard sirens, assuming someone else had reached emergency responders.
Rydalch took photographs of the scene. One photo shows a man, who Rydalch said was blown from the building, crawling on his hands and knees.
Rydalch said she left when first responders arrived.
"You get upset," she said. "I was just really hoping no one else was inside."
On Monday, the building's windows were boarded up. Broken glass and other debris lined the streets and sidewalk.
The business south of Terry & Sons, Musselman Equipment Co., which shares a wall with the upholstery shop, was lucky during the fire, according to the owner, Alex Musselman.
Musselman said his business, a driveshaft seller, was closed on Sunday, and nobody was in the building when the explosions occurred. His shop sustained minor damages from the fire.
"We've got some smoke damage and a little bit of flooding from the fire hoses," Musselman said. "All in all, we came out pretty lucky."