Editor's note: This article's contents are disturbing.
On Nov. 26, 2019, Rexburg police learned 17-year-old Tylee Ryan and 7-year-old J.J. Vallow were missing after executing a wellness check on their mother's townhouse. No children were to be found. Their mother, Lori Vallow, and her new husband, Chad Daybell, fled town the next day.
Eventually, the couple was found in Hawaii. Lori was extradited back to Rexburg in March. Chad moved back to the Rexburg area at the same time, where he has been living ever since.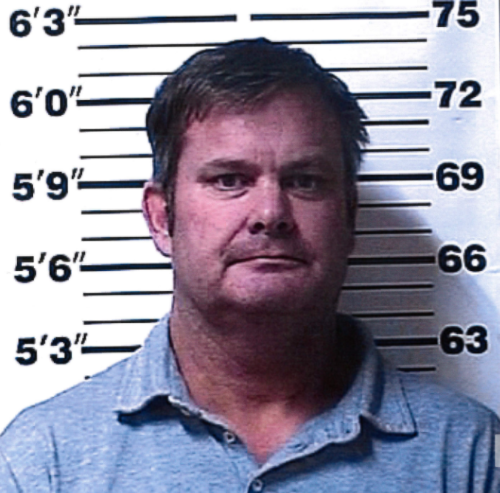 On June 9, for the second time this year, law enforcement executed a search warrant on Chad's property. Everyone's worst fears were confirmed when the children's remains were discovered in his backyard. Both Chad and Lori are in jail as they await their July court hearings.
The probable cause affidavit requesting a search warrant for the Daybell property was unsealed Friday. The probable cause affidavit was written by Rexburg Police detective Ron Ball. All information in this article was taken from Ball's affidavit.
Most of the evidence cited in the document comes from cellphone data as well as reports given to the police by Melanie Gibb, a close friend of Lori and Chad. Cellphone data was taken from both Lori's brother Alex Cox and Chad Daybell. The data showed their locations and texts sent.
Gibb said, prior to the children's death, Lori had repeatedly referred to them as zombies. Chad had taught Lori about zombies, Gibb said.
"Gibb further reports that the term 'zombie' refers to an individual whose mortal spirit has left their body and that their body is now the host of another spirit. The new spirit in a 'zombie' is always considered a 'dark spirit.' While the 'dark spirit' inhabits the host body, the person's true spirit goes into 'limbo' and is stuck there until the host body is physically killed. As such, death of the physical body is seen as the mechanism by which the body's original spirit can be released from limbo," Ball wrote.
Photos place Tylee in Yellowstone National Park with Lori, Cox and J.J. on Sept. 8, 2019. This is "the last verifiable sighting of her." The family appears to return home to Rexburg by 8:37 p.m. In the early morning hours of Sept. 9, the suspicious activity surrounding the children's respective disappearances begins.
Sept. 9, 2019:
12 a.m. to 12:44 a.m.: Cox is in Lori's apartment, according to cellphone records.
2:42 a.m. to 3:37 a.m.: Cox returns to Lori's apartment, according to cellphone records.
"This is significant, not only because he is there in the middle of the night, but also because this is the only time in September he appears to go over to Lori's between midnight and am," Ball wrote.
4:37 a.m. to 8:59 a.m.: Cox is back in his own apartment.
9:21 a.m. to 10: 39 a.m.: Cox goes to Chad Daybell's Fremont County home. (At this time Chad is still married to Tammy Daybell, his wife of 29 years, who dies in their home on Oct. 19. Her death has since been ruled suspicious and officials are still awaiting the results of an autopsy on her exhumed remains.)
10:57 a.m. to 11:39 a.m.: Cox returns to the Daybell property. He then leaves and appears to spend the rest of the day in his Rexburg apartment.
11:53 a.m.: Chad texts his wife Tammy Daybell. "Well, I've had an interesting morning! felt should burn all of the limb debris by the fire pit before it got too soaked by the coming storms. While did so, spotted big racoon along the fence. hurried and got my gun, and he was still walking along. got close enough that one shot did the trick. He is now in our pet cemetery. Fun times!"
Most of the pings from Cox's phone that morning place him at the location of the Daybell's pet cemetery.
11:56 a.m.: Chad texts Tammy again. "Gonna shower now and then go write for while at BYU. Love you!"
2:47 p.m.: Tammy texts Chad. "Good for you!"
2:48 p.m.: Chad texts Tammy. "I'm back home now"
Chad's neighbor, Matt Price, later asked Chad's son Garth Daybell why he had heard a gunshot on the Daybell's property. Garth told him his father had shot a raccoon during the day. Detective Ball found this "suspicious because raccoons are normally nocturnal animals and are not regularly out during the day."
Price and his wife Reegan Price told the detective that the Daybells "hardly ever" used the firepit on the Daybell's property. Shortly after Tammy's death, Reegan noticed "frequent" bonfires in the months following her death.
Sept. 19, 2019: Gibb and her boyfriend David Warwick arrive from Arizona to spend the weekend at Lori's townhouse.
"Soon after she arrived Lori Vallow informed Gibb that JJ had become a "zombie" and pointed out behaviors such as sitting still and watching tv, claiming JJ said he loved Satan, and an increased vocabulary as evidence that JJ was now (a) zombie. Gibb observed JJ's behavior and felt it to be the same as she had always observed it," Ball wrote.
Sept. 22, 2019: Lori, Gibb and Warwick are preparing to record a podcast. Gibb hosted a religious podcast with Lori on which Chad was a frequent guest. J.J. begins acting up, so Cox takes J.J. to his own apartment.
"When Alex returned later that night he was carrying JJ who appeared to be asleep with his head on Alex's shoulder. Warwick specifically remembered this because he saw it as tender moment," Ball wrote.
This is the last verifiable sighting of J.J.
Sept. 23, 2019:
8 a.m. to 9 a.m.: Warwick asks Lori where J.J. was.
"Lori informed Warwick and Gibb that JJ had been acting like a zombie and had been crawling on the kitchen cabinetry and had gotten on top of the cabinetry in the space between the cabinetry and the ceiling. She informed Warwick and Gibb that when JJ had climbed upon the cabinetry that he had knocked picture of Jesus off the refrigerator. Vallow then informed Warwick and Gibb that Alex had come and taken JJ," Ball wrote.
9:55 a.m. to 10:12 a.m.: Cellphone pings place Cox near the pond on Daybell's property.
The next day, Lori called J.J.'s school to tell them he had gone to visit his grandparents in Louisiana. She later told the school he would be homeschooled and would not be attending again.
On June 3, Ball asked Special Agent Ricky Wright of the FBI to "analyze the frequency of Alex Cox's visits to Chad Daybell's property" in September 2019.
Wright responded, "Per your request, I checked the visits by Alex to Chad's house again. There were only four visits by Alex during the month of Sept. These were 9/6 (1241-1253), 9/9, 9/23, and 9/25 (1005-1022). … The visit on 9/9 was the only long visit, approximately 2.5 hours."
The timing of Cox's visits to Chad's property coincide with the last known respective sightings of Tylee and J.J.
On June 9, law enforcement executed a search warrant on the Daybell property. They first searched near the pond where Cox's cellphone had pinged on Sept. 23. They found a patch of ground approximately four feet by two and a half feet that appeared to be disturbed. Upon digging, they found "a round object covered in black plastic." Cutting into it, a "strong odor" was released. A second layer of white plastic was inside.
"An incision was made into the white layer of plastic exposing what appeared to be human remains, the crown of head covered in light brown hair. The remaining dirt around this object was methodically removed, exposing what appeared to be (a) body wrapped in black plastic. The plastic appeared to be tightly wrapped around the body and secured with gray duct tape," Ball wrote.
Law enforcement then searched the Daybell's pet cemetery near the fire pit. This was the pet cemetery where Cox's phone pinged on Sept. 9 and where Chad said he buried a raccoon on Sept. 9. They found charred tissue and bone buried there.
An anthropologist on scene confirmed both remains appeared to be non-adult humans. They were later positively identified as Tylee and J.J. Thus concluded the more than six-month search for the missing Rexburg children.
"While officers were conducting their search Chad Daybell was observed by officers to be continuously watching where officers were searching. He was observed watching officers while sitting in his vehicle in his front driveway and while sitting in his vehicle across the street at his daughter's residence," Ball wrote.
After J.J.'s head was discovered, Chad began driving away. Officers conducted a traffic stop and detained him. He was later arrested.
Chad's charges include two felony counts of concealment of human remains "about to be produced, used and/or discovered as evidence in felony proceeding, inquiry and/or investigation authorized by law, with the intent to prevent it from being so produced, used and/or discovered."
Lori faces two felony counts of desertion and nonsupport of dependent children as well as misdemeanors involving resisting or obstructing officers, criminal solicitation to commit a crime, and contempt of court.
Chad will next appear in court on Aug. 3 and Lori will appear in court on July 9.