As the number of mysterious vaping-related deaths and respiratory illnesses throughout the country continues to rise, local electronic cigarette retailers are voicing frustrations that their products are being unfairly blamed for the outbreak.
The U.S. Centers for Disease Control and Prevention on Thursday said 805 people from 46 states and one U.S. territory — including six Idahoans, according to the Idaho Department of Health and Welfare — have been diagnosed with vaping-related lung illnesses. As of Thursday, 12 deaths have been confirmed in 10 states, the closest of which was reported in Oregon.
All patients have reported a history of vaping — either THC, nicotine or something else — and many suffer from a combination of similar symptoms that look like a form of pneumonia: coughing, trouble breathing, chest pain, extreme fatigue, vomiting and diarrhea.
So far, only the act of vaping itself has been the common link, though many patients have reported vaping products containing THC, the active ingredient in marijuana.
Though federal health officials have been unable to identify any consistent e-cigarette or vaping product, substance or additive that could be causing the illnesses, the recent spike in underage vaping and the rash of recent illnesses prompted announcements from several state lawmakers this week and one from President Donald Trump earlier this month that all flavored nicotine e-cigarette products would be banned.
But considering the illness didn't surface until this summer, coupled with the fact that e-cigarettes have been commercially available in the U.S. since as early as 2006, local vape retailers feel their products are caught in the crossfire of two other prominent issues related to the vaping industry — a surge in underage vaping and the ever-growing prevalence of bootlegged vaping cartridges that contain THC.
"This is just insane to me," said Pocatello resident Ben Bosworth, a six-year vaper and the owner of Outlaw Vapor, an e-cigarette retailer with storefronts in Pocatello, Chubbuck, Idaho Falls, Preston, Malad and Soda Springs. "Personally, I don't think these illnesses have anything to do with the legit vaping community. To me, the real problem is the people that are buying black-market THC cartridges."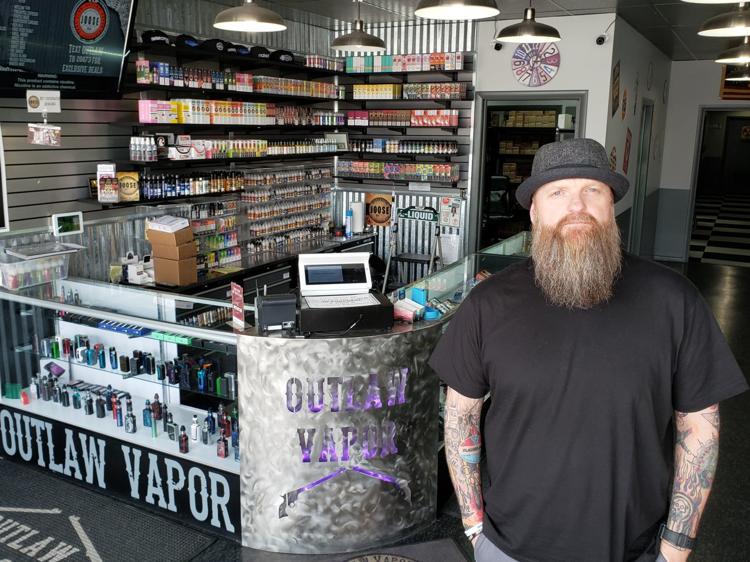 According to the U.S. Food and Drug Administration, 3.62 million middle and high school students were current users of e-cigarettes in 2018. Furthermore, the FDA says e-cigarette use increased 78 percent among high school students and 48 percent among middle school students from 2017 to 2018. And according to a 2013-2014 survey, 81 percent of current youth e-cigarette users cited the availability of appealing flavors as the primary reason for use.
Last week, researchers reported the teen vaping rate has doubled since 2017. The annual Monitoring the Future survey included data from more than 40,000 students in middle school and high school.
The recent uptick in teenage vaping has resulted in Pocatello/Chubbuck School District 25 deciding to install e-cigarette vapor detectors inside many of its middle and high schools in an attempt to curb the massively popular trend, School District 25 spokeswoman Courtney Fisher said.
But Bosworth, and others who vape, such as Jeff Garcia, an 11-year vaper and the owner of e-cigarette store Evaporated Technologies in Pocatello, say the recent deaths and lung-related issues doctors believe stem from vaping are being unfairly lumped in with the issue of flavored vaping products and the increase in kids who use them.
Both Bosworth and Garcia told the Idaho State Journal they have sold thousands of vapes and vaping products throughout their combined decade-plus of experience and not once, even in recent weeks, have they heard of people getting sick from inhaling vaporized e-liquid.
"I've been vaping for going on 11 years now and have never had one health issue yet," Garcia said. "Yes, the vapes themselves have changed over the years with various safety features like automatic shut-off measures, and packaging materials have changed with more labeling requirements, child-resistant bottles and different plastics to make sure chemicals aren't leaching into the liquid. But for the most part, the liquid itself and what goes into making liquid hasn't changed at all."
Another concern among vapers is the wide net federal health officials are casting in their attempt to grasp an understanding behind what is causing the mysterious lung-related illnesses.
In addition to the use of e-cigarettes, the CDC's case definition for the respiratory illnesses includes the term "dabbing," which is a process that in some cases doesn't involve an electronic device at all.
The CDC defines "dabbing" as a process that "involves superheating substances that contain high concentrations of THC and other plant compounds," CBD for example, with the intent of inhaling the aerosol. "Dabbing" can also utilize an extremely hot piece of metal or glass to vaporize and inhale various marijuana products, including oils, waxes and distillates.
One compound the FDA has uncovered in its investigation with the CDC is the presence of vitamin E acetate in many THC-containing vape cartridges. Both Bosworth and Garcia, who make and sell their own e-liquid inside their storefronts, had never heard of the substance until the recent outbreak.
"Nobody in the vaping industry uses vitamin E acetate," Bosworth said. "This is a compound that manufacturers of illegal THC cartridges put inside their liquid to thicken it so that the product looks more appealing. I would bet that the cases that supposedly involve just an e-cigarette actually don't. I think some people who are sick are not saying they were using a THC cartridge because they are afraid Medicaid or their insurance won't cover their bills."
Garcia added, "I never heard about vitamin E acetate before this issue arose. I have done a ton of research into it since this surge of people getting sick, but from what I can tell, it's only recently been added to THC products."
The Idaho Department of Health and Welfare urges consumers who use vaping products and e-cigarettes to avoid buying products from the street and to refrain from modifying or adding any substances to products purchased in stores. Individuals who have recently used vaping products such as e-cigarettes and are having difficulty breathing should seek medical attention immediately.
Furthermore, the Department of Health and Welfare is asking clinicians to be on alert for signs of serious respiratory illness among patients who recently used vaping products, including e-cigarettes, and report any cases to public health officials as the nationwide investigation continues.
"Idaho health care providers are notifying us of patients with severe respiratory symptoms who report vaping in the days or weeks before they became very sick," Deputy State Epidemiologist Kathryn Turner said in a press release last week. "We are investigating each report and looking for things that might be common among the patients as well as asking about the types of vaping products and devices people have used to try and pinpoint the source of these illnesses."
The six Idahoans diagnosed with the vaping-related illness, as of Sept. 20, live in various parts of the state, according to Niki Forbing-Orr, spokeswoman for the Department of Health and Welfare. Of the six cases, three live in the Treasure Valley, and Health Districts 1, 5 and 6 each have one case, Forbing-Orr added. Southeast Idaho is located in district 6.
Though Garcia and Bosworth doubt traditional e-cigarette products are the cause of the recent respiratory outbreak, they both would not only welcome more regulations that would reduce teenage use of the products, but they encourage them.
"If they want to stop underage vaping, the solution is simple to me — kill online sales and put a cap on the nicotine milligram strength," Bosworth said. "The problem is, unlike my website, which requires people to send me a picture of their ID card and a picture of them holding their ID card, most online sales only require people to click a button that says they are above the age of 18. And also, there is no reason to have any nicotine strength higher than 18 milligrams in my opinion."
Garcia added, "Let the vape shop handle all sales themselves. Places like convenience stores that are selling it over the counter might not have a grasp on checking IDs like we do."