A vehicle crash on Interstate 15 along the border of Bannock and Oneida counties ignited a raging wildfire on Tuesday afternoon that resulted in numerous evacuations and burned dangerously close to several houses.
But on Tuesday evening, authorities said the wildfire north of Malad Summit was 30 percent contained and the evacuees were being allowed to return to their homes because the flames were no longer posing a threat.
Firefighters from the U.S. Forest Service, Bureau of Land Management and Bannock and Oneida counties literally saved the day for the residents whose homes were in the fire's path. The fire has thus far not resulted in any damage to structures or injuries to people.
But there's still much work to do to extinguish the blaze, which had scorched 130 acres as of Tuesday night.
The East Idaho Interagency Fire Center in Idaho Falls reports that firefighters hope to fully contain the wildfire late Wednesday night. It's unclear when the blaze will be fully extinguished.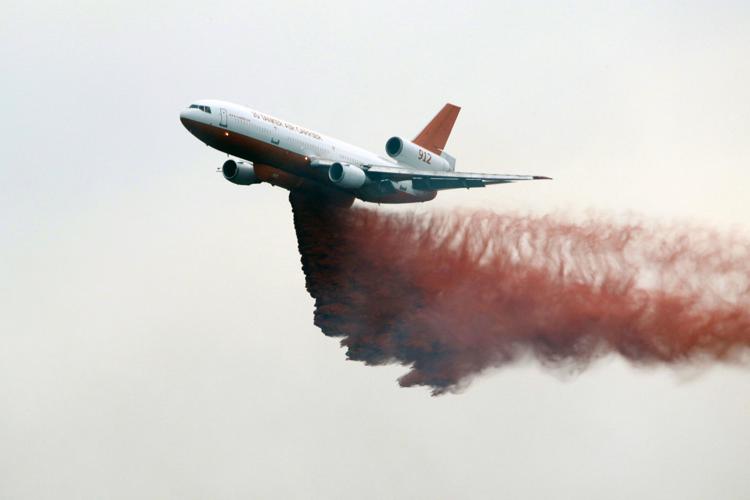 At the fire's peak on Tuesday afternoon, its flames were more than 100 feet high and smoke from the blaze could be seen from several miles away.
The fire burned dangerously close to several houses on Tuesday afternoon, prompting the evacuation of numerous nearby residents. Those residents were allowed to return to their homes on Tuesday night, the fire center said.
Interstate 15 was never shut down because of the wildfire, but the interstate's Malad Summit rest area was closed and it's unclear when it will reopen. Motorists traveling on Interstate 15 in the Malad Summit area could experience reduced visibility because of smoke from the wildfire until the blaze is extinguished.
The wildfire was considered to be serious enough that firefighters called in a DC-10 air tanker, the largest firefighting aircraft in Idaho, to drop retardant on the blaze on Tuesday afternoon. Smaller air tankers and a helicopter also battled the flames.
The crash that ignited the wildfire occurred around 1 p.m. Tuesday on Interstate 15 near the Malad Summit rest area. The vehicle, believed to be a van, overturned during the wreck and caught fire. One person in the vehicle suffered injuries and was transported via ambulance to Portneuf Medical Center in Pocatello for treatment.
The accident victim's name and condition have not yet been released. Idaho State Police are expected to release more information on the wreck on Wednesday.
The flames gutted the vehicle and then ignited nearby brush, creating a wildfire that rapidly spread onto adjacent Forest Service and private land.
The fire center reported at 3 p.m. Tuesday that the fire had already scorched 100 acres and was growing.
Authorities said the fire is currently burning juniper trees and dry grass on steep terrain.
Firefighters will continue to battle the flames overnight.