LEWISTON — A paraphrased quote perhaps wrongly assigned to Michelangelo holds that sculptors simply chip away everything in a block of marble that isn't David or whatever work of art they are trying to create.
Much the same approach is used to create dugout canoes, crude watercraft that date back thousands of years. Simply put, the basic idea is to shape a canoe from a tree by carving away everything that isn't a canoe.
But there is more to it than that, said Jim Jameson of Lewiston who is leading an effort to craft a dugout canoe at Hells Gate State Park. When finished, the canoe made from a western red cedar log will be displayed at the park's Discovery Center.
Such projects start with finding the right tree. Jameson was once told by a Chinook elder that "not every tree wants to be a canoe."
Dugout builders seek logs that float well, are free from defects like checks or cracks that spiral and large limbs that make the portion of the canoe that ends up as wood waste difficult to remove.
Once the right tree is selected, the long, laborious process of shaping it into a canoe by hollowing it out begins.
"It takes a lot of time," said Jameson, who worked on his first dugout in 1997 when 25 were carved at Lewiston's Locomotive Park in preparation for the bicentennial of the Lewis and Clark Expedition in 2004.
"You need to have good patience," he said. "You can't get in a hurry."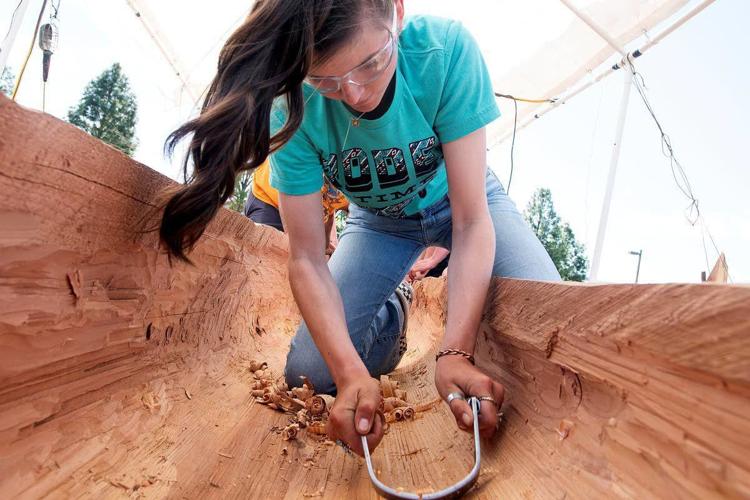 Fire is often used to speed the process, but most of the wood is removed with obscure hand tools — like adzes, scorps, draw knives, inshaves and scrub planes. They are the type of tools that aren't used much these days and can be tough to find.
They were novel to Lewiston High School teacher Stuart Johnson's Construction 3 students who were helping Jameson on Monday. The seniors, who will soon graduate, are more accustomed to working with efficient power tools.
"It's a lot more hands on," student Dawson Luther said.
Luther was working with a scorp to shave and smooth the interior of the canoe where another student had used an adz to carve away waste wood.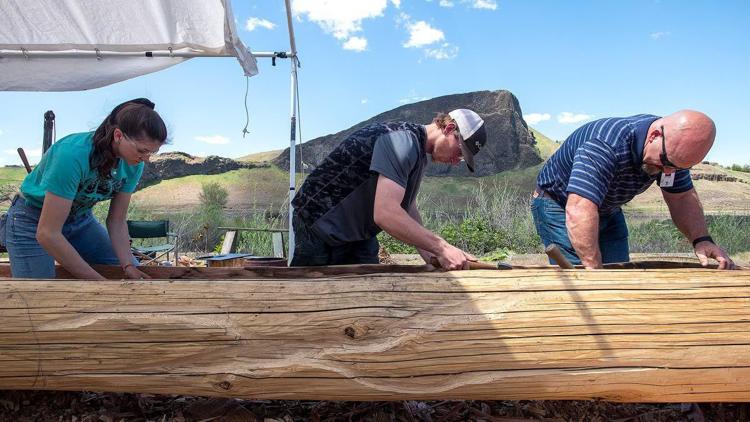 On another portion of the 28-foot log, Hunter Dunlap used a short-handled cupped adz to lightly chip away at the interior.
"You are just trying to shave off and get rid of excess wood on areas that are lumped," Dunlap said.
Johnson said he has seen many of the dugouts created for the Lewis and Clark anniversary. Now he is relishing the chance to work on one.
"I've never experienced this before, so for me it was kind of a personal thing wanting to help out," he said.
Once it takes final shape, the canoe will replace one on display at the park. The old boat, created in 1997, has slowly rotted away. Dugout and Lewis and Clark enthusiast Tom Eier of Lewiston said before the canoe goes on display it may see some time on the Mississippi River during a journey to the Benevolent and Protective Order of Elks national convention at St. Louis in July. He hopes to lead a team that will pilot the dugout down the river and stop at Elks lodges along the way to educate people about dugouts and inspire kids and veterans to avoid drugs.
The canoe will also be displayed at the Lewiston Elks Lodge on May 18 for an Armed Forces Day event. Eier said he hopes to not only show off the dugout but take it for a spin in the nearby Snake River.
This article first published in the Lewiston Tribune.