NORTH LOGAN, Utah — Walking to the middle of the Green Canyon High School football field, decked out in a calf-length sparkling silver dress with a matching crown on her head, Deserae Turner said she felt the cheers from the thousands of spectators hit her like a wall.
As she walked out to face the cheering crowd as homecoming queen, with her father on her arm as her escort, Deserae kept thinking: "Don't trip, don't trip, please don't trip."
This was the third event of the week and Deserae, or Des, as her friends call her, had prepared for this day just as she had the previous two days: an hour of getting her hair and makeup ready, getting dressed up in her homecoming dress and crown and fitting in couple of naps to ensure she would have enough energy to enjoy the evening.
"It was a lot but it was so worth it," Des said. "I truly wish every one of us high school girls would be able to experience such a magical night."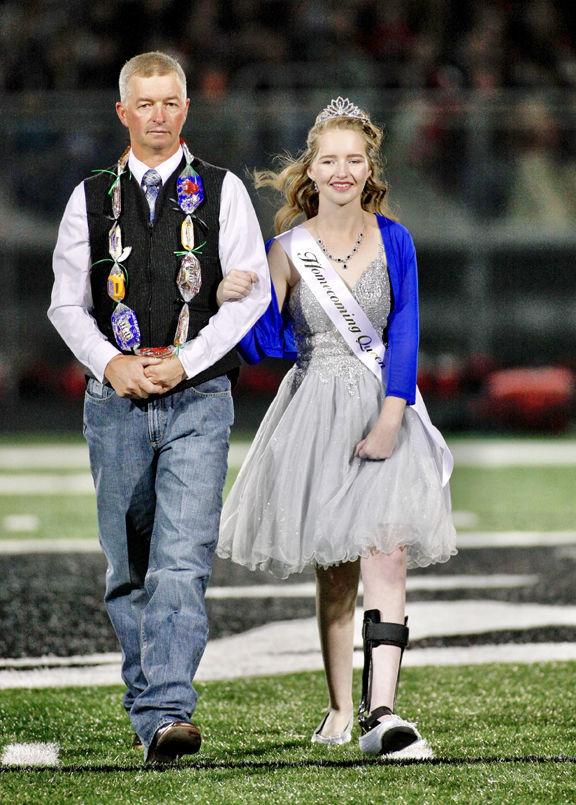 In February 2017, Deserae was found in a dry ditch in Smithfield after being shot in the back of the head by two classmates and left for dead. After eight hours, two family friends found her and Deserae's long road of recovery began.
Everything from walking down a flight of stairs at the homecoming assembly to the moment she stepped on the dance floor with Homecoming King Case Gehring defied the doctor's initial assessments of her injuries over two and a half years ago.
"She had to relearn everything," said April Turner, Deserae's mother. "She is the most determined person I have ever known and I saw it in her even as a toddler."
April Turner said she is amazed that her daughter went from struggling to lift her head from a pillow to dancing at homecoming as queen.
"Give me a goal," Des said, "give me something to work for and I'll get it done as fast as I can."
Thinking back to her long days in the hospital right after the injury, Deserae said they would ask her to lift her head for 10 seconds and she would muster through 30 seconds instead.
Going back to school has proved to be a challenge. While some days she regrets taking on so much stress, Des set a goal to make it to graduation on her own merit.
"If it were up to me," April Turner said, "I would say she should forget school because it interferes with her healing. It is a pain in the neck, it literally takes all of her energy. She, on the other hand, is the one that is self-determined. She has put in so much time and effort so that she can graduate on time."
While her injuries keep her from attending many school activities, she attends three hours of school followed by a nap at home and two more classes online. Supplemented by online summer school, Des is on track for graduating with many of the classmates she has known since elementary school.
"It is definitely hard," Des said. "There are times when I just want to go out and ride (horses). I just want to be normal again. I just want to be me. But this is me now, and I just have to embrace it."
Des said she imagined her high school experience to turn out much different than it has. Ten brain surgeries and an indefinite recovery time has brought healing and continuing trauma throughout the entire experience.
She said she has lost many friends who have struggled to understand how to be friends with her now that her life is so different, but she said she has gained so many new best friends through this experience as well.
"It is not how I planned my life to be," Des said, "but I like talking to people and asking if people want to feel the hole in my head."
As an 8-year-old, Des learned to be in front of large crowds as she showed horses at local and state fairs. Talking with people and engaging with them is what keeps her going, she said.
Des and her mother were on their way to a doctor's appointment when Green Canyon teacher Alexis Bird called to ask if Des would have time in her schedule to be homecoming queen.
"I was so surprised because I didn't even know I had been nominated," Des said. "I had never anticipated that I could be queen of a dance, so of course I said, 'Oh my gosh, yes!'"
Bird, the 10th grade English teacher and student government co-adviser, said almost all of the 1,400 students voted and Deserae won in a landslide.
"I was really nervous to call them because I didn't want them to think that it was some charity, because she legitimately won," Bird said. "Her peers voted for her because she embodies exactly what we want homecoming queen to represent at our school."
Des said it has been hard distinguishing between opportunities she gains because of who she is or because of what happened to her. While the experience defines a chapter of her life, it is not her whole story.
"I don't think she got voted because of what happened to her," Bird said. "I think she got voted because of the person that she is. A standing ovation in a homecoming assembly doesn't happen all the time."
While her crown and sash have joined her collection of ribbons from state fairs on her wall, Des said she holds onto every memory of the last week like a gift.
"It is high school," Des said. "We are always feeling crap about ourselves but I think everybody should have that much love thrust upon them."