BOISE — When Brian Marinelli joined the Idaho Mountain Search and Rescue Unit about two years ago, he never thought he'd become a handler for its K-9 program.
But Marinelli, who teaches in the Boise School District, said he sort of "fell into it."
Initially, Marinelli served only on the nonprofit's general unit as a "ground pounder," helping assess the terrain and determine a specific search tactic for a group to follow.
He later started training with the K-9 team and became a flanker, meaning he would trail behind a handler while on a mission and assist with various issues such as safety or communication. This enables the handler to focus solely on their dog during a search, he said.
"You're there to be a second pair of eyes," Marinelli said.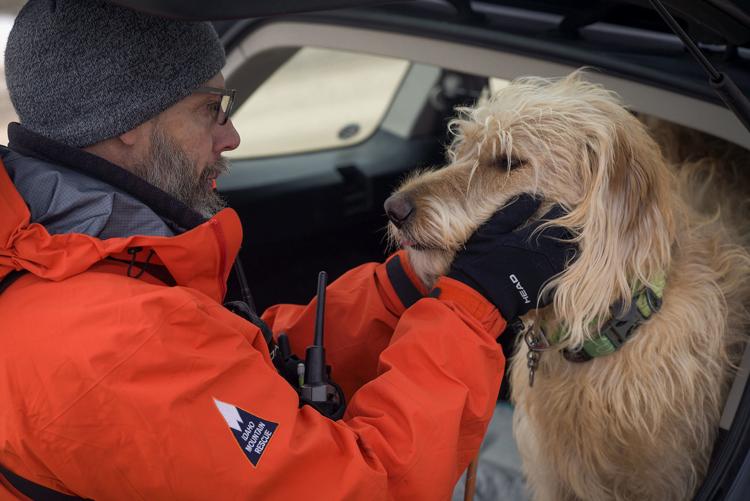 And then early last year, the Air Force veteran's role changed again within the all-volunteer organization. The reason? A Labrador retriever-poodle mix, or labradoodle, entered his life.
Marinelli said he learned of the litter from one of the team's handlers, who was told the puppies would have "an ideal temperament for this kind of work."
About eight to seven weeks after their birth, the young dogs were brought to the nonprofit's compound at 2519 S. Federal Way in Boise. During this visit, the puppies received a temperament test and exhibited several of the necessary qualities valued in a search dog, such as environmental stability and a natural hunt drive.
That day, Marinelli met his four-legged match, who later would be named Stella Blue.
"I was definitely roped into a puppy," Marinelli said, laughing. "But I'm so glad I was."
'UNPAID PROFESSIONALS'
The Idaho Mountain Search and Rescue Unit — often referred to as IMSARU by the group — began in 1959, according to public relations director Ken Swickard.
Swickard said the nonprofit was created out of necessity, since no official search and rescue groups existed in Idaho at the time. In fact, he added, the unit was one of the first in the nation.
"We started mainly as a rope group doing rope rescue," Swickard said. "And they started building from there."
In 1960, Swickard said the organization became a founding and chartered member of the Mountain Rescue Association, an international organization that also was established in 1959. IMSARU then was officially incorporated that next year.
At the time, Swickard said the nonprofit's purpose was to save "lives through search, rescue and mountain safety education."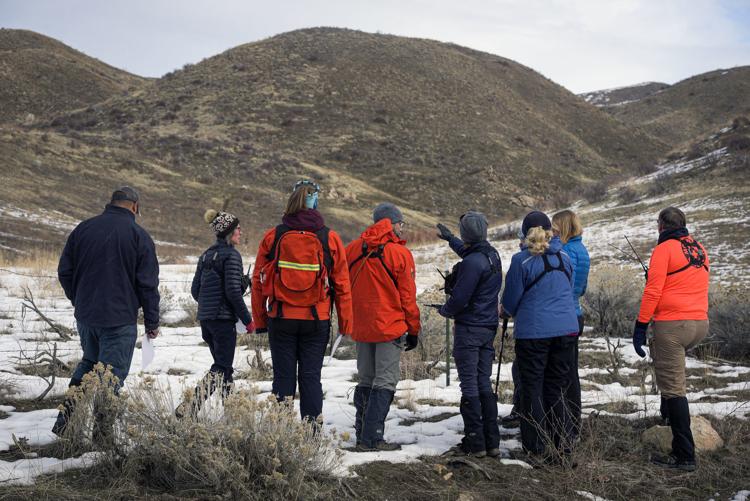 Nearly 50 years later, that goal remains the same. However, the means of achieving it have expanded tremendously. Swickard said the group — which isn't affiliated with a specific, local law enforcement agency — now has several different search and rescue specialty teams, such as K-9, mountain bike, rope (the original team), man tracking, drone and communication. The organization's roughly 125 volunteer members also can travel to any of Idaho's six neighboring states for a mission.
"We don't consider ourselves volunteers as much as we are unpaid professionals," he said. "We train as much as any team in the nation, if not more, especially our specialty teams."
Swickard said when deployed, the unit doesn't lead the search, but instead supplements the investigating agency, such as a police department or sheriff's office, which had requested the group's assistance for the rescue or recovery. All available members respond to a mission call. On average, the entire crew responds to 20 to 30 calls a year, he added.
Of IMSARU's various specialty teams, the K-9 program is the No. 1 requested group for assistance, Swickard said. The team has been a part of the nonprofit since the 1970s, and it was the second specialty team created.
"I'm a firm believer that the K-9s are the backbone of our unit," he added. "Our dogs are special; they're a real asset. … We get so many calls for K-9 help."
'ANOTHER TOOL'
Within IMSARU's K-9 program, there are several different types of search dog, according to Lindsey Latham, one of the team's leaders.
Latham helps organize training sessions and meetings for the 10- to 15-member K-9 team, which is comprised of people from "all walks of life." She said the group's specialties include crime scene detection work, cadaver, tracking and area-wilderness dogs.
Latham, who also is a handler and works at nonprofit habitat organization, said dogs trained in crime scene detection are looking for very small amounts of human decomposition and blood matter — fresh or dry.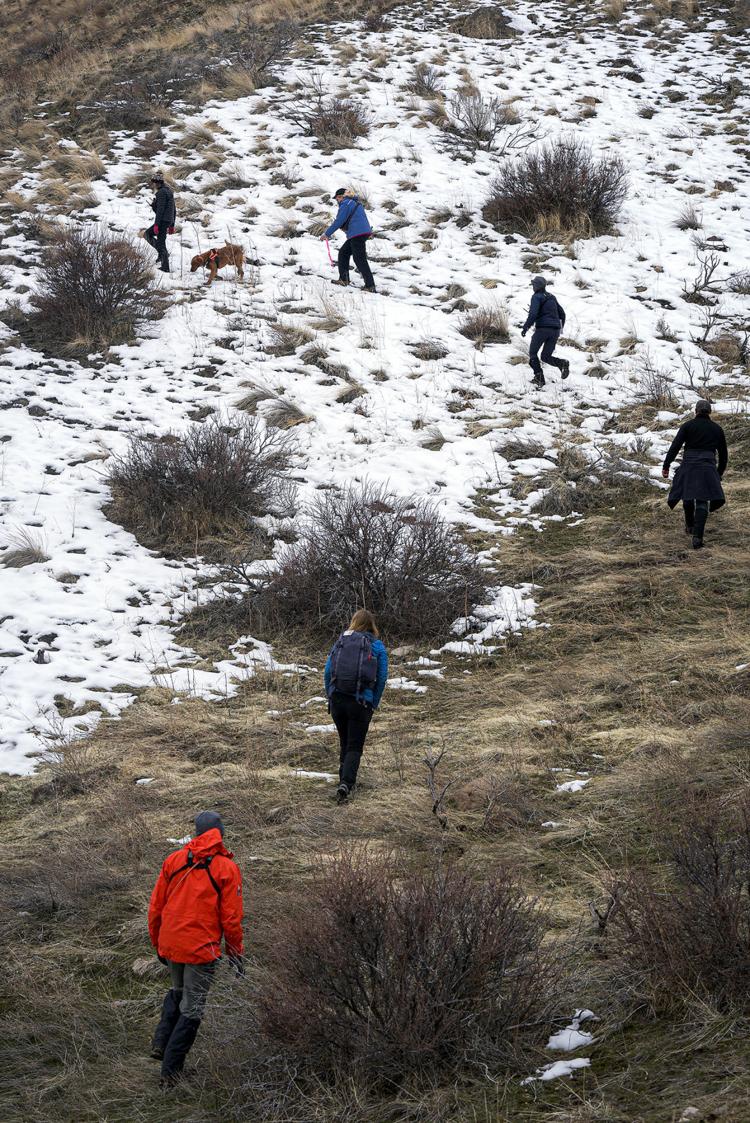 Cadaver dogs are similar in that they also are searching for human decomposition, or a person's remains, over a large area, she said. This type of search dog is key in the recovery process, which often helps a family find much-needed closure.
Area-wilderness dogs look for any human odor, alive or deceased, Latham said. These dogs use the wind to their advantage.
"A lot of strategy comes into play," said Latham, whose dog, Eli, is trained for large-area wilderness, live or cadaver. "When you're given an area, you're reading terrain, you're reading weather; humidity effects how scent and odor works. … So, there's a lot to learn just about scent theory — how odor moves in a given area based on the conditions."
Tracking dogs follow a specific scent from a known point, meaning the last place a person was seen, Latham said. The handler is generally provided with a glove, hat or some other type of clothing from the missing person for the dog to sniff, allowing them to be "narrow-minded" in their search.
In the past, IMSARU also has had water rescue dogs, which rode on boats with their handlers, Latham said. But none of the current K-9s are trained in this specialty. However, many of the dogs can do shoreline work, she added.
Specialties generally are "handler dependent and dog dependent," Latham said.
"We have dogs that wouldn't do well looking for a live person, just because of their temperament, but really enjoy and are really good at the minuscule sources for crime scene," she said. "And then we've got dogs like my dog, who is a moose through a china shop and just bulldozes everything and everyone, and he's not good for crime scene."
But all search dogs must possess similar characteristics, no matter their specialty, Latham said. This includes natural hunt and play drives, environmental stability — no anxiety, nervousness or sensitivity to loud and new sounds — and their ability to focus on their handler.
Once a specialty is decided, which occurs very early on in the process, the training is geared toward that field, she said.
Latham said any type of breed can be trained to become a search dog as long as the animal possesses those certain qualities. Even age isn't an issue.
"Generally, we like to start them as young as we can. But we've had good success with older puppies and older dogs," she said. "If a dog wants to play, you can teach them anything. … They are another tool in our toolbox."
'HOW A DOG WORKS'
It takes about a year to prepare a dog for the "mission ready" certification test, Latham said. A dog then must recertify every two years. The test and certification processes are handled by national search dog organizations, such as the National Search Dog Alliance. A handler/K-9 team will take various classes in preparation for the test, such as an incident command course through the Federal Emergency Management Agency, or FEMA.
Latham said a dog also has to pass a K-9 Good Citizenship test before it can even start the training process, since it shows whether the animal can be around other dogs and friendly toward strangers — both of which are extremely important. The dog must know basic obedience as well.
Latham said the team, which pays for its own equipment, actually prefers when someone doesn't have a dog upon first joining, like Marinelli, whose dog is training to do crime scene detection work. This enables a person to "see how we train, how we reward, and a lot about how a dog works" before jumping into it.
And if a handler has a problem, several people — handlers and flankers — can help.
"My puppy has like 15 aunts and uncles there that are going to help me and my dog go through the right evolution of training," Marinelli said. "I could not do it by myself."
Latham said it's incredible to see what all a dog can do, especially with the right training. Dogs are so equipped for this type of work primarily because of their noses, she added, which have millions more scent receptors than humans do.
"You go into a pizza shop, you smell pizza and that is kind of your broad overview. But if you take a dog into a pizza shop, they smell the dough, the water, the yeast, the tomatoes, the basil, the salt, the pepper, that the guy in the back didn't wash his hands. They smell everything," Latham said. "That's really why we use them."
But a dog's "intense willingness to please" makes them even more successful, she added.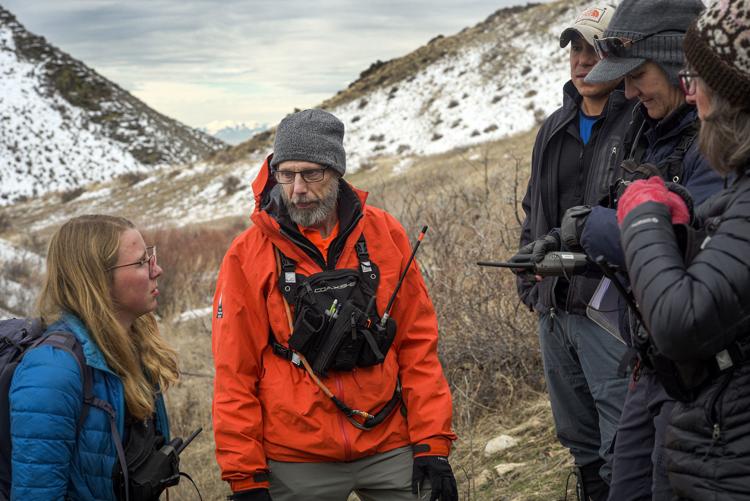 Latham said the group's training techniques are very reward based, like a toy or food, and often involve other members of the team hiding for the dogs to find in either a small or large area.
All handlers must have a trained final response for their dog, Latham said. This shows the handler that the animal has found the target odor, such as human decomposition or a live person.
Latham said there are passive and active alerts for the final response. A passive indication could be the dog sitting or laying down by the subject/source. While an active indication might be the dog running back to the handler, then jumping, barking or tugging at a toy on the handler's hip.
"You'll say, 'Show me,' and the dog will take you back to the person or scent," she said.
Latham said the chosen final response is often based on the specialty. Crime scene detection might benefit from a passive alert, so it doesn't disturb the investigation; whereas a wilderness search might need to a more active response, since the dog could run out of sight.
For her dog, Latham said she likes an active indication and utilizes a toy at her hip, which acts a "magic play button."
"You've got to remember the toy," Latham said, laughing. "And you've got to trust your dog."
"The training on our team is intensive; it's time consuming. We put in a lot of miles on our own dime," Marinelli added.
'MISSION READY'
Marinelli said many missions are called off before the group can even respond — his favorite situations, because it means someone has been found.
"I could not picture being a family member with that unknown of what happened. So, if we can help give any closure, that's kind of motivates me. … But the best kind of calls are the cancelled ones. We have showed up to the compound, loaded up our vehicles and started to head down the highway, then got called back because the person showed back up," Marinelli said. "Those are great days.
"We spend so much of our time training for so little mission time," Latham added. "We train every other weekend for a full day."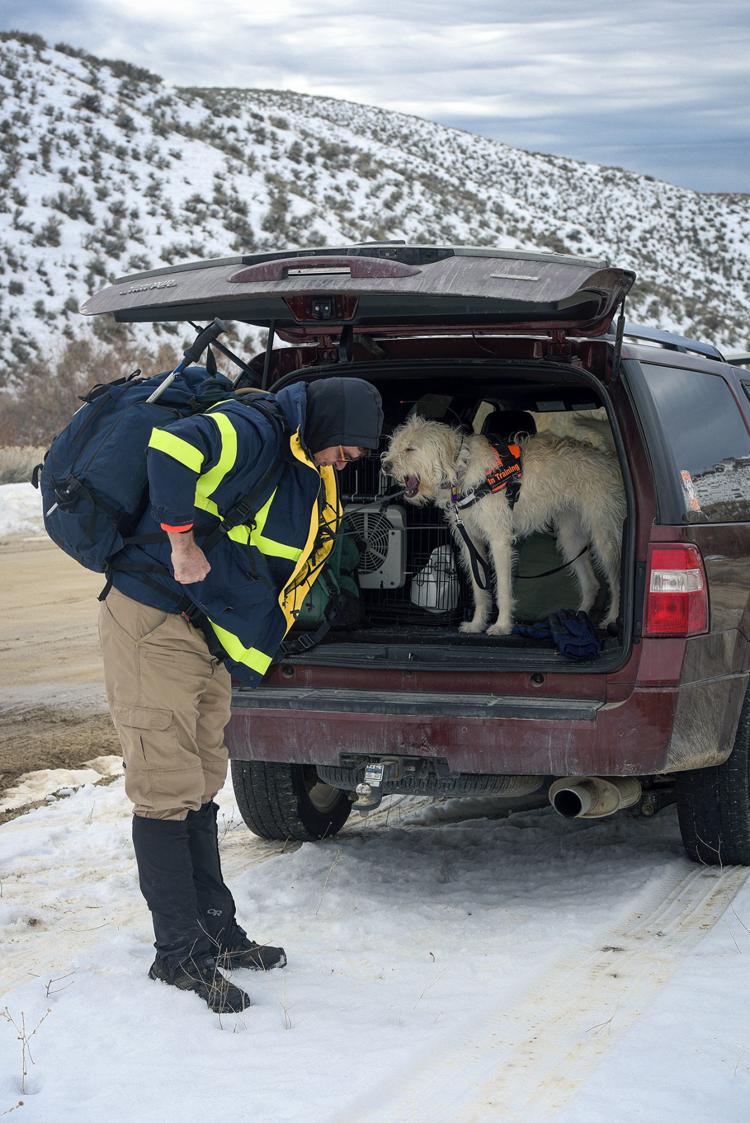 When the team does receive a mission call, Latham said team members try to respond as fast as possible. These situations are typically high-anxiety, and can last for six to eight hours per day over a multiday period.
Latham said the team receives about six to eight mission calls a year. These can range from a missing hunter, hiker or child to a potential suicide.
While on a mission, dogs wear a bell, a special orange vest and a GPS tracker attached to their collar, allowing the handler to follow their dog and the team to see the ground — often 10 to 20 miles — covered that day. This information can be used to narrow down, expand or change a search area.
Latham said the type of mission will determine which kind of search dogs are involved. If her dog isn't needed, she will still show up to help flank.
But despite all of the hard work and training, not all missions result in a rescue or recovery.
"Our dogs are not the end all, be all on a search. There are so many variables. If the wind isn't in the right direction, we could have a dog go 400 feet from a person," Latham said. "Our dogs are fallible. We work really hard and train really hard to make sure that we do the best we can. But sometimes we're not in the right place at the right time with the right wind. I would like to say our dogs are perfect and find everybody every time, but unfortunately that's just not the case. … There are heart breaks in this."
However, no matter the difficulties, both Marinelli and Latham said they plan to continue volunteering with the group for as long as they can. It's a second family for them; it's a way to give back. And above all, it's a chance to "get paid in puppy kisses."
"We train so much together, and it is a community of people all out for the same greater good and the same end goal. And I think being a part of something larger than yourself in that way is really powerful," Latham said. "Then, the dog training is just icing on the cake because it is so much fun."
"When someone sees a K-9 team working, that's just the tip of the iceberg of the effort that has gone into that handler and that canine. It's taken hundreds and hundreds of hours and thousands of miles to get there," Marinelli added. "This isn't a hobby, it's a major time commitment. But it is so worth it."