There are many reasons to be excited about advanced nuclear reactors. More than 50 advanced nuclear companies across North America are examining a number of options, often in partnership with Idaho National Laboratory and other U.S. Department of Energy national labs.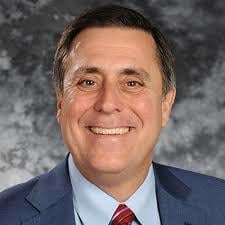 These private-public partnerships envision a future powered by innovative reactors while sustaining the current fleet of nuclear reactors – all providing safe, clean, reliable and resilient energy.
NuScale Power's small modular reactor is a great example. The company's SMR could begin producing zero-carbon electricity at the INL Site in 2027.
The private sector is working with INL to develop molten salt reactors, high-temperature gas reactors and liquid metal reactors, which could power the future energy system and U.S. military bases or remote communities now dependent upon diesel fuel.
We're looking to demonstrate microreactor technologies at INL in three to five years.
The U.S. has the science and technology expertise to usher in a new age of nuclear reactor development.
We have, in companies such as NuScale, Terrestrial Energy, Oklo, TerraPower, X- Energy and many more, the entrepreneurial spirit.
And now, following President Trump's recent signing of an important piece of federal legislation, the U.S. will have the regulatory framework needed to develop advanced nuclear reactors capable of powering our homes and businesses, transportation systems and manufacturing processes, while mitigating the effects of climate change.
The Nuclear Energy Innovation and Modernization Act (NEIMA) directs the U.S. Nuclear Regulatory Commission (NRC) to develop a "technology-inclusive licensing framework" for use by advanced reactor designers by 2027.
It also directs the NRC to develop a licensing process for advanced reactors within two years.
Rightsizing and modernizing the regulatory framework – without compromising on safety and transparency – is key to spurring private sector investments in innovative research and development, and making sure work performed at INL and other national laboratories reaches the commercial market.
NEIMA will help complete the circle, starting with safe advanced reactor designs, developed and demonstrated at INL, built by American companies and sold in the U.S. and around the world.
Importantly, NEIMA also protects our nation's nuclear reactor fleet by capping annual regulatory fees for existing reactors and altering the fee structure to assure that collection is more equitable, predictable and transparent.
America's 99 nuclear power plants produce 19 percent of our nation's electricity and more than half of our carbon-free electricity – more than solar, wind and geothermal combined.
I'm grateful to U.S. senators Mike Crapo and Jim Risch of Idaho and the bipartisan coalition that sponsored NEIMA and guided it to passage.
For the second time in less than a year, Democrats and Republicans worked successfully together on vital nuclear energy legislation.
In September, Congress passed and President Trump signed into law the Nuclear Energy Innovation Capabilities Act (NEICA).
That bill calls for construction of a versatile test reactor at INL by 2026. Currently, the world's only fast neutron source reactor available to U.S. companies and capable of performing the needed tests is located in Russia.
NEICA also directed the Department of Energy to establish a National Reactor Innovation Center (NRIC), a place where private-sector companies can come and demonstrate advanced reactor concepts.
Passage of these two key pieces of legislation shows that this president and Congress understand nuclear energy's importance to the nation's economy, national security and environment.
Empowering the private-public sector relationships needed to develop advanced reactors – and streamlining the regulatory framework – is a very important step forward.
At INL, we stand prepared to do everything we can to make sure we revitalize a world where the current fleet of nuclear reactors is sustained, advanced reactor designs enter the marketplace, and American prosperity continues to be powered by safe, reliable, and clean nuclear energy.