POCATELLO — The Idaho Falls boys cross country team, with all of its success at the 4A level, had probably heard it enough times.
"How are the Tigers going to fare in 5A at the state meet?"
Judging by the late afternoon celebration at the Portneuf Wellness Complex in Pocatello on Friday, the Tigers are doing just fine.
After collecting their first-place team trophy, the fourth straight for the Tigers but first in 5A since 1996, runners ran around the field next to the awards stand and showered teammates with sparkling cider, no longer hindered by the '5A' question after scoring an impressive 23 points to outdistance runner-up Rocky Mountain with 78 points.
"At first some people were saying 5A was going to be more of a challenge and we realized it would be more of a challenge for us than the last three years, but while we knew it would be hard, we were never scared," said Zac Bright, who finished third overall behind Borah's Nathan Green, who won his third individual title.
But Mitchell Athay was close behind in second, followed by Bright, the defending 4A champion, and freshman Luke Athay. Joseph Ereaux was 10th and Porter Elison was 11th. And that proved the winning combination.
Still dripping from the celebration, Bright noted that back in the summer it wasn't even clear if there would be a season due to COVID-19 restriction. With track season shut down in the spring, most runners at the cross country meet were likely happy just to be competing on the state's biggest stage.
"Back in August I was pessimistic," said Bright, noting that as practices and meets resumed, there was a cautious optimism.
"We just worked as hard as we could and treated every meet like it could be our last one," he said.
"We knew we could do it and we were able to pull it off," added Mitchell Athay, who clocked 15:39.07. "We have a lot of confidence and it's always been sweet when we've been able to finish it out."
The Idaho Falls girls team got in on the sparkling cider celebration after earning a fourth-place trophy in a race dominated by national power Boise.
Elanor Eddington was the top Tiger finisher in 15th place and Allison Lemons was 18th.
Thunder Ridge's Hailey Thueson finished 14th and Jessica Moss was 36th. Madison's Rebekah Kinghorn and Mikelle Dorman were 29th and 30th overall. Rigby's Rachel Nelson was 39th.
On the boys side, Madison's Will Dixon placed sixth in a time of 15:57.27 and Ryan Stutz was eighth in 16:1239.
Rigby's Benjamin Ricks was 23rd and Seth Bingham placed 19th for Thunder Ridge.
4A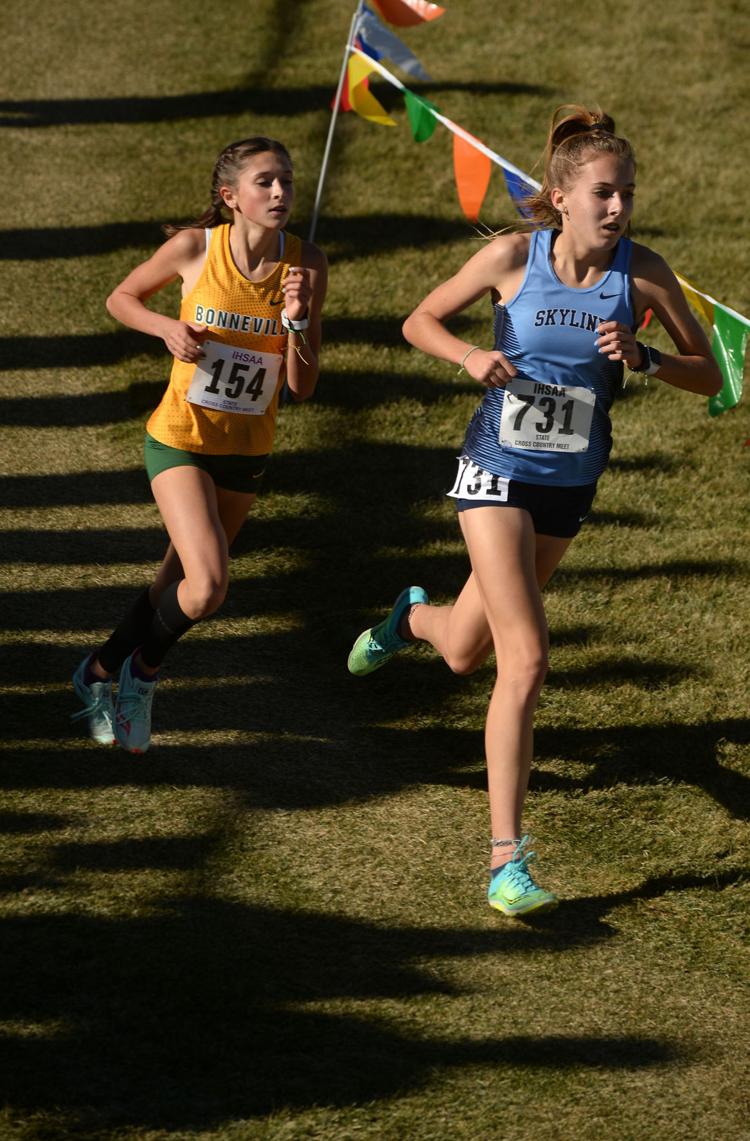 If there was any suspense who won the girls team title, the screaming and jumping Skyline girls gave it away. The Grizzlies narrowly held off Preston 62-67 with freshman Nelah Roberts running away with the individual title in 17:52.06. Not only was the time a personal best, but it's the fastest 5K time recorded for a District 6 girl. Roberts joins teammate Sariah Harrison as the only District 6 girls to break 18 minutes.
Roberts and Bonneville sophomore Alivia Johnson were out front early.
"When I first started out I knew I had to stay with her so I just tried to keep the pace and then I just felt like I had it in me," Roberts said. "I knew I had it in me to push it up the hill, so that last stretch of the third mile I just pushed on the gas. I just passed her and made the gap bigger."
Skyline has now won a state trophy four consecutive seasons and won two championships, the first being in 2017.
Johnson beat Roberts at last week's district meet so the duel wasn't unexpected.
Johnson also set a personal best of 18:06.96 Friday and expectations were high entering the race knowing a host of Skyline runners were ready to challenge for the title.
"It's very nerve wracking," Johnson said. "But the second you take the first step all the fear melts away."
Roberts said her confidence had grown during the season.
"Today I just wanted to go all out," the freshman said. "I really, really wanted it."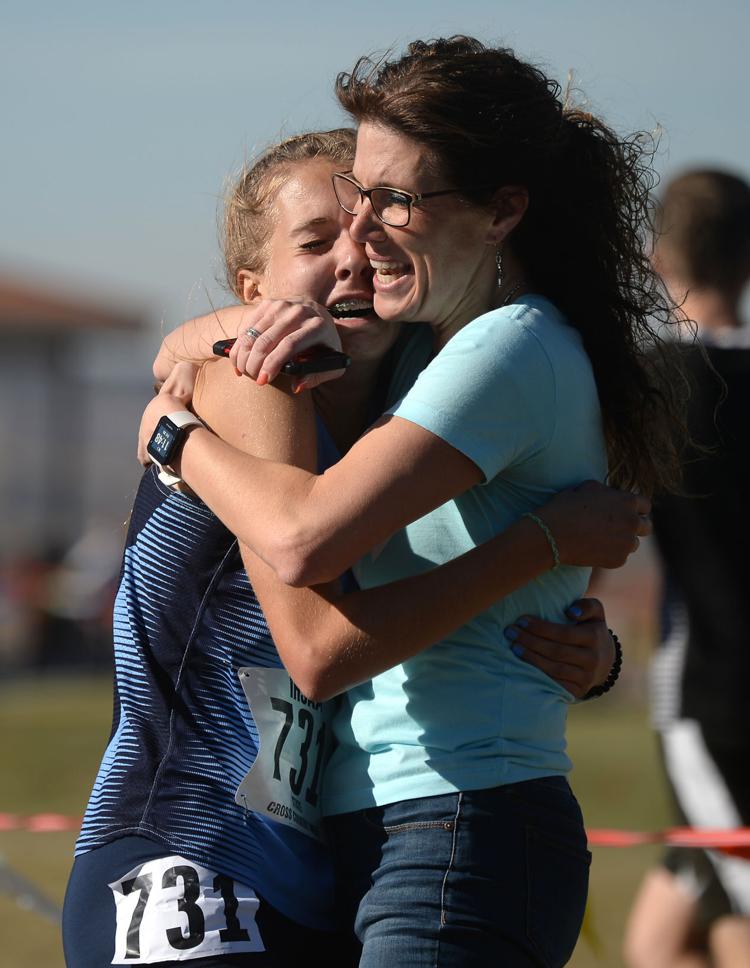 "It's just amazing," added Skyline's Sariah Harrison, who placed eighth. "We've been through quiet a few challenges together, individually and collectively, so just to be able to pull together and everyone have their best race is a joy to have that kind of success together."
With Kennedy Kunz finishing fifth and Shaelynn Nixon (35), Kenadee Roberts (36) and Brooklyn Pett (41), the Bees placed fourth with 120 points.
Blackfoot finished fifth, led by Emily Despain's 12-place finish in 19:37.77.
Freshman Breanna Williams of Shelley placed 28th.
Blackfoot's Eli Gregory was the top District 6 boys finisher, clocking 16:10.02 to place eighth. Teammate Justin Whitehead was 13th as the Broncos picked up a third-place team trophy behind Preston and Pocatello.
3A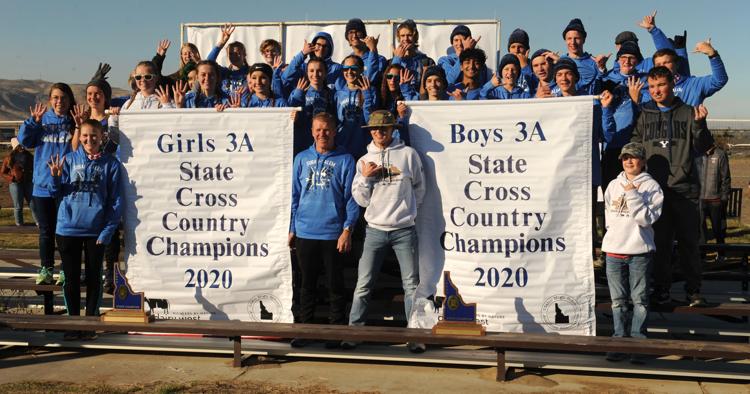 Sugar-Salem's dominance in 3A continued as both the boys and girls claimed team titles.
The Digger boys extended their 3A record to six-straight titles with six runners finishing in the top 10.
Sophomore Porter Holt was the top team finisher, placing third with a personal best of 16:50.12.
Holt, who was an alternate last year and did not run at the state meet, had an interesting take after the celebration and team photo.
He said his parents forced him into the sport and despite his success on Friday, he was still not sold on the whole cross country thing.
"I just think during the race 'Why do I do this because I don't like this sport," he said. "But I will probably continue doing it throughout high school."
Even so, Holt said he really pushed himself in the race.
"I usually start slow, but I started out fast, going 100 percent," he said.
Likely echoing the sentiment of most of the runners, Holt added, "The ending part is always the best part for me."
The Sugar-Salem girls ran their team win streak to four-straight scoring 43 points, with Snake River the runner-up with 71. South Fremont, running in its first state meet in 15 years, earned a trophy with 85 points, good for third.
The Diggers' Jeresa Jackson finished second for the second straight year as McCall-Donnelly's Sophie McManus ran a blistering 18:47.66 to crush the course record for 3A girls.
Jackson's 19:38.58 was a PR, but the day belonged to the team.
"It's like just a whole team effort," she said. "Because all of our girls are so strong and we ran for each other and no one else."
Sugar-Salem's Ryley Klingler was fifth, followed by Kate Dickson in seventh and Brooklyn Smith in 14th. Ethnie Hamblin was 19th overall to round out the scoring.
South Fremont's McKenzie Winegar finished third and teammate Breklynn Gee was 10th. Teton's Mackenzie Lee placed sixth.
2A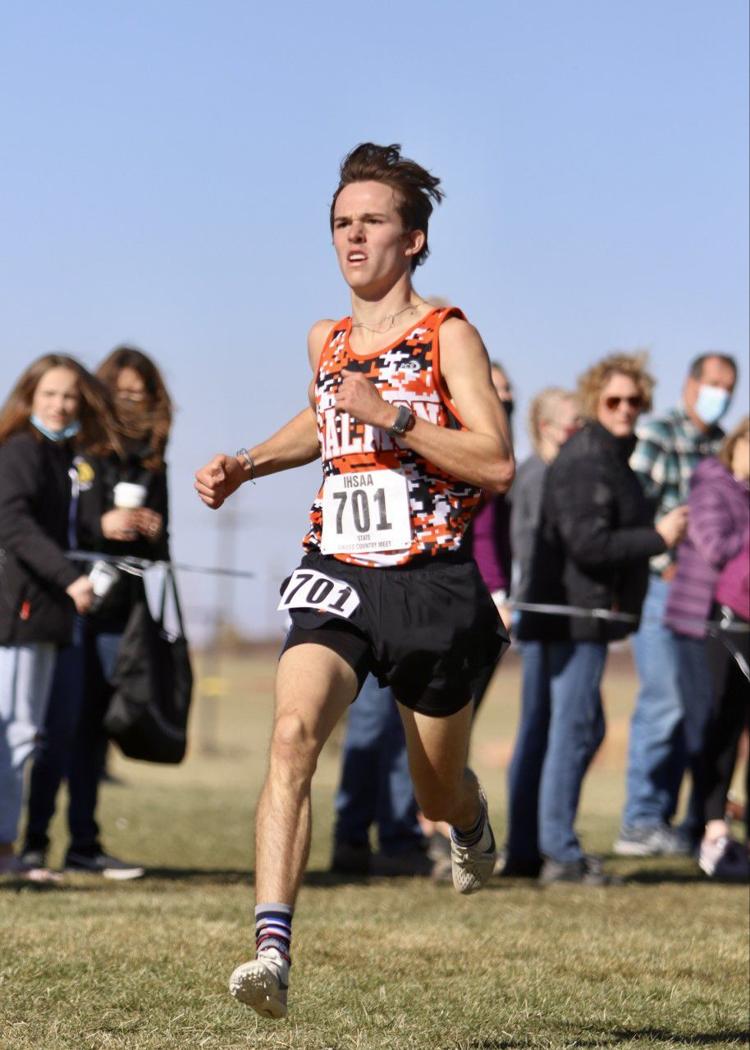 Johnathon and Daniel Simmons closed this year's state cross country meet with a blazing-fast flourish, with the two brothers both running under 16 minutes to finish 1-2 and lead Salmon to a team win in the 2A boys race, the final one of the meet. It was Salmon's third consecutive team state title.
Johnathon's time of 15:38.04 was the second-fastest time of the entire meet, trailing only Nathan Green's 15:26.53 from the 5A race on Friday.
"Going into the race, I knew I was the returning champ, and I knew that my training and coaching could pay off, and it did," Johnathon Simmons said. "Right now I'm feeling really great. For one, I PR'ed, for two, retained my state championship."
And just when the elder Simmons brother, a senior, came across the line to maybe allow Salmon's 2A rivals a sigh of relief that at least his career was over, here came Daniel, a freshman in his first state meet, crossing in 15:50.93 and looking fresh as a daisy doing it, leaping and pumping his fist when he saw his time.
"I trained with (Daniel) all summer, so he just got to do whatever I did," Johnathon Simmons said. "All I wanted was somebody out of 2A that could push me, and that's what I got. I just didn't expect it to be my little brother."
Keller Brothers finished sixth and Micah Tolman was ninth to give Salmon four runners in the top 10. Salmon won with 33 points to Soda Springs' 72.
North Fremont's Max Palmer placed fifth in 16:25.79 and teammate Asher Johnston finished eighth to lead the team to a third-place finish. West Jefferson Hyrum Spencer was 10th.
District 6 had two girls finish in the top-10 with Elizabeth Spencer of West Jefferson taking seventh and Salmon's Leah Cannon placing 10th. The Salmon girls finished third with 80 points.
1A
Leadore's Austin Beyler was the top District 6 boys finisher in 14th place. Butte County's Nathaniel Collins was 22nd.
Raft River dominated the girls 1A race, but Butte County's Natalya Babcock took fourth in 19:43.25.
Andrew Houghton of the Idaho State Journal contributed to this story.
Note: For complete results and times check athletic.net