Smack in the middle of a timeout Thunder Ridge coach Jeremy Spencer called for the worst reason, his players formed a circle. Four minutes stood between them and their first trip to the state tournament in school history. They had spent the previous two seasons accumulating the experience needed for this exact moment, up three against Madison in the 5A District 5-6's second-place game.
"'This is our last chance to play on the Thunder Ridge court,'" senior forward Paige Clark told her team. "'Leave it all out on the court.'"
Thunder Ridge is moving on to state because it did so, because of the way it responded to Madison's rally. The Titans rattled off seven straight points, creating the cushion they needed to secure a 48-37 win over the Bobcats, good for second place at districts and a spot in the 5A state tournament.
There, Thunder Ridge will meet Meridian Thursday afternoon in Nampa.
It comes as a sigh of relief for the Titans, who topped these same Bobcats in last week's semifinals and advanced to Tuesday's title game against rival Rigby, only to drop a 53-50 decision. In that game, Thunder Ridge flashed its mettle and turned a long deficit into a brief lead. The Titans just missed too many open looks to capture a district championship.
On Thursday, they parried the Bobcats' late run, getting 14 points from Clark and 12 from senior Lauren Davenport, who knocked down two free throws and threaded a floater. That gave Thunder Ridge a 42-35 lead. From there, the Titans punished the Bobcats on defense, icing the game with timely free throws in the final minutes.
These, Spencer said, are the kinds of moments that represent the progress his program has made in a short period of time. In 2018-19, the year the school opened, the Titans languished under a severe lack of experience. The following year, they advanced to the district title game. They lost, and they failed to crack the state tournament, but what mattered was the experience.
Finally, for the Titans, it's here. It's paying off. They shot just 36% from the field and made 3 of 16 shots from distance. They won anyway, which shows that the fortitude Spencer has been trying to engender in his players has finally surfaced.
"That senior leadership has been good," Spencer said. "There's certain girls, like a Paige, like a Lauren, that have said, 'Let's calm down. We're good. We're good to go.' It's been nice. These younger girls are going to learn from those moments."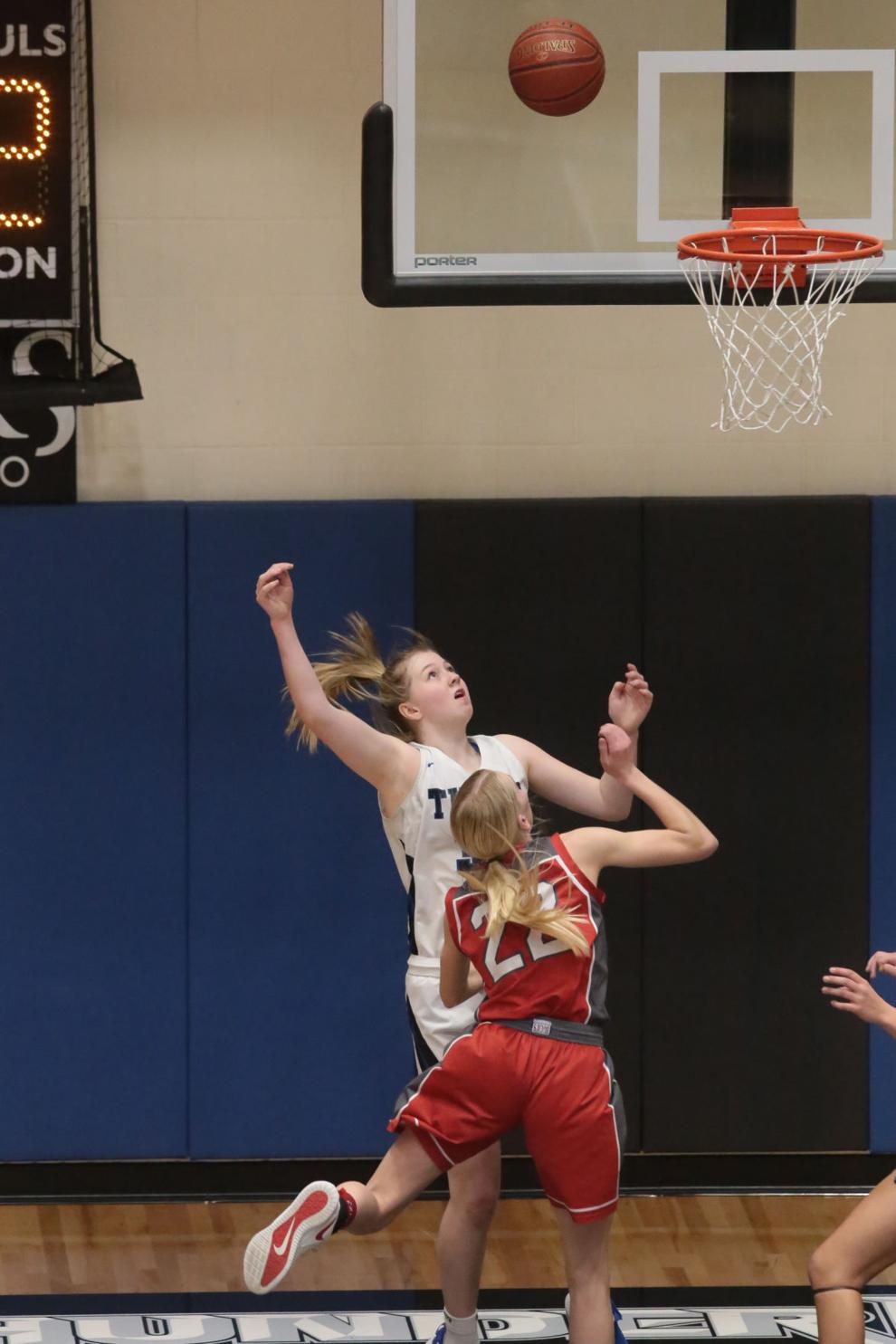 Thunder Ridge also has the benefit of knowing it can win any number of ways. Madison face-guarded Davenport for most of Thursday's game, sending multiple bodies her way, daring others to beat them.
The Bobcats paid for their impudence. Aspen Caldwell finished with six points, including an important jumper in the fourth. Sierra John stretched her team's lead to nine with two free throws in the final minutes. Clark sealed the win with a layup that pushed the Titans' lead to 10.
This is nothing new, though. Last week, when the Titans snuck past the Bobcats in a similar win, Madison face-guarded Davenport. She admitted to feeling frustrated, but she acknowledged it was a compliment in some ways, and she feels comfortable finding whoever the defense has left open.
"You spent so much time trying to contend with Lauren over here," Spencer said, "you forget about Paige. She's been playing really well in the second half of the season. It's one of those, 'What do you want to take away?' and Paige had some really great plays at the rim tonight."
For Madison, though, it's a disappointing way to end the season.
For the second straight time against the Titans, the Bobcats drew within three late in the game. Last week, Charli Cook connected on her team's first 3-pointer of the game with five minutes to play. But that's when turnovers doomed Madison, which dropped an 11-point decision.
Things played out in an eerily similar way on Thursday. Down 11 after three quarters, Madison pieced together a run that trimmed Thunder Ridge's lead to three, capped by a layup from Grace Dow, who totaled a team-best 11 points.
Again, turnovers piled up at the wrong time for the Bobcats. They lost 20 in the loss, but the seven in the fourth quarter will sting the most.
"That is tough," said Madison coach Traci Peterson, whose team's season has ended. "You finally hit a couple of shots and we get ourselves right back into it, and then we didn't take care of the ball very well and we didn't get good looks again. Against a team like Thunder, you can't do that."
That trend cuts both ways, though. It ended Madison's season and it prolonged things for Thunder Ridge, which is finding composure and production at the right time of the year.
Next stop: Ford Idaho Center.
"All of us want to be that team that breaks the barrier and becomes the first team," Clark said. "So it's going to mean a lot later. We can always say that we're the first team to go to state at Thunder Ridge for girls basketball."
THUNDER RIDGE 48, MADISON 37
Madison 8 4 11 14 — 37
Thunder Ridge 10 12 12 14 — 48
MADISON — Whitney Mackenzie 1, Charli Cook 5, Blaire Gordon 2, Grace Dow 11, Sidney Parker 8, McKell Parkinson 10.
THUNDER RIDGE — Aspen Caldwell 6, Kennedy Stenquist 7, Sierra John 2, Lauren Davenport 12, Paige Clark 14, Halli Smith 7.